Handre Pollard kicked South Africa to victory

Sign up to our free sport newsletter for all the latest news on everything from cycling to boxing
Sign up to our free sport email for all the latest news
Thanks for signing up to the
Sport email
As Handre Pollard put boot to ball, they held their breath, a night of countless kicks to be settled by one last hoist for the heavens. The replacement fly half's penalty was straight and true – the champions had found a way.
It was a wretched game for a wretched night upon which a rocky South Africa threatened a total horror show. It looked for so long like the ghosts of Yokohama would be exorcised, England's pack standing up to the challenge to match South Africa at their own game. But the Springboks had just enough, RG Snyman punching over from close range and Pollard producing that final, decisive penalty.
There was little here to please the aesthete but by God was it a compelling contest. Fears of a second successive semi-final drubbing proved unfounded as England's unfancied underdogs swelled in stature to meet and so nearly beat the mighty Springboks.
Instead, Springbok spectres will stalk them again. An unloved England were happy to play unlovely rugby. For so long it worked, Steve Borthwick's side backing up their belief in themselves taking the reigning, defending champions to the limit.
Pollard's first-half introduction had been a substitution that said everything. Just half an hour had been played and already Jacques Nienaber and Rassie Erasmus had seen enough, retrieving their hook to make a trademark gutsy call. Off went Manie Libbok; on came Pollard on a night for route one rugby. After all the talk of the Springboks' evolution, after only half-an-hour they were reverting to type.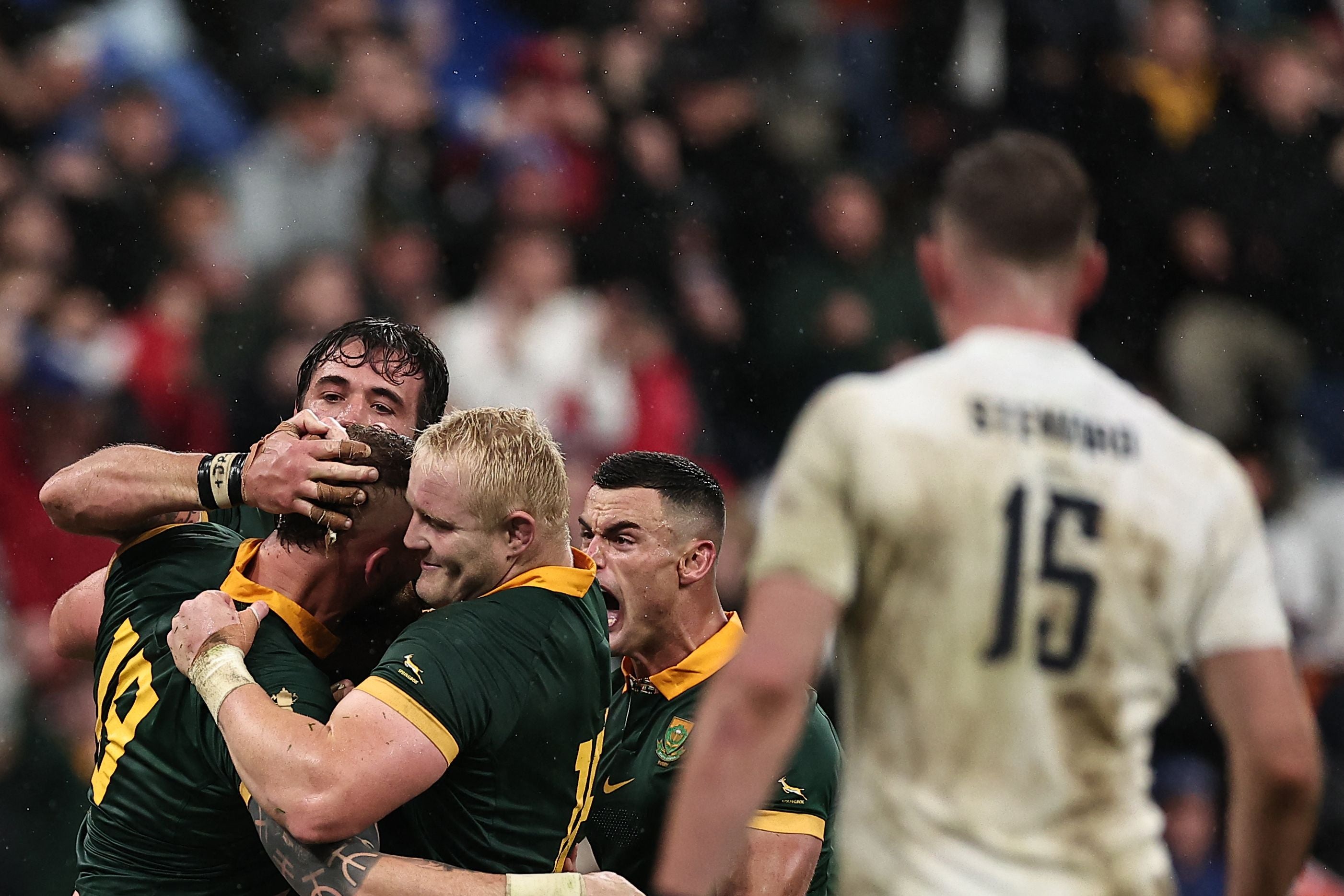 South Africa celebrate after RG Snyman's second-half try
But as so often for these champion Springboks, it proved the right call, Pollard inevitably the man to land the knockout blow. Onwards South Africa go to take on New Zealand – a battle for a record fourth men's World Cup crown feels a fitting final for a tournament bursting back into life after the Friday night dirge.
Even before kick-off, there was a crackle and a fizz to the atmosphere that the first semi-final had lacked, a healthy contingent of French fans taking out their frustration on referee Ben O'Keeffe and a select few South Africans as their names flashed on the big screen.
It was a near perfect opening ten minutes from England. The battle of the skies was always likely to be vital, and the intensity of the rain made it ever more so. The entirety of England's back three, plus centre Joe Marchant, won their first aerial contests, while Maro Itoje's lineout pressure resulted in a pinch at the front and a not-straight throw to the tail. South Africa infringed twice at ruck time in their own 22; Farrell capitalised both times from the tee. Tone set.
Steve Borthwick's side had come with next to no intent to play running rugby, over-resourcing every ruck to make certain of the ball. The caterpillar would form, the chasers mass, eager travellers ready for their next flight.
A game of dribs and drabs inevitably became fractured and fractious, captains Kolisi and Farrell jawing at one another and the referee. Manu Tuilagi sparked a scuffle by placing an arm around the neck of Cobus Reinach, resulting in a South Africa penalty, before Farrell's failure to hold his tongue a few minutes later moved Libbok within a kickable distance. South Africa's fly half knocked through his side's opening three.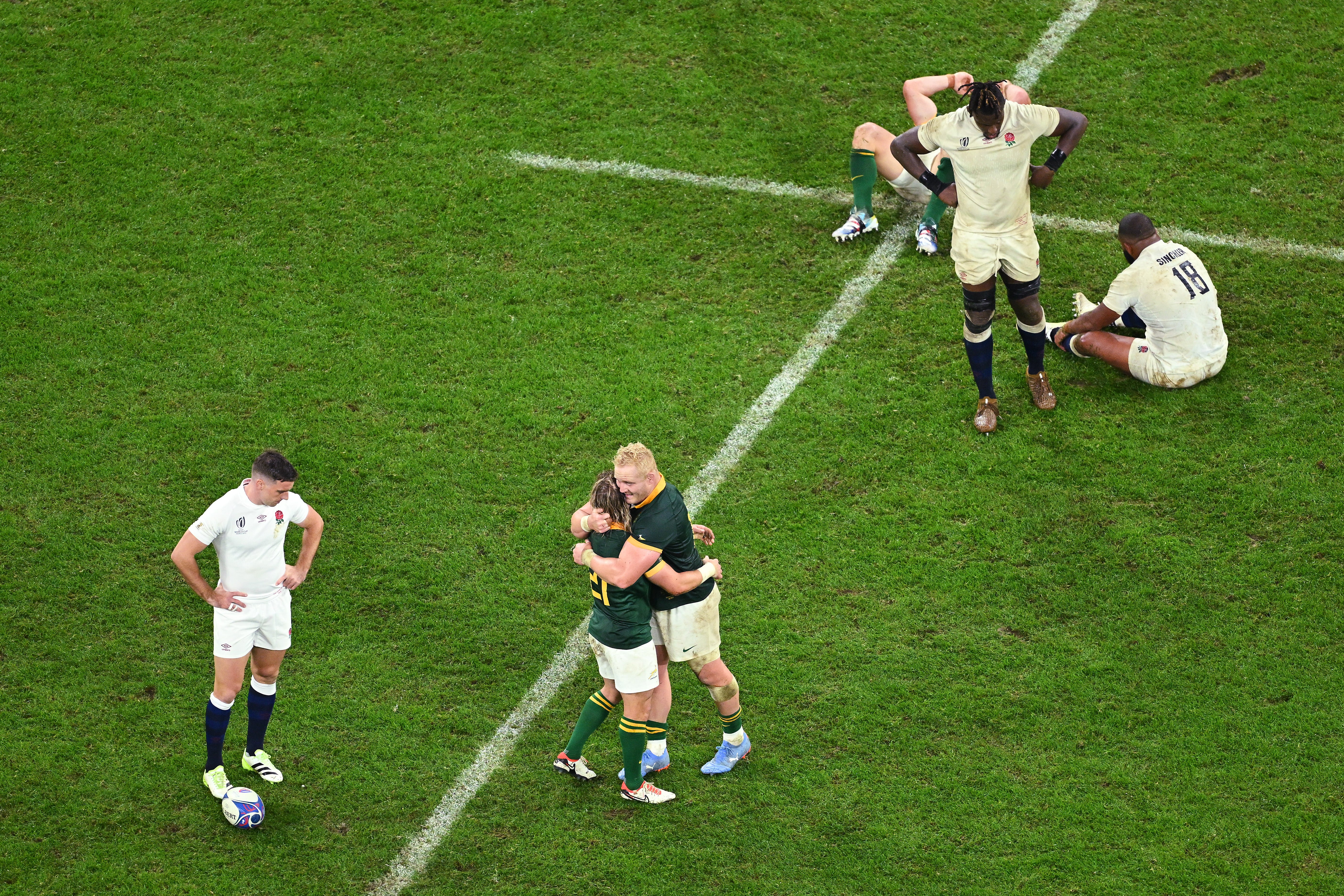 England fell narrowly short in a compelling physical contest
His opposite number re-extended England's advantage immediately after, full-back Steward like a bounding gun-dog on the chase and forcing a backfield error. The next high hoist was Elliot Daly's to chase, the wing detonating the chest of Duane Vermeulen. England, unloved but unbowed, were making physical statements
The replacement ten was on the board via his right boot soon enough, a simple starter from just right of the posts after a rare English aerial error. Soon enough, normal service resumed – after England's 22nd kick from hand of the half, Farrell's fourth clean strike from the tee left their half-time lead six points.
Everything seemed to be coming up roses. Granite-shouldered George Martin was thumping everything in sight, landing a series of heavyweight tackles; scrum half Alex Mitchell boxed clever, flighting his kicks from the base beautifully.
With Pollard already on, Faf de Klerk and Willie le Roux were always likely to arrive early in the second half, stability through the spine for South Africa clearly key. With the rain intensifying, the errors mounted, Jamie George uncharacteristically tossing two lineouts asunder.
South Africa had yet to fire a shot but at least had the intent to do so. It was a match that could have been swung by one supreme bit of skill, and a lovely move. Le Roux's hack ahead was too strong, ball trickling dead with the veteran full-back chasing in vain.
Martin, Mitchell and Joe Marler departed, three of Borthwick's boldest selection calls taking leave together, job appropriately done. Their bums had barely hit the bench when they rose to their feet, peering around the dugout to watch Farrell launch a drop goal seemingly from central Paris. Once ball left boot, there never seemed even a smidgen of doubt – was this to be Farrell's Wilkinson moment?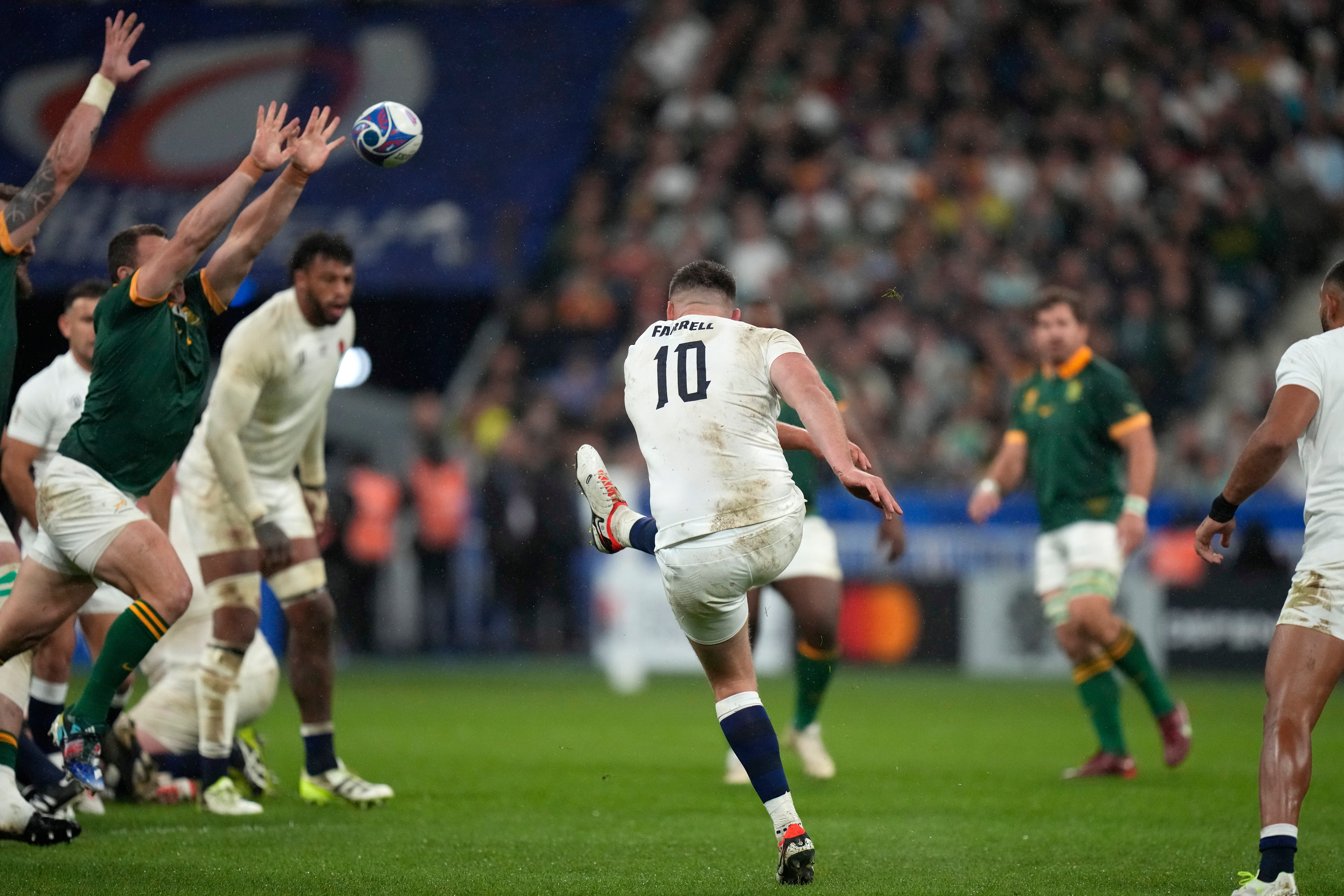 Owen Farrell's drop goal looked to have put England on the verge of victory
At that stage, England's four outside backs had a combined 17 run metres, all from one Steward kick return. Aesthetically-pleasing the gameplan was not but those with English hearts cared not, sweaters shed to reveal red roses on white chests right around the Stade de France.
On a rare attacking opportunity, Farrell might have made more with an overlap on the left but could not resist another kick. In truth, it was a touch aimless, but a ball skimming over a sodden surface was never likely to settle in the hands simply – through Kurt-Lee Arendse's hands it went like a greased weasel.
England could not make much of the position and the momentum started to turn. Ox Nche providing immediate impact on the loosehead for South Africa, and Snyman stomped with intent from the second row, too. A kick to the corner from a penalty in England's half allowed Snyman a close-range carrying opportunity – the lock is a a Goliath even among the South African colossi and would not be stopped.
Nche went to work once more, earning a scrum penalty on halfway. Pollard hoisted and through it went – England had been kicked out.
Source: Read Full Article