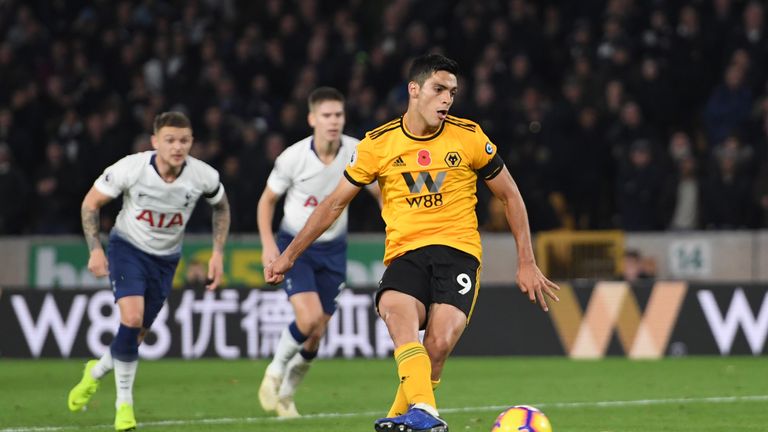 Wolves' Raul Jimenez saw his goal wrongly ruled out for offside in their 3-2 defeat to Tottenham – but might it have got them a point had it been allowed?
After Tottenham had scored twice through Lucas Moura and Erik Lamela, Jimenez fired in from Joao Moutinho's pullback to seemingly reduce the hosts' deficit to 2-1, but Moutinho was ruled to have been offside when making the pass – despite being behind Spurs defender Toby Alderweireld.
The visitors would later score a third through Harry Kane, but two penalties from Ruben Neves and Raul Jimenez left Wolves wondering what might have been, after losing by a single goal.
"It could have made a big difference," said Wolves manager Nuno Espirito Santo after the game. "You never know. It's so clear and it feels unfair when you see it but the referees have a tough job, and I wish them well."
Mauricio Pochettino, the Spurs manager, was also sympathetic with Wolves, but suggested the decision would even itself out over the course of a season.
"I didn't see it, but I was told about it," he said. "Today watching the game between Arsenal and Liverpool, there was a clear onside goal which wasn't given but it happens.
"Referees can make mistakes, and maybe Wolves' second penalty wasn't a penalty, but I don't know. It happens in football."
Source: Read Full Article