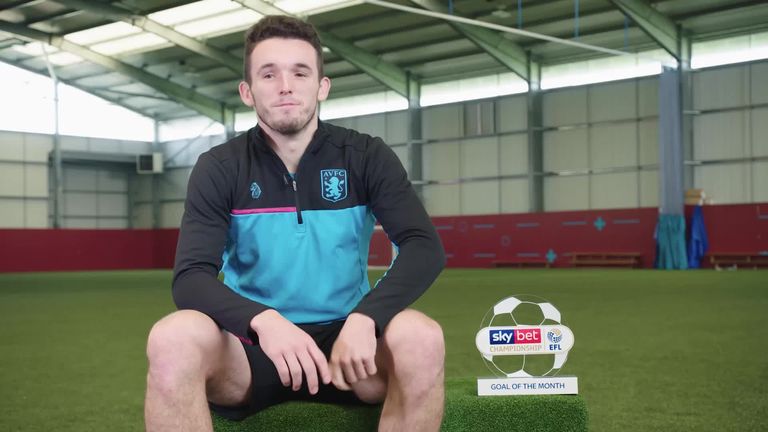 Aston Villa midfielder John McGinn is the Sky Bet Championship Goal of the Month winner for September, receiving 54 per cent of the public vote.
It was an exquisite thigh-high volley as he took the dropping ball early. The contact and trajectory were perfect.
McGinn said: "I was surprised more than anything really, as I have never scored a goal like that before. When I noticed the ball had hit the bar I thought it was going to stay out, but thankfully it happened to catch the roof of the net and I was over the moon.
"As soon as you hit it you just know it is going in; it is probably the best I've ever struck a ball. Obviously with it being at The Holt End as well makes it extra special. It was a tough game that afternoon, so at that point of the game we needed something and thankfully I happened to score that goal.
"The reaction has been pretty crazy, it went viral, but there have been a lot of great goals in the Championship this month, so it wasn't as straight forward as me winning the award, so I am obviously delighted.
"I have watched it black plenty of times and still can't actually believe it was me. It is not my style, I am normally tackling or chasing someone. The ball hasn't fallen to me like that again, but the next time it happens it might go in Row Z like my shot at the weekend.
"It is nice, it is the first time I have ever won an award for one of my goals and when Adam Reach is on a one-man mission to beat it every weekend it makes it more difficult. I'm delighted to get the award, as mine might not be as frequent as what Adam's are."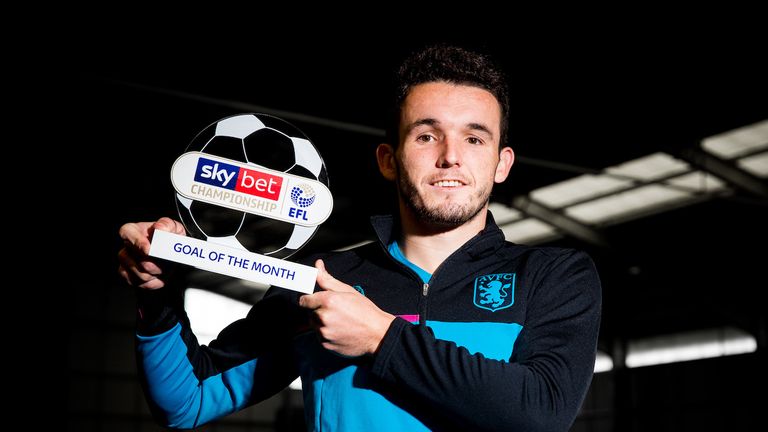 Lead Sky Bet EFL Goal of the Month judge and Sky Sports pundit Don Goodman said: "Reach's goal against Leeds United may well have won Goal of the Season in previous years, but such was the quality of McGinn's goal, it hasn't even won Goal of the Month!
"The defender has done his job, he's cleared the ball with height and distance and must think, 'job done' but little did he know that he was to contribute to one of the greatest goals ever seen in the Championship
"McGinn strikes a dropping ball whilst side on, by cutting across it with such venom and swerve through perfect technique that it's still rising as it crashes in off the crossbar. It's the type of strike you can try and replicate a million times and never get it that good again."
McGinn beat off competition from Preston's Alan Browne and Sheffield Wednesday's Adam Reach.
Sky Bet League One: Chris Maguire – Burton v SUNDERLAND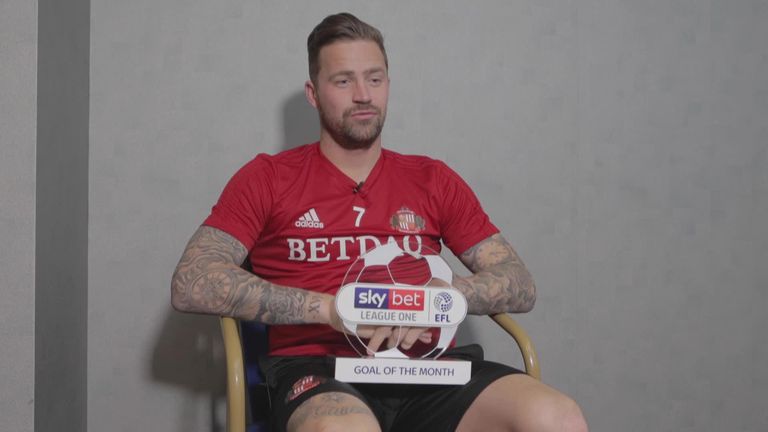 Sunderland winger Chris Maguire is the Sky Bet League One Goal of the Month winner for September, receiving 56 per cent of the public vote.
Allowing a player to shoot from 25 yards is usually fine if you can see it coming, yet such was the purity of Maguire's strike that Burton keeper Dimitar Evtimov couldn't get near it.
Maguire said: "I just remember getting myself in a little bit of space and George [Honeyman] found the pass and we spoke about that – try and get in between the lines.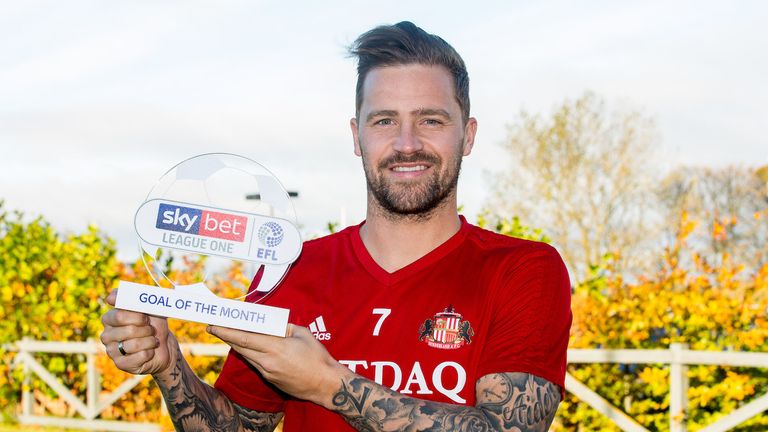 "I have managed to get some space and I have took a nice touch with my right foot to set it up nicely, and I just remember hitting it and it flew right in the top of the net."
Goodman said: "The King' as he is now known on Wearside has been instrumental in Sunderland's success this season, and this goal was the pick of an ever-increasing bunch.
"He drifts in between the lines and inside the unsuspecting full back which highlights his football intelligence. He then has the ability to finish from that far out, it's a wonderful strike that is unstoppable!"
Maguire beat off competition from Peterborough's Ivan Toney and Rochdale's Aaron Wilbraham.
Sky Bet League Two: Danny Mayor – BURY v Grimsby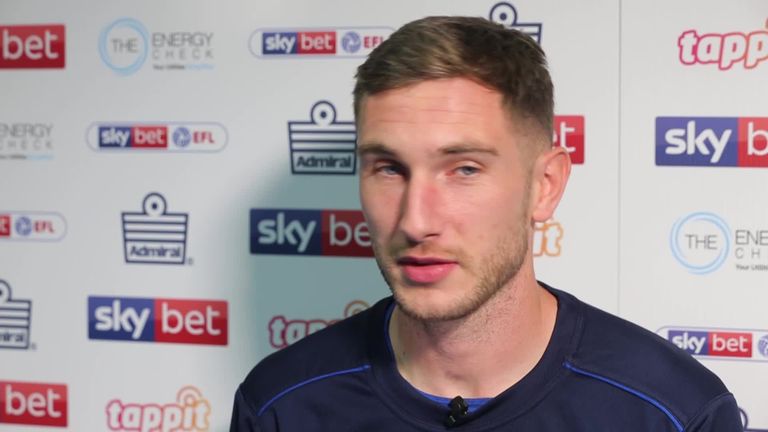 Bury midfielder Danny Mayor is the Sky Bet League Two Goal of the Month winner for September, receiving 46 per cent of the public vote.
Left unmarked on the halfway line, Mayor turned in possession, drove two Grimsby defenders back before checking back inside to whip home an unstoppable 20-yarder.
Mayor said: "Of course it is always nice to be awarded for a great goal, but the main thing is that we got the three points on the day. I think Thommo won a header, I was on the half-way line. I just went for a run and somehow it just opened up.
"We were three-nil up at the time, so there was no harm in trying. I had Fadz [Callum McFadzean] on the overlap so I was kind of looking for him, but it opened up on the inside, so I thought I would go for it and luckily it went in.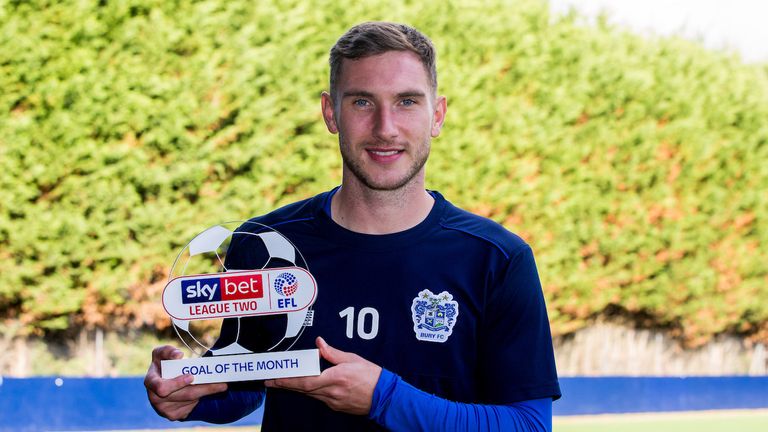 "If I come on the inside I like to go for the far corner. I have only got one of them this season so hopefully I can get a few more. You know we are on a good run, we have not lost for about five games now. The gaffer has got us playing really well, so yeah, hopefully we can continue. We are in a good place and long it may continue."
Goodman said: "Mayor actually scored two great goals in the same Grimsby game at the start of September, but it was the finish applied to the second after an explosive run that showed just how much quality he possesses.
"He didn't even need to look up – after beating three men – to know exactly where the far post was and such is the power and accuracy on his shot, the keeper didn't stand a chance."
Source: Read Full Article