Jurgen Klopp claimed "politics always has an influence on life" following Liverpool's decision to leave Xherdan Shaqiri at home for their Champions League trip to Red Star Belgrade.
Shaqiri was born in Kosovo, is of Kosovan-Albanian heritage and represents Switzerland at international level, having emigrated there as a child.
The 27-year-old caused controversy at the World Cup this summer by making a 'double-headed eagle' gesture after scoring a late winner against Serbia.
Shaqiri was fined by Fifa for making the gesture, which was intended to resemble the symbol on the flag of Albania.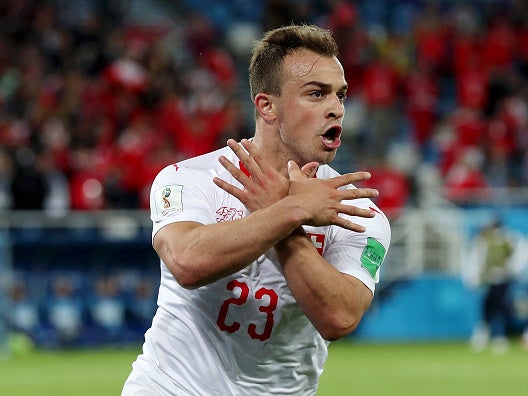 Shaqiri could have expected a hostile reception from the Rajko Mitić Stadium had he travelled but Klopp elected to omit the winger from his squad.
At his pre-match press conference in Belgrade, Klopp rarely strayed far from his statement to the club's website published on Monday morning.
The Liverpool manager admitted, however, that politics influence all parts of life and said Shaqiri had been left at home in the hope that only football would be the story.
"My job and your job as well is not to do questions which provoke a kind of answer. We need to cool the situation down," he said.
"We cannot clarify that situation tonight and it's not our job. We are in Serbia, we respect that 100 per cent. That's the world, how it is.
"Politics always has always influence on life, on the life I live at least, and that's how it is. But we are not here for that, we are here to play football.
"We tried to make sure we can be focused on football. I realise tonight already, I expected it differently but most of the English-speaking journalists were asking about it to be honest.
"It could have been a story but we didn't want to have a story besides a football story. That's why we decided what we decided."
Tensions between the Albanian and Serbian populations within Kosovo have long existed and led in part to the Kosovo War in the late 1990s.
Albania and Serbia fought on opposing sides of the conflict and, despite Kosovo declaring independence in 2008, Serbia does not fully recognise the province as a state.
Follow the Independent Sport on Instagram here, for all of the best images, videos and stories from around the sporting world.
Source: Read Full Article