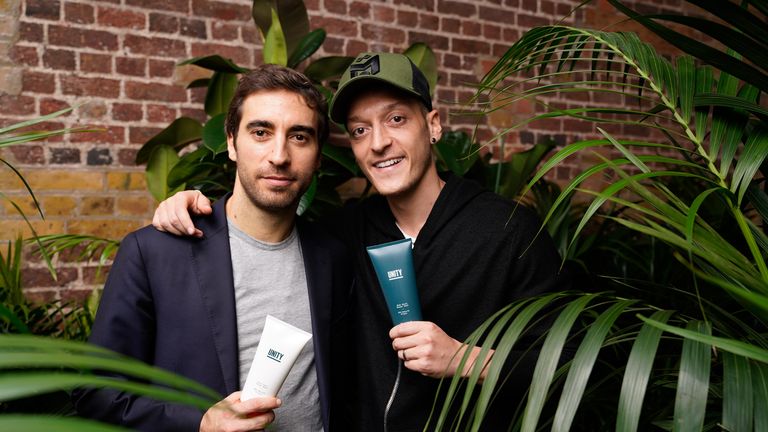 Mesut Ozil and Mathieu Flamini have launched a new well-being brand, UNITY, with the aim of putting people's health and our planet on the right path to a sustainable future. Adam Bate caught up with them both to discuss the inspiration behind the venture and why it is so important…
It was two years ago now that Mesut Ozil visited the Zaatari camp just north of Amman in Jordan. The site is the home to vast numbers of refugees from the war in neighbouring Syria – and the place where the Arsenal player's perspective on life changed forever.
"It is the biggest thing I have ever experienced," Ozil tells Sky Sports. "I saw things there that if you just saw it on television it would not touch you in the same way. Kids with no parents trying to survive. It was like a prison. They were just trying to live their lives with hope.
"It changed my life. I realised that I could be doing much more than I was doing."
Enter Mathieu Flamini.
Ozil's former Arsenal team-mate remains a close friend. He is more like a brother, according to the German. But he is also someone with a passion for environmental issues who has been working on various sustainability projects over the past decade.
"Mathieu is always talking about business," says Ozil. "He is always saying that we have to do something and always asking what else we can do. He is an inspiration to me. So the idea came up that we could create something together. I hope it will be the start of a long story."
The next phase of that story is what brings Ozil and Flamini to Covent Garden in London and the launch of their new well-being brand UNITY.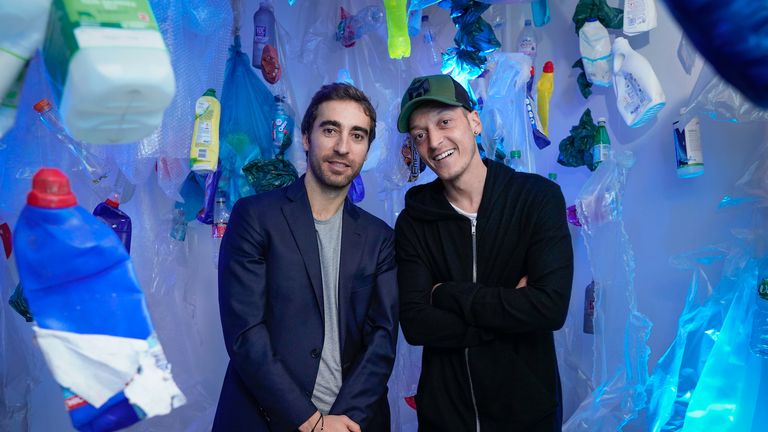 Initially, it comprises a range of grooming products with a difference. Not only is everything natural but even the packaging is made from sugar cane not plastic. The aim is to show that sustainable products are the future with one per cent of the revenue going to good causes.
Ozil is quick to paint a picture of Flamini as the driving force, and hearing the Frenchman talk at length about the detail it is easy to see why. But the admiration is mutual. It has been a challenging year for Ozil off the field but Flamini believes his friend is stronger for it.
"I am very proud of him," he says. "Everybody knows he is a top player but the thing that I am most proud of with him is that he is taking the time to help others by really standing up for his beliefs. That takes a lot of courage. I am very proud to be his friend."
Flamini sees this as the perfect fusion of their two passions. "When you play football you also have spare time," he explains. "You can spend that spare time with your family but you can also spend time trying to create something that will be good for other people.
"We are extremely lucky because we managed to achieve a dream by earning a living from doing what we love which is playing football. Sometimes football can be up and down so it is good to be able to go home, clear your head and think about something else.
"Mesut has been involved in social impact issues for many years now, such as that trip to Jordan with the kids. I have been involved in sustainability for 10 years. My focus was more towards the environment. Mesut's focus was more towards the people.
"We have been active in our respective fields so that's why we decided that by coming together and joining forces we could create a brand that is fair to the people and the planet. After a year and a half of work that is what we have tried to create and it is very emotional for us."
Social issues and sustainability issues are linked, of course, and the first to feel the worst impact of climate change will be the most disadvantaged. A report from the World Bank earlier this year suggested that there could be as many as 143 million climate migrants.
"The numbers affected could eventually be many more than those emigrating because of war," Flamini points out. Ozil, thinking back to those Syrian refugees, adds: "Whether it is war or the climate, they have the same problem in the end."
The pair are hoping for support in tackling a huge issue. Flamini wants to create a collective where other athletes will join them on the journey and it was noticeable that a number of Ozil's Arsenal team-mates were in attendance to support him.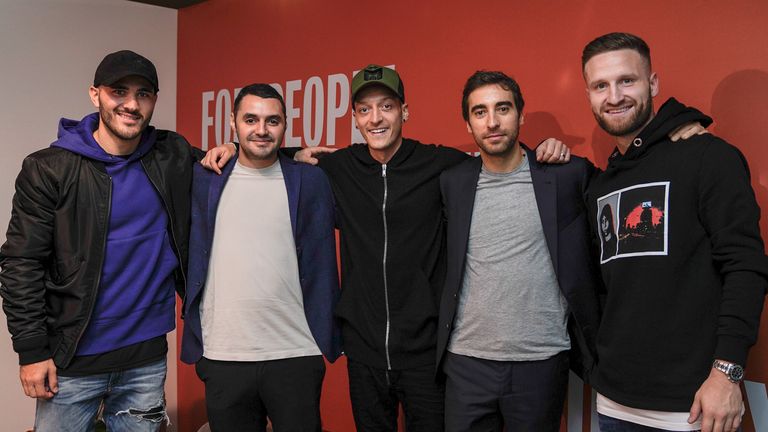 Challenges do not come much bigger but neither man sees it as a choice. "We have a responsibility to stand up for our beliefs and try to inspire the next generation," says Flamini. "We have such a big reach on social media these days, why not use that to do something good?
"That means creating awareness around all these issues. It could help people change their behaviours. We are not trying to change the world but if everyone changes just a little then it adds up. It can make a big impact."
Ozil adds: "We have to do this because, whether you like it or not, we influence people. There are kids who are literally looking at what we are doing, so if we can stand for something then, then they might say that's something great and they might follow."
How successful the venture proves to be remains to be seen. "We are competitors and we love winning," says Flamini with a smile. What is clear is that this is no short-term problem and it is no short-term commitment.
For Ozil too, it is just the start.
"I want to do this after my career but not just this," he says. "I do a lot on the social side working with kids worldwide. That work will go on and these things will merge, the social issues and the sustainability.
"It is a lifelong responsibility for me."
Source: Read Full Article