It is fair to say that this has not been Mason Greenwood's season. Not up until the 83rd minute of Sunday's win over Brighton, at least.
Before the late diving header that salvaged three points from a poor Manchester United performance, Greenwood had scored just two goals in his last 27 games. His last in the league – away at West Ham – had come so long ago, it predated the current lockdown.
It has all been a far cry from Project Restart, when Greenwood hit five goals in United's final nine league outings. He had the same number from 39 appearances in all competitions this season before Sunday night.
Slowly, though, the goals are returning. Greenwood now has two in two after also notching against Leicester before the international break, and this return to scoring form comes on the back of two months of quietly solid individual displays.
Whereas other United forwards have looked fatigued, overburdened and essentially unfit over the past weeks and months, Greenwood has sprinkled stale attacking displays with the vibrancy of youth.
Read more:
Brave Carl Frampton bows out with brilliant legacy after cruel defeat by Jamel Herring
Danger man Diogo Jota is the key to Liverpool's top-four hopes
England Euro 2020 squad: Who's on the bus, who's in contention, who could miss out?
How else would you describe him spinning Mark Noble inside out in the FA Cup fifth round? That night, especially, felt like something was awakening within him again.
Even then, he has had to be patient. Ole Gunnar Solskjaer has talked up Greenwood's displays throughout his goal drought and is not surprised that the teenager's persistence is finally being rewarded. In his mind, the performances have always been there.
Independent Football Newsletter
Get the latest football headlines direct to your inbox twice a week
Read our privacy notice
Independent Football Newsletter
Get the latest football headlines direct to your inbox twice a week
Read our privacy notice
"The world nowadays is so onto stats, assists, goals and this and that," Solskjaer scoffed after the final whistle. "The boy has played fantastic the last two or three months. He has really matured, really come on."
Greenwood was United's liveliest player against Brighton, even before his match-winning goal. In an often lethargic attacking display, he always looked the likeliest to make something happen.
"Today he takes the ball well, links the ball well, takes people on, hits the post, one effort is over the bar," his manager added. "If he keeps learning and improving he will score more, we know that."
The goal itself was scrappier than we have come to expect from a player who is rated as the most naturally gifted finisher in United's ranks, and yet at the same time, precisely what his manager wants to see more of.
"If he scores these goals, that will add another dimension to his game. I'm very very pleased for him to get the winner in the way he did," said Solskjaer.
Greenwood has spent the past few months working on his heading ability in training, while Solskjaer has encouraged him to watch and learn from Edinson Cavani, in the hope that the youngster will pick up how his veteran Uruguayan teammate sniffs out goal-scoring opportunities.
Solskjaer could see the fruits of that labour in the winner, comparing Greenwood's instinctive, decisive diving header to Cavani's pair at St Mary's back in November.
But if Greenwood has now played his way back into scoring form, it has not come a moment too soon.
Anthony Martial is enduring a similarly challenging season in front of goal, but the news that he may miss the rest of the campaign after spraining his knee while on international duty with France places yet more pressure on a United attack that was already struggling.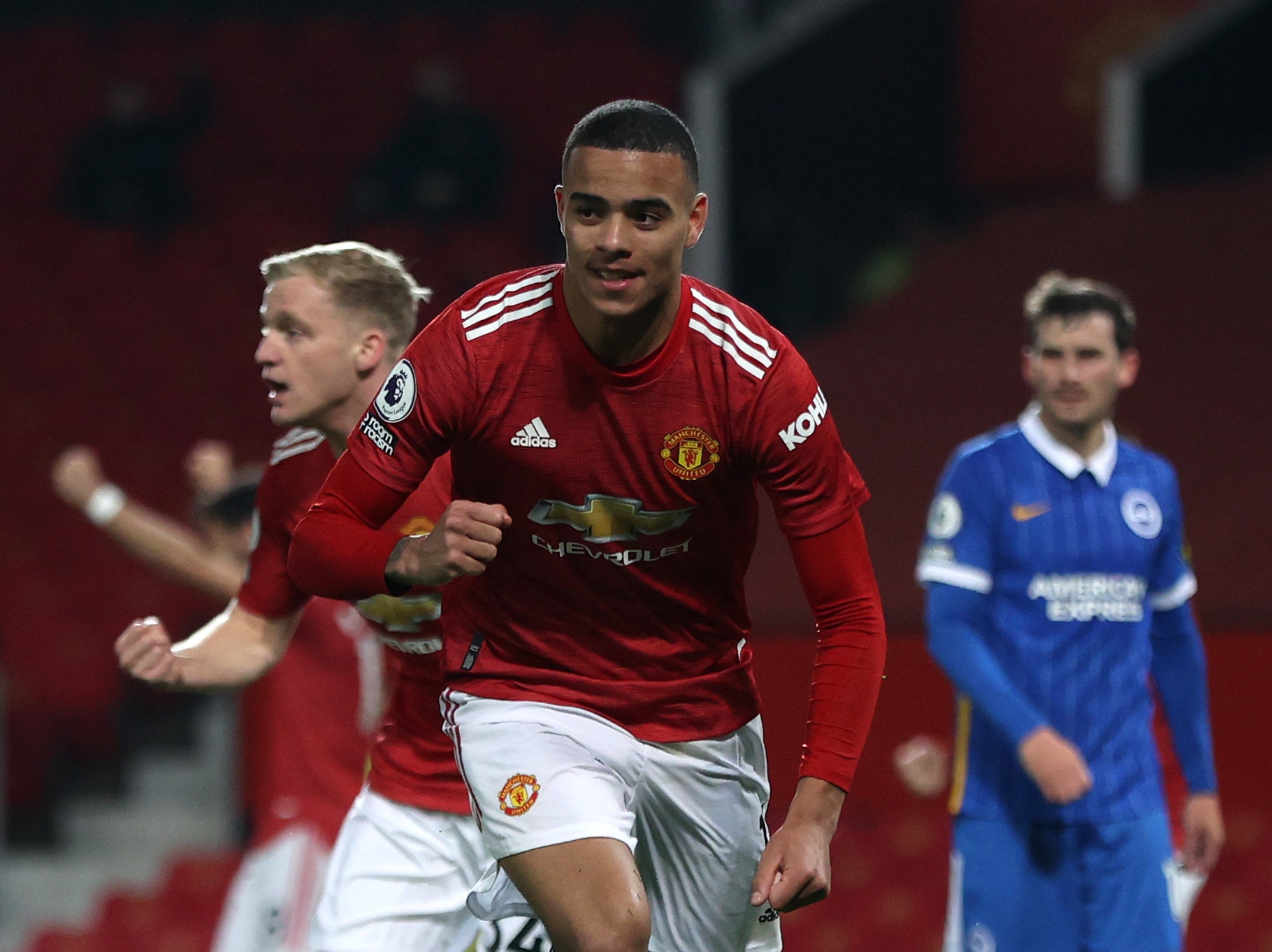 Greenwood scored the winner against Brighton
Marcus Rashford's form has ebbed and flowed all season and his fine equaliser on Sunday night was out of step with a disjointed all-round performance. Rashford looked uncomfortable when coming off shortly after scoring, too.
Solskjaer was unsure when asked about his fitness at full time, though with Rashford carrying a shoulder injury that may require surgery later this year, an enforced rest could do him good.
He's not the only one. Cavani was well below-par against Brighton, as he has been for some time now. Fitness concerns have poured cold water over his promising start to life at Old Trafford and only exacerbated uncertainty over his future.
Cavani has now gone two months without scoring. Rashford's goal on Sunday was his first in six games. Whether Martial will be seen before the end of the campaign is in severe doubt.
Greenwood is the only fully fit member of United's attack in any semblance of form. Between now and late May, he may find that Solskjaer is relying upon him more and more to be the source of United's goals.
That would require a big leap in production on his part, and greater consistency than he has often showed this season, but it could also turn what looked like a forgettable campaign into a memorable one for United's young goalscoring prodigy.
Source: Read Full Article