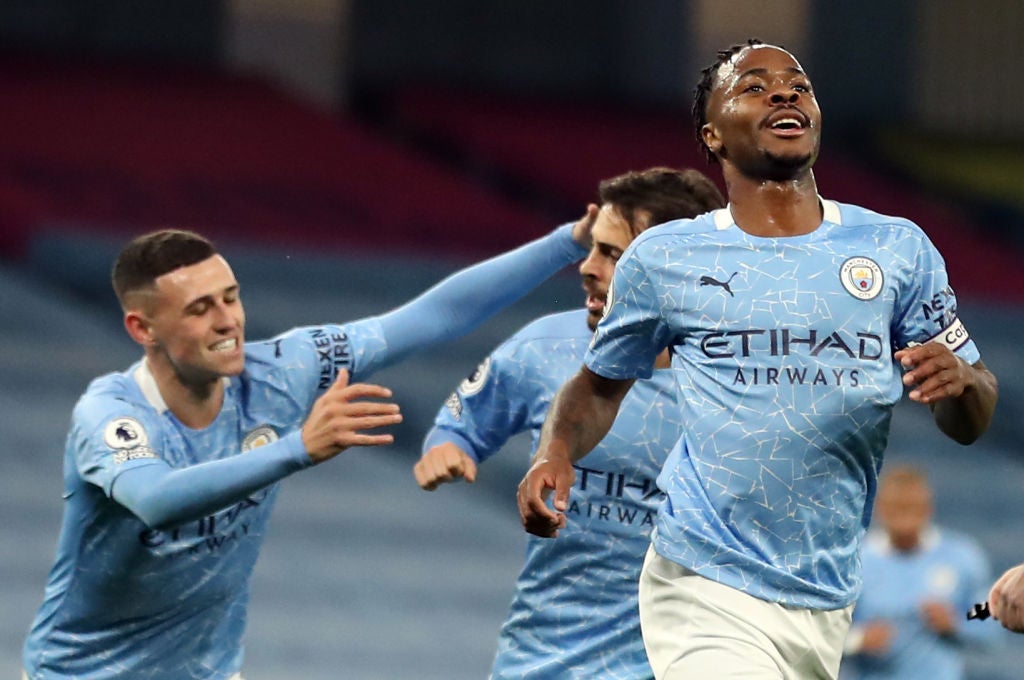 Tactical chess
The line-ups were curious, but the first minutes were revealing just how much these two managers were trying to out-think each other and fill in the weak spots in their teams.
City switched from a 4-2-3-1 base out of possession, to a rotating, roving 3-4-3 in attack. Their switches saw Rodri go from the defensive line to the midfield, Joao Cancelo show all his versatility and tactical flexibility, Nathan Ake be a left-back outlet at times and Bernardo Silva covering every midfield position from between the centre-backs to beyond the striker.
Arsenal were similar: the usual 3-4-3 by line-up, but another very flexible system in and out of possession, with players such as Willian – a centre-forward in the first half – playing unusual roles.
It made for fascinating watching and constant fluctuations of build-up patterns, with the managers both looking to tweak approaches to tilt the game in their favour.
Saka steps up
Among the glut of impressive all-round performers on both sides, Bukayo Saka was particularly excellent.
On the ball he was his usual self: bright, forward-thinking, inventive and tricky to stop on the dribble.
But it was also his intelligence to use space which marks him out, over and over again, as a player who can reach the top.
Defensively he cuts of passing lanes and fortifies the middle of the park with clever positioning, while on the attack he works the flanks, the channel and the very centre of the pitch with equal aplomb.
Big money signing and experience around him will help him develop, and the team, but Saka is again one who keeps showing he can spearhead Arsenal's brighter future.
Aguero's return
He didn't have a huge influence on proceedings in this game, but there's no understating how important the return of Sergio Aguero from injury.
A long-term absence came to an end with a good run-out here, and though he didn't see many chances fall his way there was a clear intent to his running and a few moments of link-up with Phil Foden and Raheem Sterling.
Especially with Gabriel Jesus still out injured for quite some time, Aguero's return is enormous.
With the matches set to come quickly and constantly, it's a huge boost for City's title hopes to have a clinical No. 9 back on the pitch.
Partey time soon
Thomas Partey was the summer-long chase Arsenal involved themselves in, but he had a watching brief for most of this game.
His entrance came after 82 minutes, replacing Granit Xhaka – not exactly an all-out-attack change for the manager, and one which kept the system like-for-like.
Thomas will, clearly, play a huge role for Arsenal going forward. His all-action style, ability to cover the entire pitch and naturally aggressive approach are all factors the Gunners have lacked, as well as a more intelligent approach to defensive matters and controlling the game than the Swiss man he replaced.
The question for Arteta will be whether it's one or the other, or if both can play together in some games with Dani Ceballos the player to be sacrificed.
Tough runs
With both teams in Europe, albeit different competitions, the next four weeks are a non-stop torrent of dealing with fatigue, recovery and different tactical challenges.
City face Porto in midweek, with West Ham thereafter; for the Gunners it's a trip to Austria and Rapid Wien, then home to Leicester.
Domestically it's Arsenal who have the tougher tests over the next few weeks, but their start to the season will still give Mikel Arteta reason to think a competitive campaign is in the offing.
For Pep Guardiola, consistency in wins is everything if they are to reclaim the Premier League crown, so taking a win just hours after Liverpool drop points in a big game of their own is reason for short-term smiles, if not long-term proof of a changing of the guard.
Source: Read Full Article