Carra warns FSG: "There is nothing left for Liverpool's owners in what they are doing and what they are hanging on for"; Jurgen Klopp confirmed he remained opposed to Super League on Monday; First-team squad collectively voice their opposition against plans with 'We don't like it' message

Football Expert and Columnist
Tuesday 20 April 2021 22:57, UK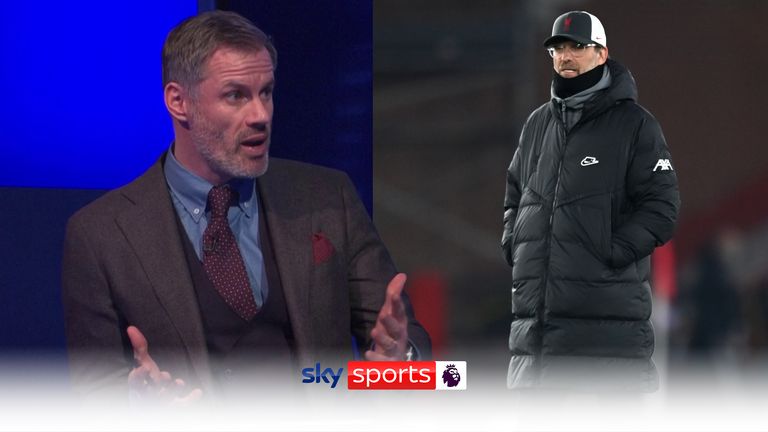 Jamie Carragher has warned Liverpool's owners, Fenway Sports Group, have 'no future' at the club following the European Super League controversy.
Liverpool pledged to be one of the Founding Clubs of the proposed new league when the breakaway was announced on Sunday.
Despite confirmation that Manchester City are intent on withdrawing their involvement and Liverpool's first-team squad joining Jurgen Klopp in voicing their opposition to the proposal, Carragher has launched a blistering attack on the club's hierarchy and ownership.
"I am actually almost as angry at Liverpool right now as l was yesterday, the fact that they are still hanging in there, as if this is still going to happen," Carragher told Sky Sports.
Ed Woodward to step down as Man Utd executive vice-chairman
Chelsea and Man City to leave European Super League
Gary Neville: 'Scavengers' Glazers need to leave Man Utd
"Jurgen Klopp has thrown them under a bus. Their own captain has thrown them under the bus with the rest of the squad. And so has Sir Kenny Dalglish.
Trending
"There is nothing left for Liverpool's owners in what they are doing and what they are hanging on for.
"I actually think the situation with Liverpool's owners is that l don't see how they can continue.
"They can't just leave the club, obviously, the business is worth a lot of money.
"But I don't see a future for the ownership of FSG at Liverpool on the back of this."
Liverpool fans reacted angrily to their club's initial involvement in the European Super League, with banners outside Anfield reading: 'LFC fans against European Super League' and 'Shame on You – RIP LFC – 1892-2021'.
"This will never be forgotten," said Carragher. "I think the best thing for them would be to find a winner. I think it will be very difficult for them to have any sort of relationship with Liverpool supporters and the club going forward."
More to follow…
Source: Read Full Article