Stones has returned to prominence this season
The pandemic has changed the course of at least a couple of England careers. Before the game was forced into hiatus little more than 12 months ago, Harry Kane was struggling to return from a hamstring injury. Had Covid-19 not intervened, the Tottenham Hotspur captain would probably have tried to rush his return for the Euros.
The postponement of the tournament and the sport gave the 27-year-old a chance to recover properly. He is now playing some of the best football of his career.
It has had an impact on John Stones, too. The Manchester City defender has thrived in empty stadiums. In the early months of 2020, the 26-year-old was down the pecking order for both club and country. Representing England seemed an unlikely prospect. Going into this season, the centre back was fifth on the list for Pep Guardiola's team and not even close to being called up by Gareth Southgate.
It seemed like Stones' time in an England shirt would be remembered for his dreadful errors in the 3-1 Nations Cup semi-final defeat by the Netherlands two years ago. All his flaws came to the fore on a night in Portugal that was unforgettable in the worst possible way.
The Yorkshireman has always had lots of ability. His talent has never been in doubt. The problems that have dogged Stones have been his tendency to make daft mistakes and his propensity to switch off during games. These traits affected his consistency and infuriated Guardiola.
READ MORE
Cristiano Ronaldo storms off after being denied late winner for Portugal
England fall agonisingly short as India seal ODI series victory
Calls to boycott World Cup '10 years too late', says Joshua Kimmich
Should football boycott the Qatar World Cup?
One of the instructive things about football without fans is it gives the lucky few present at matches the chance to listen to the communication between players and the bench. During their team's 3-0 victory over Fulham at Craven Cottage earlier this month, City's coaches focused more on Stones than any other player in the side. Significantly more.
Whenever the league leaders pushed forward, the calls boomed out from the sidelines in a variety of accents. "Shape Stonesy, shape," was repeated constantly, ensuring that the defender got himself in the correct position. Stones was on the right of a back three and was directed to review his place on the pitch on a regular basis.
Independent Football Newsletter
Get the latest football headlines direct to your inbox twice a week
Read our privacy notice
Independent Football Newsletter
Get the latest football headlines direct to your inbox twice a week
Read our privacy notice
Another instruction frequently imparted to Stones was "organise." Ruben Dias and Aymeric Laporte received direction, too, but the majority of shouts were aimed at the England defender. It was impossible for him to allow his concentration to slip. The voices on the sidelines never allowed him to go to sleep.
Stones looked every inch a top-class defender in west London. Not only that, his passing was exceptional – one long-range diagonal ball to Benjamin Mendy was sublime. He also got forward and opened the scoring from a free kick early in the second half. Yet the most impressive part of his game was his use of space while defending. He was rarely caught out of position and there were none of the silly blunders that have held back his progress.
Most players have suffered from the lack of atmosphere in pandemic football. Stones has grown in stature.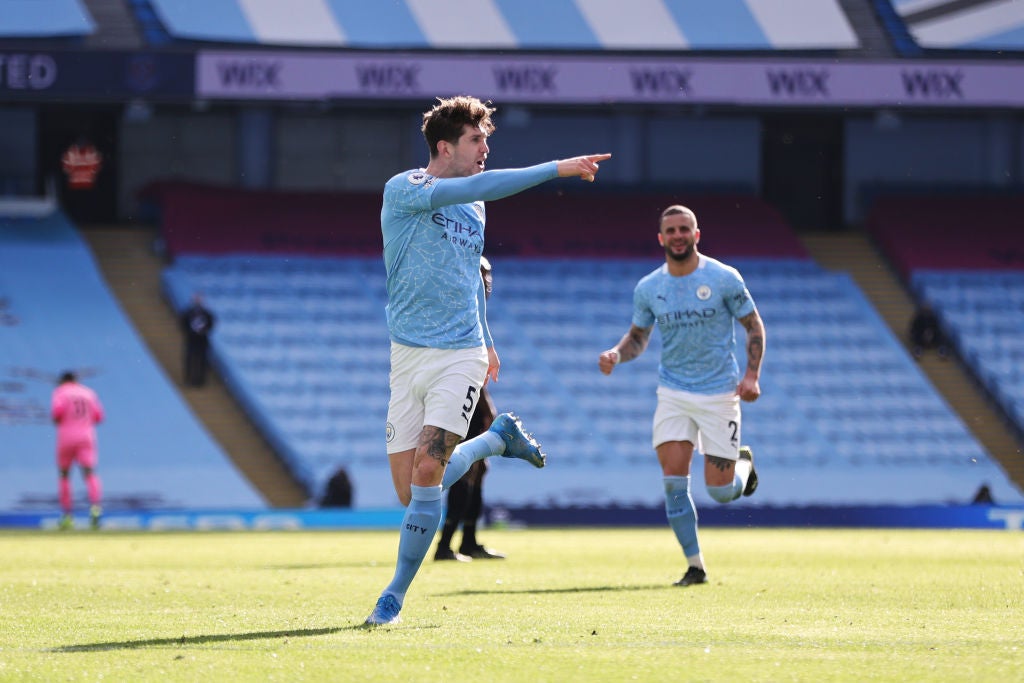 That is to the credit of City's staff. It is rare to hear one individual in a team singled out so much but it has worked.  One of the basic tenets of coaching is "reinforce, reinforce, reinforce." Good habits need to be hammered home, even at clubs full of elite talent.
Some players need telling just once; others require more attention to get the best out of them. Stones is receiving plenty of positive reinforcement at City.
This is not the only reason for the defender's renewed improvement. Dias has been superb and reassuring to everyone around him. Guardiola's back line has not been this solid or composed since the days of Vincent Kompany. Stones has worked hard to get better and earn his place in the side. He responded to the challenge of starting the season on the periphery of the team in a manner that impressed everyone at the Etihad.
"There was no one specific thing which changed," he said last week when asked about his upturn in fortunes. One big thing changed. Stones has stood out in a time of silence. That speaks loud for City's coaching and bodes very well for England.
Source: Read Full Article