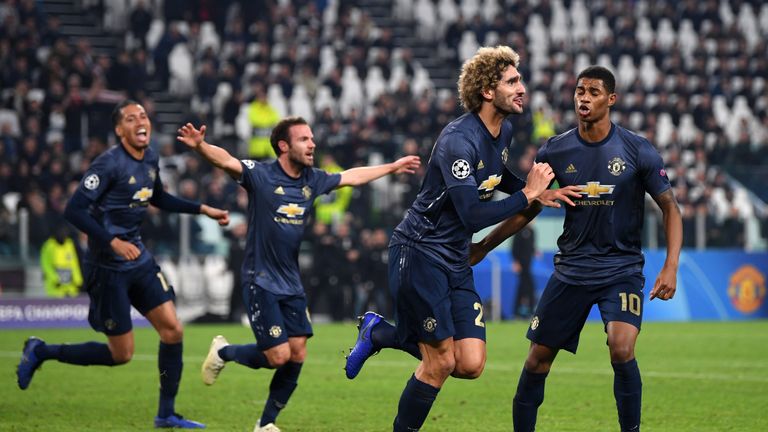 With 11 minutes remaining to see out a 1-0 victory, Marouane Fellaini was probably the last person the Juventus defence wanted to see make his way off the Manchester United bench.
Without a two-goal cushion, it represented a tangible threat which resulted in three points turning into none for Juve.
For those who watch United closely it came as no real surprise. Fellaini, often ridiculed and synonymous with the failed tenures of David Moyes and Louis van Gaal, proved a nuisance in the opposition's box.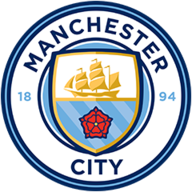 Man City vs Man Utd
November 11, 2018, 4:15pm
Live on
His influential cameo begs the question whether respect for Fellaini's contributions is overdue? And just how does Jose Mourinho continue to get the best out of him?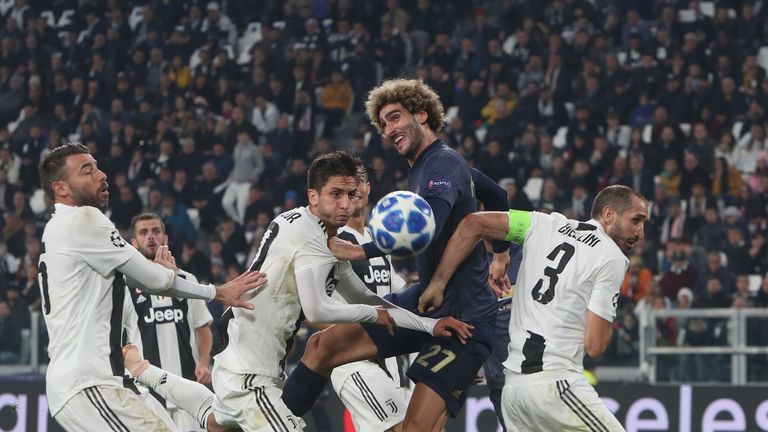 Since August 2017, United's minutes-per-goal ratio is far lower with Fellaini on the pitch compared to him off the pitch – 44 compared with 59.
Fellaini's impact
In the last eight months alone he has contributed to four huge wins for club and country, and Wednesday's victory in Turin was a perfect example of his threat.
Will Fellaini make your Fantasy Six-a-Side team? Pick here
"In the first game, they didn't have Fellaini and we used his absence to our advantage," Juventus boss Max Allegri said. "Tonight, he played and his physical presence was immediately felt.
"Conceding those free-kicks was our greatest mistake. That happened and we paid the price. We'll have to learn from that."
Another mistake, although unavoidable given his track record in the penalty area, was placing three defenders on Fellaini from Ashley Young's late free-kick, leaving a two versus two at the back post in the last minute.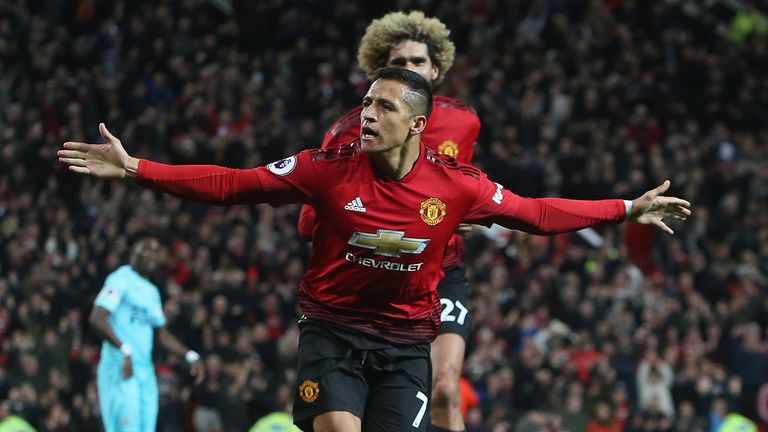 Chris Smalling and Paul Pogba helped bundle United's winner in off Alex Sandro, securing arguably the greatest European result of Mourinho's tenure. After the game, the Portuguese made sure he noted Fellaini's introduction.
"I think it was important to make the team alive again, because when we concede the goal, the team had a period where psychologically we went down a little bit. Fellaini gave us an option to be alive again, by playing directly, bringing the game again to the last third, and by being in the last third, it gave us the chance to create situations like we did."
Since he arrived in England in 2008, Fellaini's game has always been clear. But in recent months, his impact seems to have amplified.
Pundits: Power shift in Manchester?
Manchester derby essential stats
At this summer's World Cup, as Belgium trailed Japan 2-0 with 25 minutes remaining, the introduction of Fellaini and Nacer Chadli changed the game. Roberto Martinez's methodical approach had not worked, so Fellaini came on to provide the chaos. Japan could not deal with Fellaini's aerial threat, he scored the equaliser, and Chadli tapped home the winner.
Against Newcastle early last month, with Mourinho's job reportedly hanging by a thread, Fellaini's introduction at 2-0 down alongside Juan Mata gave United the edge. They won 3-2, and even Newcastle's Matt Ritchie pointed to the Belgian's influence not just in the penalty area, but on the opposition's ability to press.
Ritchie said: "When they brought Fellaini on, it made it hard to put pressure on the ball, we were pegged in and couldn't get out."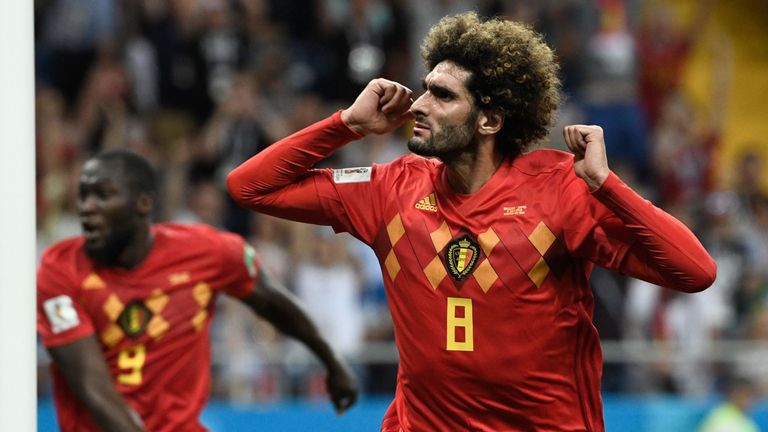 Against Arsenal in April, held at 1-1 with half an hour to go, Fellaini came on and the method of attack was clear: long, wide and high. Fellaini nabbed a winner in injury time. "We want you to stay, we want you to stay," sang Old Trafford. A month later, he'd snubbed Arsenal and signed a new United deal until 2020.
So, should we see Fellaini more from minute one? Probably not. United's win percentage since August 2017 with him starting is 50 per cent compared to 65 per cent without him starting.
Should Fellaini start?
But his use should not be sniffed at. The complexity of football games change dramatically over 90 minutes, and a style from the off is not necessarily the same style in the final 30 minutes, hence the futility of that common cry: "Why can't we play like that from the start?!"
Fellaini injected new life into United's Champions League campaign and provided a great lift ahead of Sunday's derby clash at Manchester City. Don't be surprised to see him causing havoc late on at the Etihad if United are chasing the game.
Watch Manchester City vs Manchester United live on Sky Sports Premier League at 4.30pm on Super Sunday
Source: Read Full Article