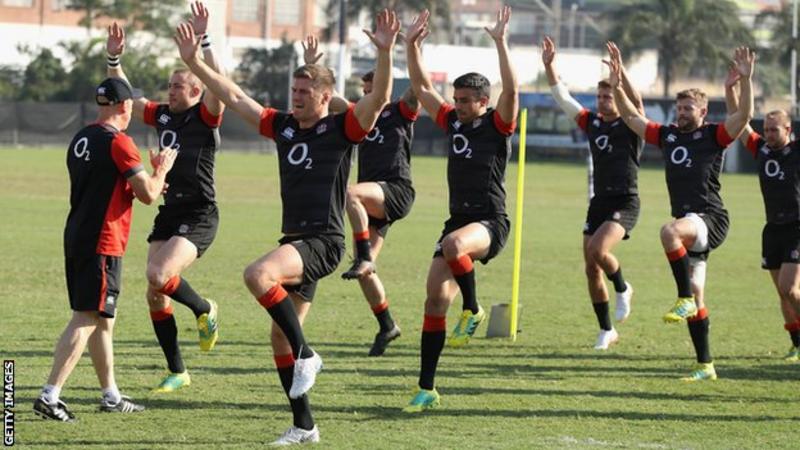 England will hold warm weather training camps in Italy next summer as a "dress rehearsal" for the conditions expected at the World Cup in Japan.
Eddie Jones' squad will spend two, eight to 10-day spells in Treviso, in north east Italy, in July and August.
They face Tonga on 22 September in Sapporo in their World Cup opener.
"The common sense approach is that if you're playing in warm weather, get used to it physically, mentally and skill wise," Jones said.
"Treviso's climatic conditions are very similar to the possible conditions we could encounter in Japan and climatic synergy is good.
"I don't see Treviso as identical but it's useful in being able to trial things before the World Cup. We're trying to dress rehearse it."
Insight and chat – subscribe to the Rugby Union Weekly podcast
In the build-up to their June tour to South Africa, England turned their indoor training centre at their Bagshot base into a sweat box designed to mirror the humidity and temperature of Japan.
"We've already heat tested the players once and there were a number of them who have a negative reaction," said Jones.
"You do all their blood and saliva testing to find out how they're coping. We have to do more work in getting them right to cope with heat.
"The usual players did well such as Farrell and Ford. The good players always find a way to react.
"Others struggle to retain their work rate and then struggle to retain intensity in terms of skill execution. They're the two factors."
Jones also said contingency plans were being made to train indoors in Japan in case of extreme weather.
"You could have three days where you can't train outside so we're definitely coming up with plans to train inside," the Australian added.
"But if there's a typhoon on you can't use the roads so you can't leave your hotel."
Source: Read Full Article