Lewis Hamilton's future remains unclear with the seven-time world champion remaining off the grid for the time being after a bitter ending to the 2021 season for the Briton and Mercedes as Max Verstappen snatched the title from their grasp in a thrilling final lap in Abu Dhabi.
There is plenty of speculation and news surrounding the new season with new rules and regulations introduced to bring greater variety, while the manner of the finale last season has ensured discussions remain ongoing between Mercedes, Toto Wolff and the FIA, with Michael Masi's decisions and performance scrutinised further. There is even a two-month wait for the results of the FIA's inquiry into the highly controversial ending to the race, with Formula One's governing body confirming their findings will be released on the eve of the opening weekend of the 2022 F1 season.
Away from Hamilton and Mercedes, there is a shuffle on the grid with plenty of drivers out of contract and more speculation surrounding who will emerge as part of a fresh-look team for the 2022 campaign. Sergio Perez did wonders for Verstappen's title hopes with a fine drive in Abu Dhabi, but his future remains unclear with Red Bull. Elsewhere Carlos Sainz at Ferrari, Fernando Alonso at Alpine, Pierre Gasly and Yuki Tsunoda at AlphaTauri, Sebastian Vettel at Aston Martin, Nicholas Latifi at Williams, Alex Albon at Williams, Guanyu Zhou at Alfa Romeo and Mick Schumacher at Haas all need to extend their contracts or secure a seat elsewhere.
Mercedes will need the FIA to mend their relationship with race director Michael Masi after withdrawing their appeals of the result in Abu Dhabi on the condition that the FIA would analyse the closing stages of the race, in order to "improve the robustness of the rules, governance and decision-making in Formula One".
Meanwhile newly-elected FIA president Mohammed Ben Sulayem has been in touch with Hamilton as the governing body looks to regain the seven-time champion's trust in the sport, but the results of the inquiry are said to be crucial in whether they are successful. Follow all the latest F1 news below:
Recommended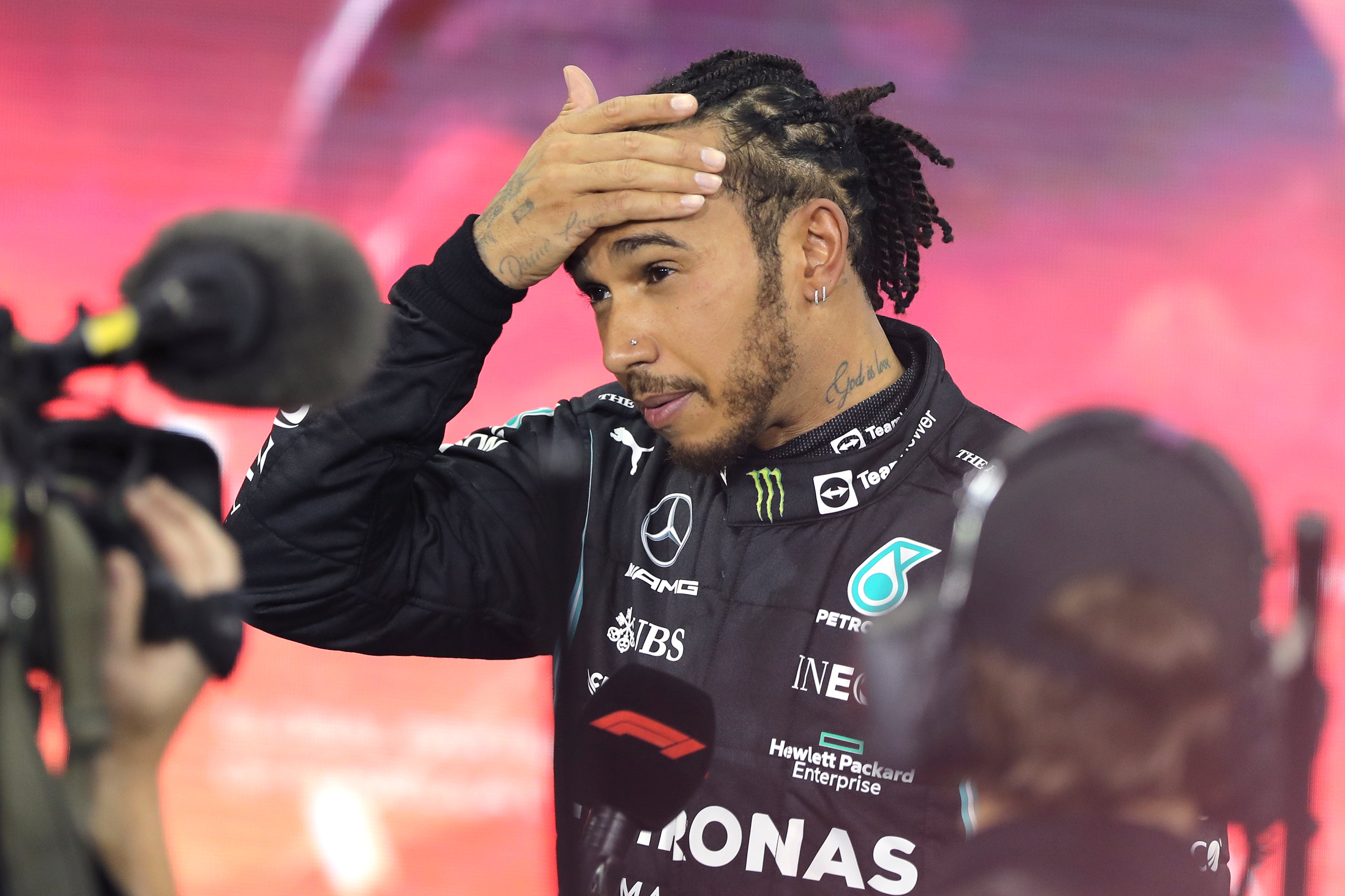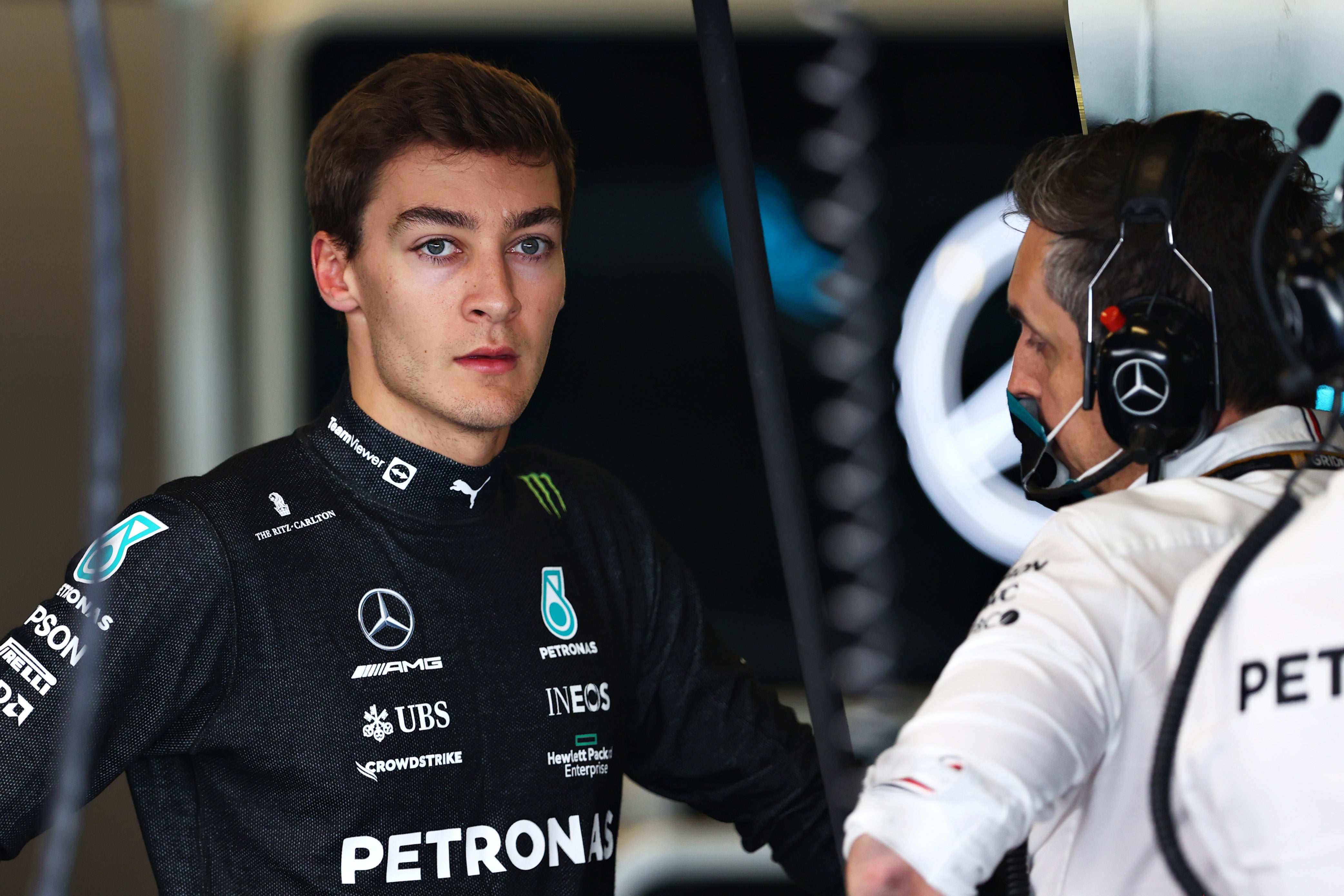 "A great shame for Formula 1"
Martin Brundle has reflected on the controversial end to the F1 season and says, "mistakes were made," when speaking on Sky Sports.
"It was a great shame for Formula 1, we had all eyes on us and then it was clumsy, it confused people and it upset the fans."
However, he also hit back at those who have questioned the legitimacy of the race director, Michael Masi, and those who believe there was something underhand about the conclusion.
"I do not believe, knowing the people, that there was malice involved from race control."
McLaren's "very successful year"
Zak Brown, CEO of McLaren's F1 team, has said that despite finishing fourth this year the team were still able to have "a very successful year."
Brown was speaking at an end-of-year roundtable and outlined the goals that were set for the last season, Brown said: "This year we wanted to close the gap to the front, and we've done that."
"We've scored more points per race than we did last year, we had more podiums than last year, we got our great 1-2 at Monza, we had our pole in Russia."
Brown will be hoping the success continues into next season and McLaren can continue to make great strides forward.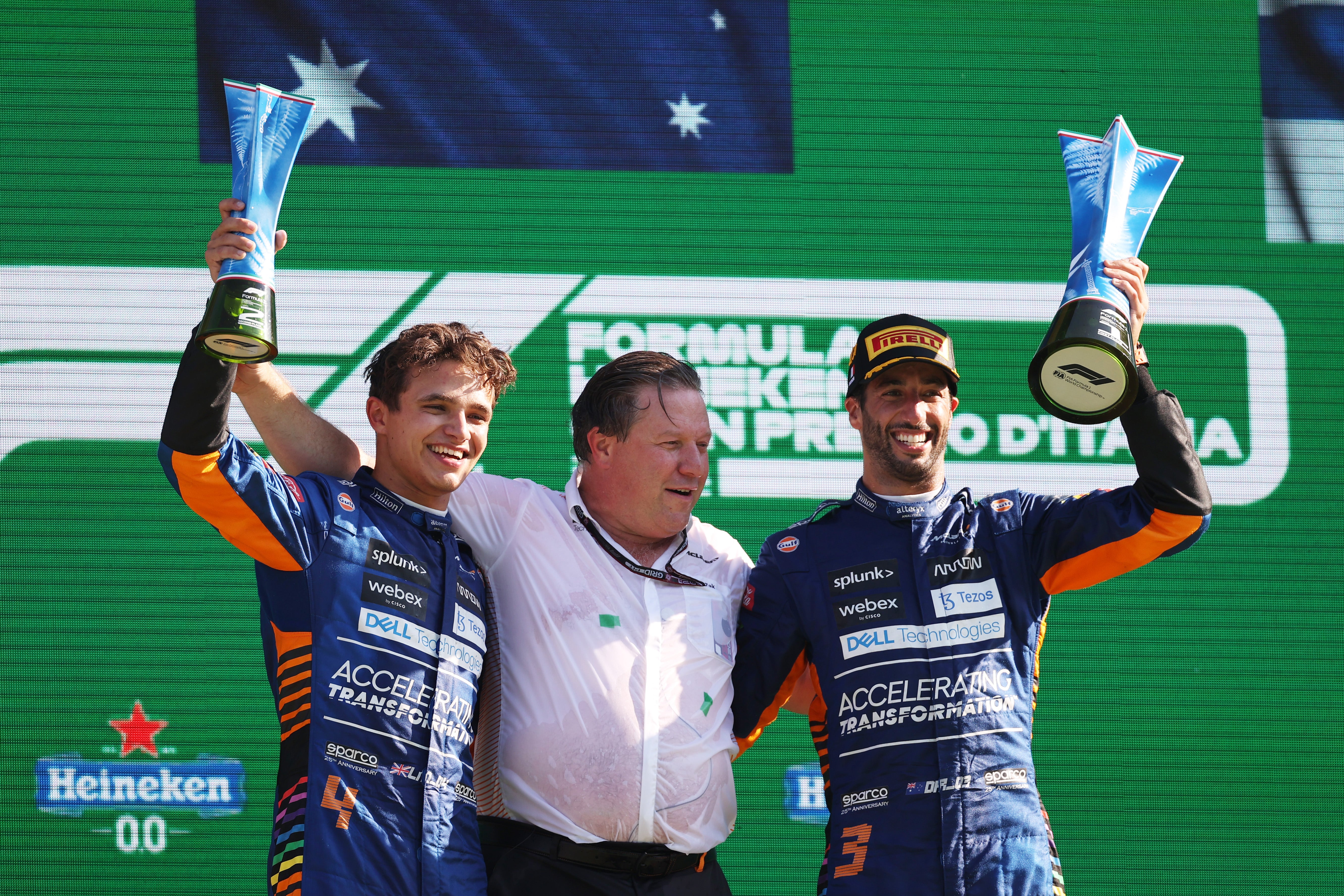 McLaren celebrating their 1-2 at Monza
Alpine part company with executive director Marcin Budkowski
Alpine has parted company with executive director Marcin Budkowski.
After joining the team in 2017, when it was known as Renault, following a decade with the FIA and McLaren.
Alpine's managerial structure has three pillars, including Budkowski, meaning CEO Laurent Rossi will step up for the time being while a replacement is found.
Rossi said: "I would like to thank Marcin for his commitment and contribution to the team's results over the last four years.
"The team is fully focused on getting the car ready for the first race in Bahrain and deliver a step beyond in performance."
While Budkowski added: "I truly enjoyed being part of the leadership team of Renault then Alpine F1 Team, working with such a talented and dedicated group of people.
"I will be watching the team's progress fondly in the seasons to come."
Ocon's win only good enough for bronze
Esteban Ocon's win in Hungary was only his team's third-best moment of the season according to Alpine boss.
When speaking to Motorsport.com the Alpine Chief Executive, Laurent Rossi said: "it's surprising for everyone, it wasn't as much as the 19 points we scored for the podium and fifth place in Qatar, or the strong finish with Esteban's fourth place in Saudi Arabia."
You can read more on this here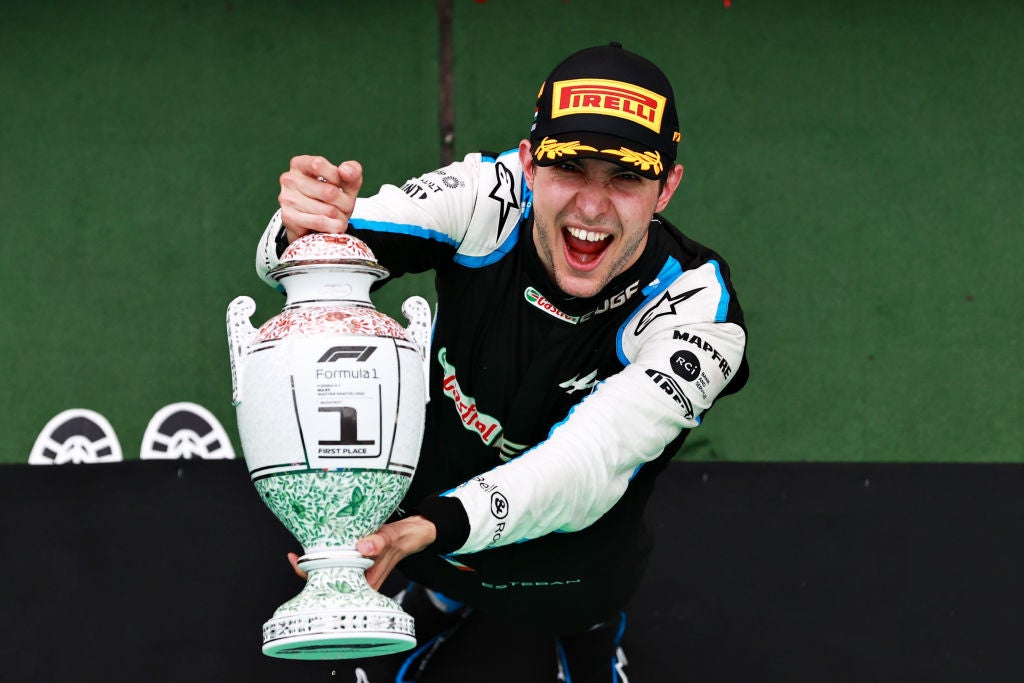 Ocon celebrating his Hungary victory
McLaren won't challenge for F1 title until 2024
McLaren CEO Zak Brown admits his team will not compete for F1 titles until 2024.
"I'm really happy with our people which is what is first and foremost important," Brown said, according to GPFans, while assessing the current level of his team, which will have Daniel Ricciardo and Lando Norris on the grid next season.
"As everyone knows, we had our challenges [in 2020] financially and those have all been resolved and now we are deploying our maximum resources to catch up on the technical infrastructure under the budget cap.
"The wind tunnel is under heavy construction as we speak. We've lots of investment so we're financially very healthy so that is all behind us. Then, on track, we just want to continue each year until we have our infrastructure in place which, unfortunately, really won't be until the '24 season.
"It won't be complete for another 18 months and of course, that is when you start developing the '24 car and we will make the best with what we have, but it certainly won't be until '24 that we can say we have got everything we need."
George Russell's style is 'between Lewis Hamilton and Jenson Button'
George Russell's style has been described by Williams' Dave Robson as "between Lewis Hamilton and Jenson Button".
"A good question. I think Jenson and Lewis were quite different and in terms of driving style, George is also different," Robson told Motorsport.com.
"He's kind of in between the two. To a certain extent it's about using the tyres and they've changed, so I don't know what Lewis' style is like these days.
"The most important thing is that George is able to adapt. He drives quite instinctively and I think he continues to improve. He has the talent."
Martin Brundle calls for Michael Masi to receive more support
Martin Brundle believes Michael Masi needs support, not to be pushed out of Formula 1 altogether.
The race director attracted controversy after his impact on the Abu Dhabi Grand Prix, but rather than banish him entirely, Brundle believes the workload requires a better support team.
"This is way too big of a job for one person to handle this in a 23-race season, it's only going to grow," said Brundle.
"Masi, if he stays, needs a lot of support around him and I suspect that is what they're looking at at the moment.
"And who would actually want to step into his shoes right now?"
Aston Martin announce car launch date for 2022 season
Aston Martin have announced their car launch date for the 2022 F1 season.
The Silverstone-based outfit will reveal all on 10 February at its road car factory in Gaydon, where they produce their Aston Martin Lagonda.
The event to showcase the AMR22 will see Sebastian Vettel and Lance Stroll attend.
Aston Martin will hope for a much-improved season and begin testing on 23 February at Barcelona's Circuit de Catalunya before the season-opener in Bahrain on 20 March.
Valtteri Bottas pinpoints main difference between himself and Lewis Hamilton at Mercedes
Valtteri Bottas believes Lewis Hamilton's "race pace and tyre management" are the biggest differences between their success at Mercedes.
"Many times he had to copy my setup for the qualifying last minute," Valtteri Bottas told GPFans.
"Driving style-wise, tyre management is one of his big strengths, and in any condition and circumstances, he always finds a way, how to be able to extend a stint or the best way to efficiently keep the tyres in a good condition.
"That race pace and tyre management part has probably been the biggest difference between me and Lewis and consistency is what he's had with those things."
Martin Brundle warns 'be careful what you wish for' over Michael Masi future
Ex-F1 racer and pundit Martin Brundle claims there is no obvious successor to Michael Masi currently as the pressure mounts on the race director.
Brundle even warned Mercedes and Toto Wolff, who were furious after his intervention in Abu Dhabi, "to be careful what you wish for".
"Who would you replace him with? Be careful what you wish for I would say in this," Brundle said.
"And what I absolutely know for sure is that changing Michael Masi will not fix the problem."
Registration is a free and easy way to support our truly independent journalism
By registering, you will also enjoy limited access to Premium articles, exclusive newsletters, commenting, and virtual events with our leading journalists
{{#verifyErrors}} {{message}} {{/verifyErrors}} {{^verifyErrors}} {{message}} {{/verifyErrors}}
By clicking 'Create my account' you confirm that your data has been entered correctly and you have read and agree to our Terms of use, Cookie policy and Privacy notice.
This site is protected by reCAPTCHA and the Google Privacy policy and Terms of service apply.
Already have an account? sign in
By clicking 'Register' you confirm that your data has been entered correctly and you have read and agree to our Terms of use, Cookie policy and Privacy notice.
This site is protected by reCAPTCHA and the Google Privacy policy and Terms of service apply.
Source: Read Full Article