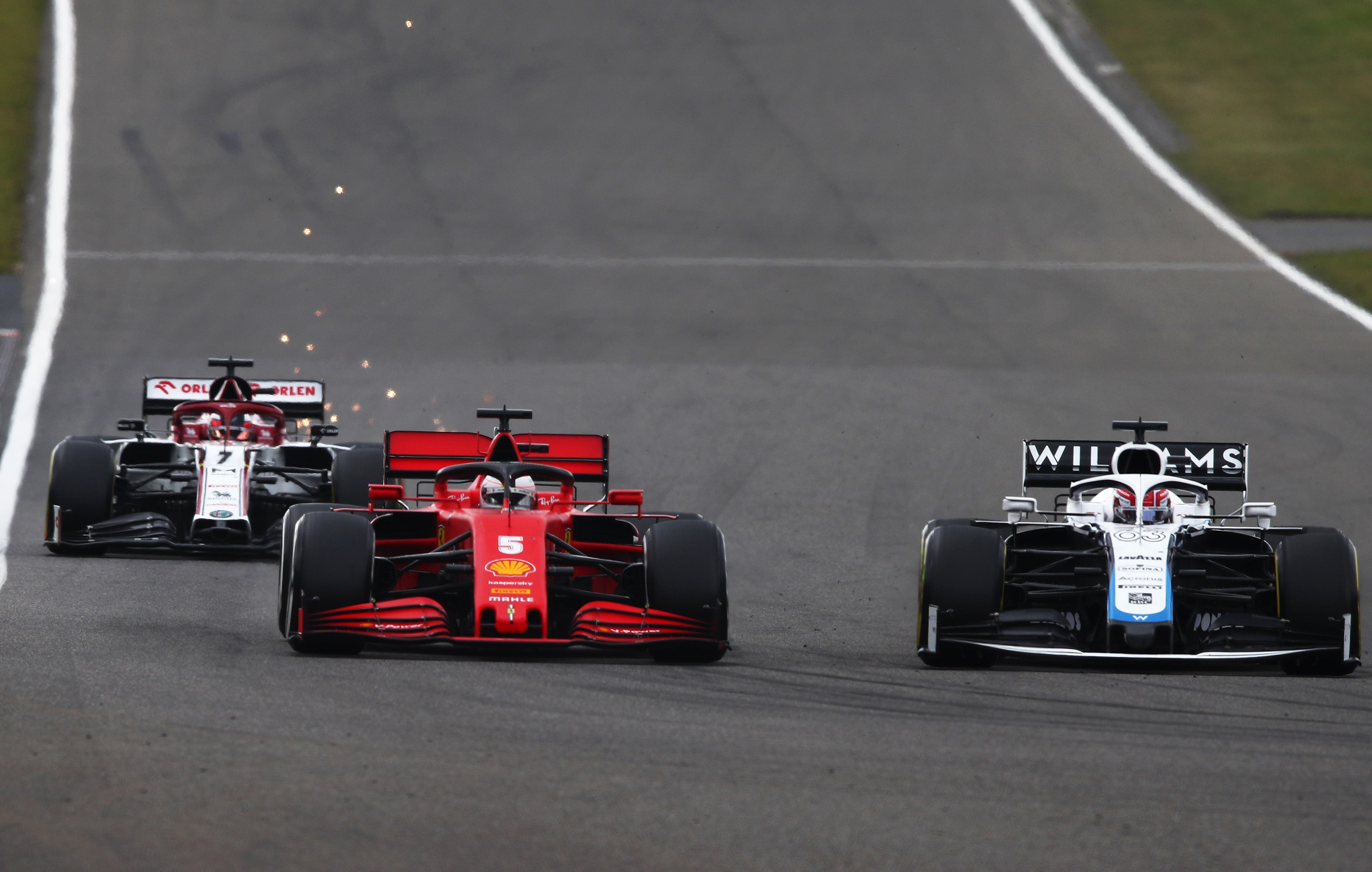 18. Kevin Magnussen (Haas) – down one
A tricky run of races for the Dane as he followed double-retirements in Italy with fairly unimaginative drives in Russia and Germany – which saw him beaten by teammate Romain Grosjean despite out-qualifying the Frenchman. Magnussen found himself battling Vettel and Raikkonen late on at the Nurburgring, but his anger with how the former aggressively passed him resulted in the latter being able to pass for 12th.
17. Antonio Giovinazzi (Alfa Romeo) – up three
The Italian is enjoying a resurgence of late, out-qualifying teammate Kimi Raikkonen in two of the last three races and securing another points finish on Sunday that moves him ahead of his Alfa Romeo colleague. Perhaps in the knowledge that his job is on the line with the young Mick Schumacher sniffing around the paddock, Giovinazzi is giving a good account of himself in both qualifying and on race day.
16. Sebastian Vettel (Ferrari) – down one
Just what is going on with Sebastian Vettel this season? Yet another unforced error came at the Nurburgring, which followed a disappointing 13th-place finish in Russia, as he spun under braking when fighting with Giovinazzi. Vettel's recovery drive ended in 11th, but with so many cars retiring from the race he should really have been well inside the points. The fact that stand-in Nico Hulkenberg has as many points finishes this season as Vettel (two) says everything about the German's horrendous season.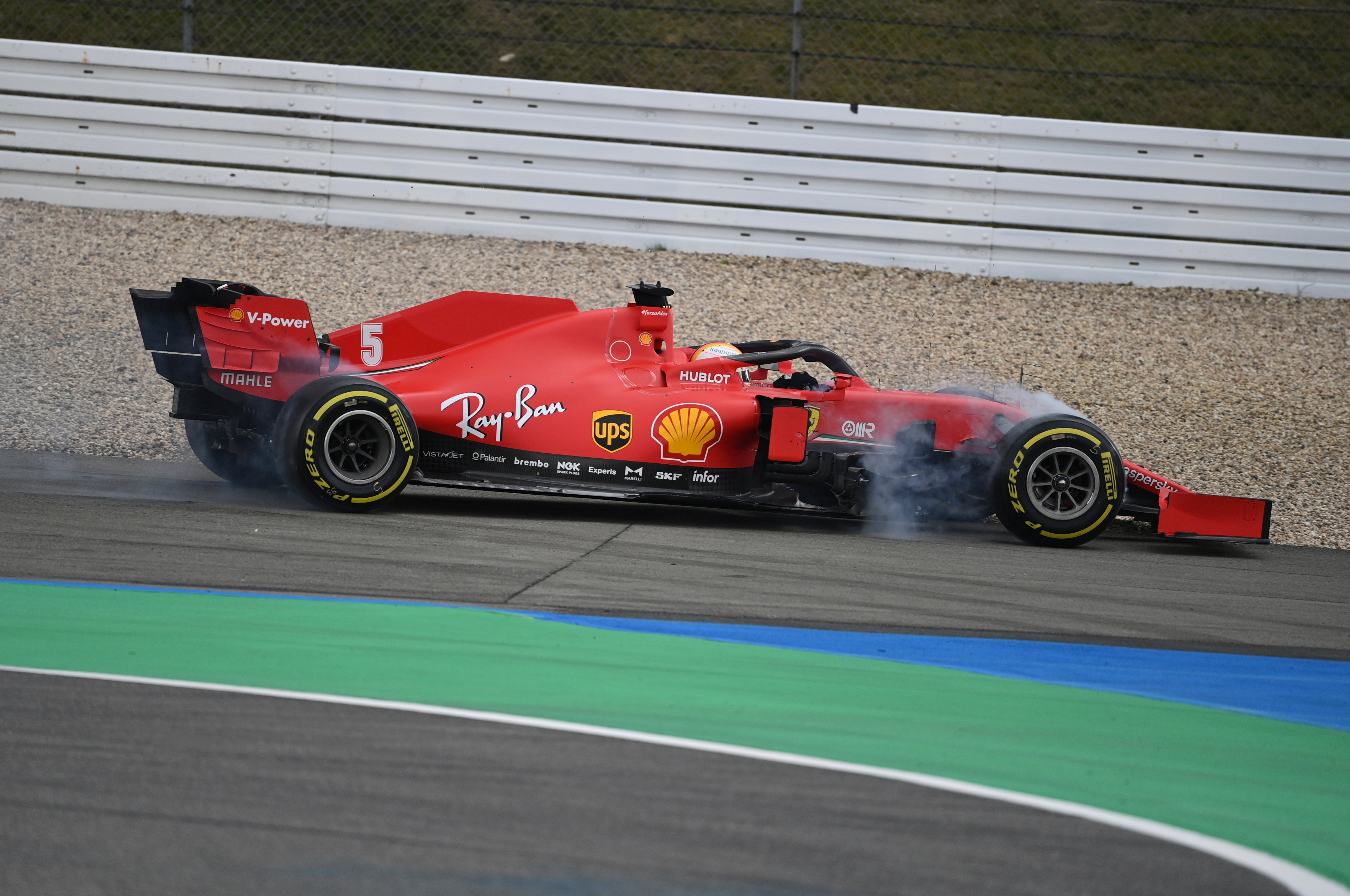 15. Romain Grosjean (Haas) – up one
The delight in Grosjean's voice at the end of the race said everything about his first points finish of the season. Having been hit by a piece of gravel that left his left hand in considerable pain, Grosjean battled on to utilise a one-stop strategy that benefited from the late safety car period, with the Haas driver holding off Giovinazzi and Vettel to claim a strong ninth place. After difficult weekends in Tuscany and Russia, this was a strong response from another man in danger of departing the grid at the end of the year.
14. Kimi Raikkonen (Alfa Romeo) – no move
It was a difficult weekend for F1's most-experienced driver, as he qualified on the back row of the grid and then proceeded to take out Russell when he locked up into Turn One, which resulted in a 10-second penalty that cost him a shot at the points. That said, Raikkonen's pace was strong on race day, and he looks to be heading towards a contract renewal for 2021 which will be just reward for his form this season.
13. Alex Albon (Red Bull) – down three
The record books will show that Albon was forced to retire with a reliability failure, but his afternoon was action-packed for the wrong reasons before Red Bull switched his car off. Albon flat-spotted his tyres on the opening lap as he nearly collected the fast-starting Daniel Ricciardo, which forced him into an early pit stop, before doing exactly the same a few laps later as he very nearly collected Pierre Gasly. Soon enough, he took the front wing off the second AlphaTauri of Daniil Kvyat, which earned himself a five-second penalty, and thankfully a hole in his radiator put him out of his misery on what was a difficult day.
12. Lance Stroll (Racing Point) – down six
Stroll has hit an unfortunate run that has seen him fail to finish – or start – the last three races since his strong showing at Monza. The heavy crash at Mugello was not his doing, while the race-ending collision with Charles Leclerc in Sochi was one of those incidents that can arise on the opening lap of a Grand Prix. Having to miss the Eifel Grand Prix through illness was of course no fault of his own, but he has plummeted down the standings and seen his soon-to-depart teammate surge ahead in their Racing Point battle.
11. Carlos Sainz (McLaren) – down three
Sainz was lucky to escape serious injury in Mugello in the frightening pit-straight accident, before wrecking his McLaren on the first lap at Sochi. By that account, a fifth-place finish in Germany was welcome relief after a rough patch, but he could not help but feel disappointment as he knew the car should have been good enough to challenge for the podium, having suffered from an aerodynamic upgrade that didn't go according to plan.
10. Charles Leclerc (Ferrari) – up two
A fantastic showing in qualifying put the Ferrari back where it's expected to be on the second row of the grid, and although the race pace wasn't quite there as Leclerc dropped down to seventh in the running order, he still delivered a strong showing to complement his sixth-place finish in Russia.
9. Daniil Kvyat (AlphaTauri) – up two
Kvyat was the victim in Albon's nightmare day that wrecked his race at Nurburgring, but his strong performances in securing seventh- and eighth-placed finishes at Mugello and Sochi respectively help to lift him up the order.
8. Esteban Ocon (Renault) – up one
The Renault battle has swung significantly in favour of Ricciardo of late, but Ocon continues to do a solid job that warrants his return to the grid this season. The Frenchman was forced to retire at the weekend as his car ground to a halt in the pit lane, but a seventh-place finish in Russia helped to continue Renault's improvement of late.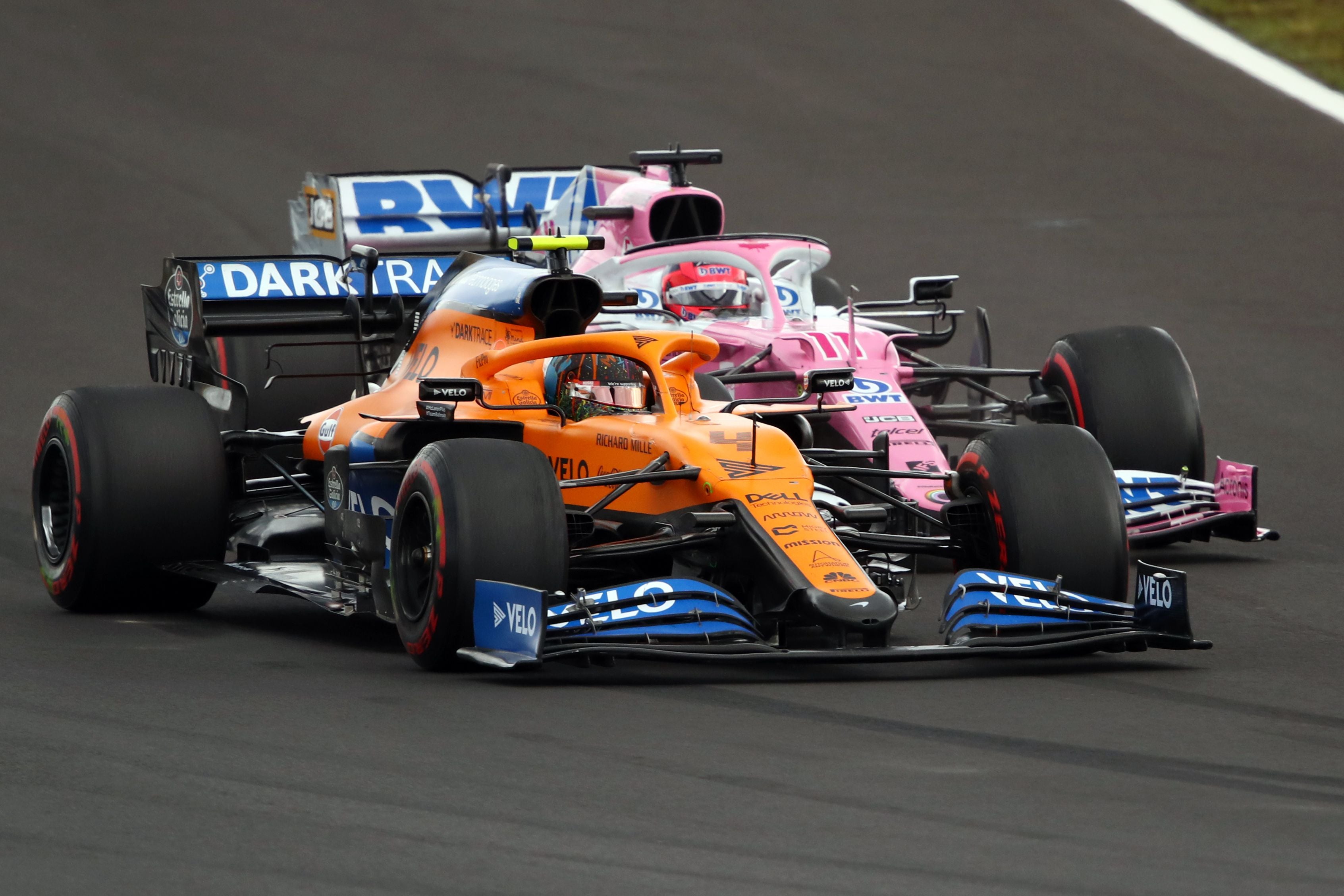 7. Lando Norris (McLaren) – no move
Norris battled hard to manage the McLaren's failing Renault engine, but despite maintaining an impressive fifth position, it eventually caught him out to end his race and catch alight, bringing out the safety car as a result. Having recorded a strong sixth-place finish at Mugello, back-to-back disappointments at Sochi and Nurburgring has him slightly on the defensive.
6. Sergio Perez (Racing Point) – up seven
Perez has been in inspired form of late, with finishes of fifth, fourth and fourth showing the genuine pace of the Racing Point to surge him up the championship standings well ahead of Stroll, despite missing one race more than the Canadian. With his F1 future on the line, Perez is showing exactly why another team should snap him up.
5. Pierre Gasly (AlphaTauri) – down two
Since his heroic victory in Monza, Gasly has hit a few struggles. A first-lap accident at Mugello ruled him out of the race early on, before having to make do with a ninth-place finish in Russia more than 20 seconds behind his AlphaTauri teammate. However, he got back on track at the Nurburgring with an impressive-yet-uneventful drive delivering sixth place and a welcome haul of points.
4. Daniel Ricciardo (Renault) – up one
The main reason why Gasly has dropped down the rankings is due to the form of Ricciardo, who finally earned the podium finish at the Nurburgring that he has been threatening since Spa. A run of fourth-fifth-third has put him 10 points clear of Perez in the battle for fourth, which if Albon continues to struggle at Red Bull could prove to be far more than either expected at the start of the campaign.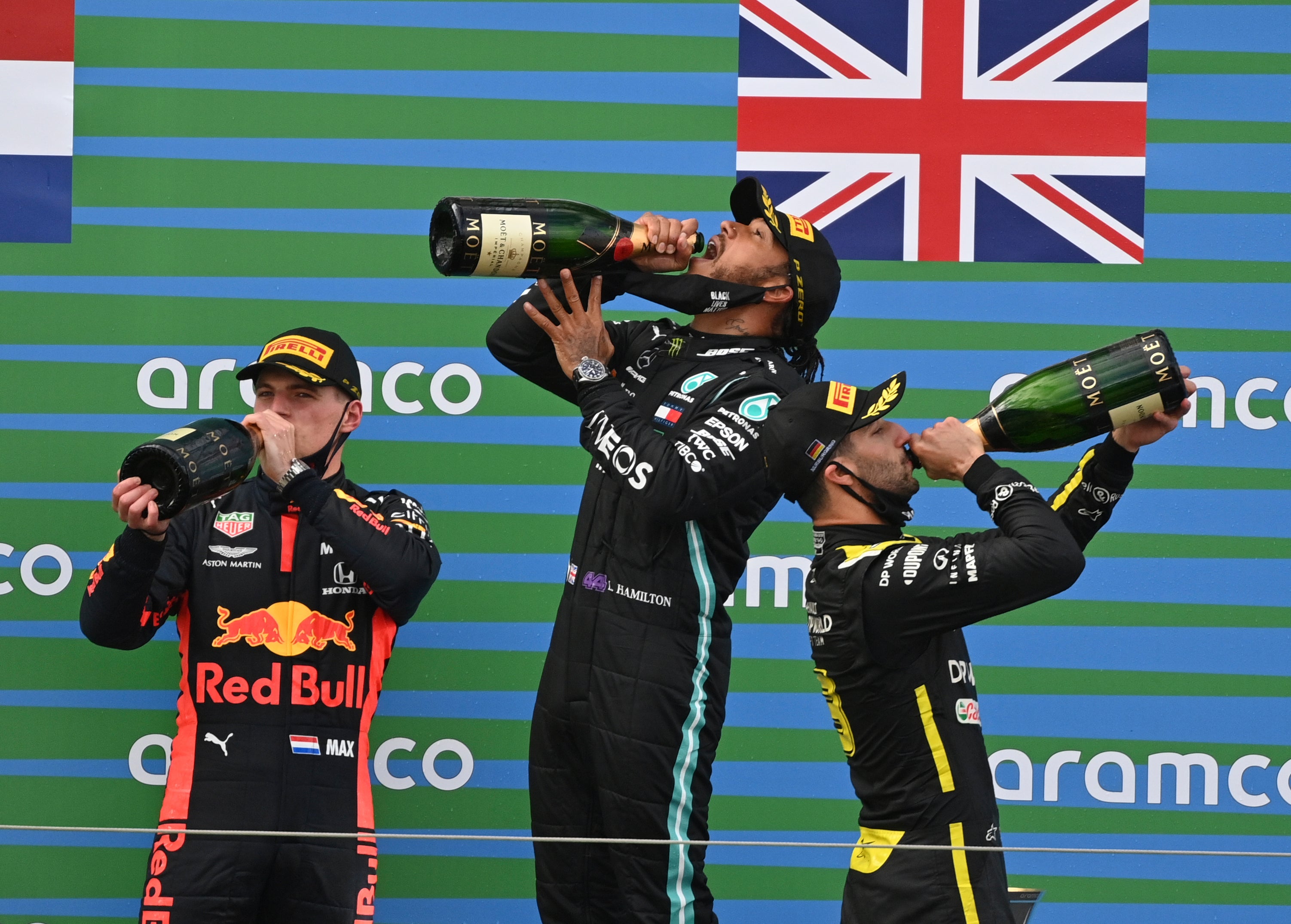 3. Valtteri Bottas (Mercedes) – no move
Bottas would have been on course to return to second in the rankings after victory in Russia followed second place and a competitive drive at Mugello, and the opening lap of the Eifel grand Prix finally saw him get his elbows out to muscle Hamilton out of his way in order to retain the lead. But having done all the hard work in beating Hamilton in qualifying and holding onto the lead, Bottas gifted his championship rival the lead with a monster lock-up into Turn One, which could well have had something to do with the battery fault that ended his race a handful of laps later. As a result, it's third place once again for Bottas.
2. Max Verstappen (Red Bull) – no move
Verstappen backed up second in Sochi with another runner-up spot on Sunday, which closes the gap to Botta to 14 points and reignites the battle for second place in the championship. Verstappen may have had nothing to challenge Hamilton with, but fastest lap delighted the Dutchman and their improvement is at least putting them into range of taking the fight to the front-runners.
1. Lewis Hamilton (Mercedes) – no move
Will put his Sochi error down to a blip after getting back to winning ways at the Nurburgring. Had Hamilton not found a way past Bottas, he would have found himself on the ropes in a championship fight that was in danger of reigniting. As it stands now though, Hamilton has six wins this season, has tied Schumacher's wins record and it appears a matter of time before he wraps up world championship No 7.
Source: Read Full Article