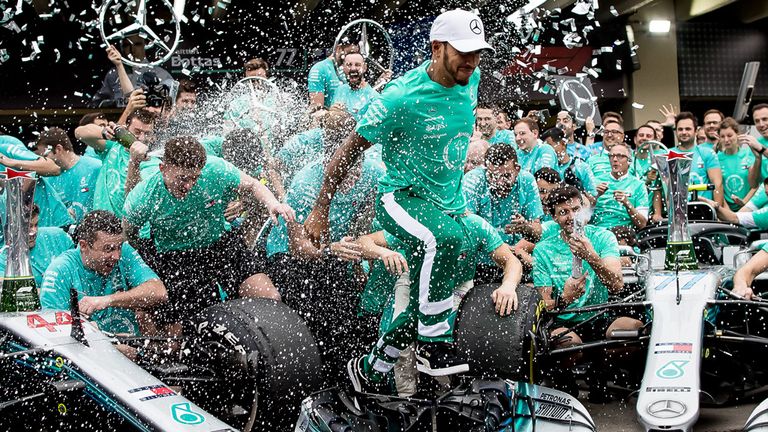 Lewis Hamilton says his and Mercedes' fifth world championship is only the beginning as the Solver Arrows plot further domination of F1.
Two weeks after Hamilton secured the Drivers' Championship at the Mexican GP, Hamilton's victory in Brazil confirmed Mercedes' coronation as Constructors' Championship for a fifth successive season.
Hamilton wins after Verstappen hits Ocon
Mercedes win fifth Constructors' Championship
Full race result from Interlagos
"I want to continue to help elevate Mercedes to make them the most successful brand of all-time," Hamilton told Sky Sports F1.
Ferrari remain the most successful team in F1 history with 16 titles.
"I am so proud to have been part of it – and here's to many, many more," added Hamilton.
"They give me the tools and I try to do the best I can with it. I'm proud that I'm able to sometimes bring a little bit more than is needed or that it's capable of, but that's what I live for."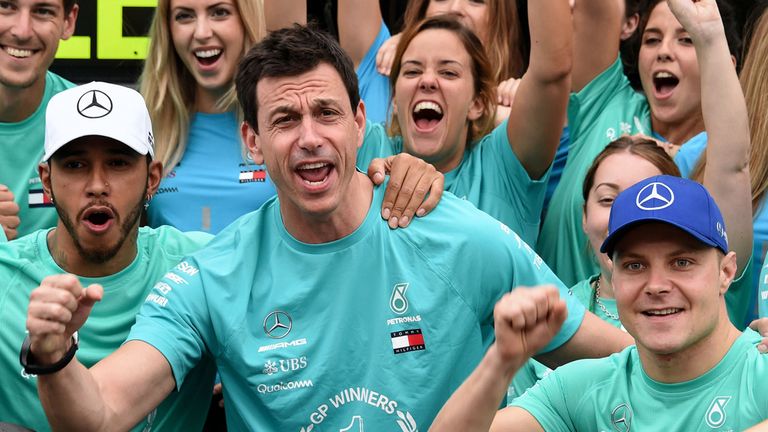 In an awed eulogy to the Silver Arrows star driver, technical boss James Allison paid a fulsome tribute to Hamilton.
"You have to say that this year Lewis has made the difference for us," Allison told Sky F1.
"He keeps putting it on pole, when it's wet he's always at the front, and in the races we can make mistakes and he will recover it by doing something on the track that nobody saw coming, and he spends the whole year not making a mistake.
"He is the consummate racing driver."
In a rare interview, Peter Bonnington, Hamilton's race engineer, added: "It has been an awesome year and he had driven perfectly.
"It has been unreal journey and l would love for it continue. "
Mercedes have won a championship double in every season since 2014 but believe this was their toughest triumph yet.
"It was a very difficult season, "said team boss Toto Wolff. "But that makes the championship victory all the more enjoyable."
Congratulations to @MercedesAMGF1 on winning the 2018 Constructors' Championship. See you in Abu Dhabi #BrazilGP
Sky Sports F1 is the only place to watch every Formula 1 Grand Prix, qualifying and practice session live in 2018. Get Sky Sports F1.
Source: Read Full Article