The world championship for drivers may have been settled for the fifth time in Lewis Hamilton's favour, in Mexico a fortnight ago, but the intensity of the fight for race wins in the remaining two events of 2018 remains as high as ever.
Practice here at Interlagos this morning saw the top three teams lapping within 0.096s of another, as Max Verstappen's Red Bull narrowly headed the Ferrari of Sebastian Vettel and Hamilton's Mercedes. All three set their times on Pirelli's fastest supersoft compound, and within moments of each other. Hamilton set his fastest lap with 1m 09.07s, only to see Verstappen beat that seconds later with 1m 09.011s, and for Vettel to separate them with 1m 09.060s.
The result was nevertheless a boost for the new champion, who suffered tyre wear problems in the last two races and could thus only finish third and fourth as Ferrari and Red Bull finally got back to the top in the US and Mexico respectively.
Previously, Hamilton had enjoyed a string of victories between Italy, Singapore, Russia and Japan that had ultimately helped to secure his latest title. "Some of it's still a mystery, but there's a lot of areas that we've understood," he said of the excessive wear problem that prompted team boss Toto Wolff to describe his machine as "a Formula 3 car" as it faded from contention at the Autodromo Hermanos Rodriguez. "We've come to another circuit which is quite hard on the tyres, Brazil is always quite tough in that area, but we've not been terrible here.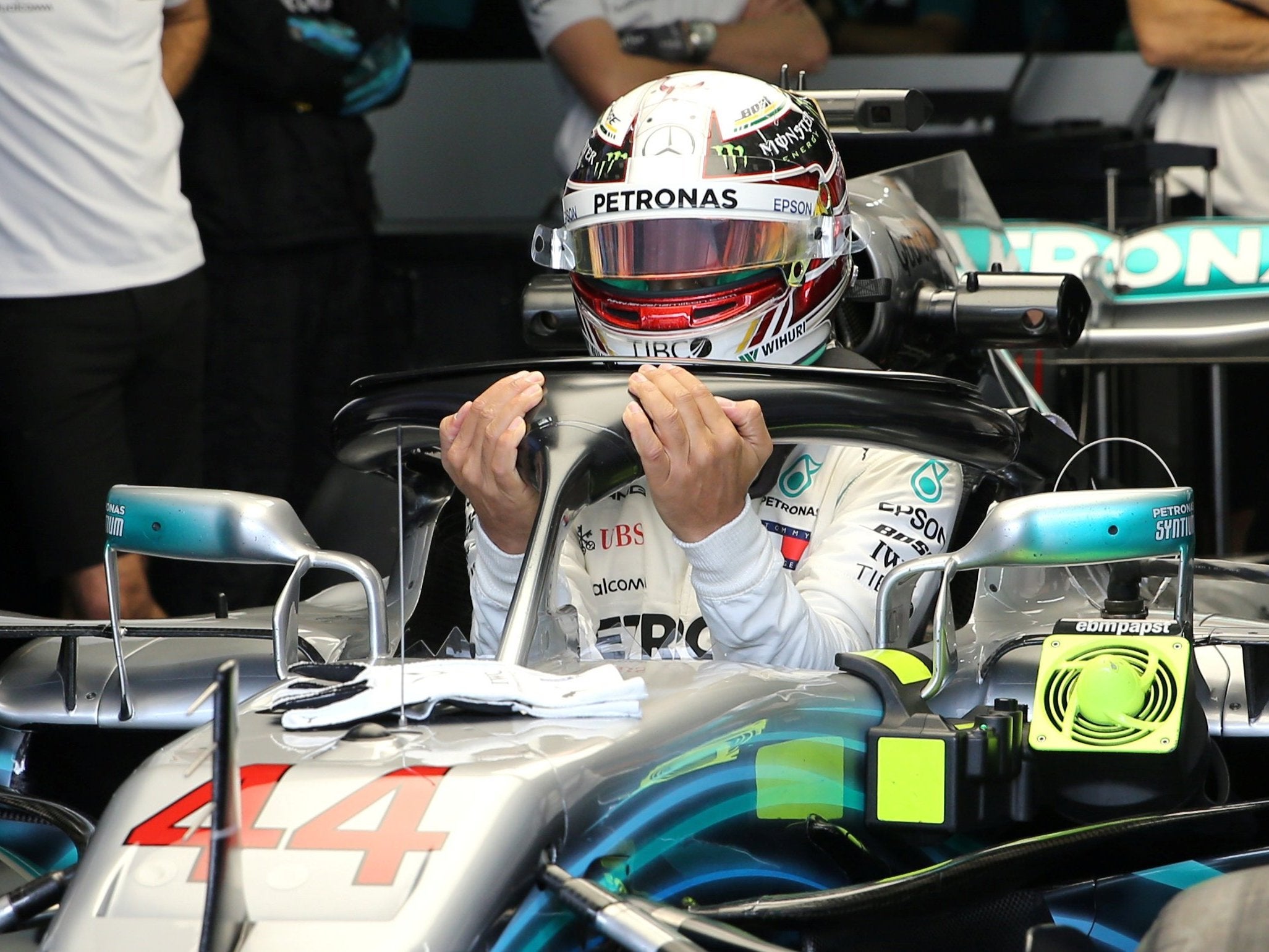 "I'm hoping this weekend we can get the car into the right place, so we can fight the Red Bulls and the Ferraris, who have seemed to come back more into shooting range. Red Bull's dominance in the last race was impressive, and I'm sure they'll be quick here this weekend as well, as will Ferrari. So it's going to take everything and more."
Wolff admitted that mistakes had been made in the crucial management of the tyres. "It just points to the fact that there's still always lots of work to do, even at this point in the year there's still things you can learn from and improve, or methods that you can apply to next year particularly, which are going to be quite important," Hamilton said.
"Even though they have not been great races, I think the last two have been quite a steep learning curve for us." Vettel had just regained fastest time from Hamilton's team-mate Valtteri Bottas when the afternoon session was red-flagged after Renault's Nico Hulkenberg made an uncharacteristic mistake and ran wide on the fastest part of the course heading out of the final corner on to the long, left-handed climb to the main pit straight. The German destroyed the right-hand suspension after heavy contact with the steel barriers, but was unhurt.
The session resumed after eight minutes, and Hamilton quickly engaged the two Ferraris as Verstappen was held in the pits as his team worked on an oil leak his Red Bull. The champion set the pace on the soft-compound tyre with 1m 09.245s before Vettel and Bottas moved ahead on supersofts. Hamilton's response on the same tyres was three-thousandths slower than his team-mate after he locked a front wheel under braking.
In the end, last year's race winner Bottas remained fastest on 1m 08.846s – half a second shy of his 2017 pole position time of 1m 08.322s – with Hamilton on 1m 08.849s and Vettel 1m 08.919s. The German complained at one stage of a problem with "something loose between my legs. Apart from the obvious… Something lose around my feet."
Hamilton, meanwhile, wasn't 100 percent happy with the feel of his car during his race simulation. "It's been a good start so far," he said, "but we have some work to do tonight." Verstappen eventually got going after 43 minutes and worked down to 1m 09.339s on the supersofts despite a race to the line with Lance Stroll's Williams. That left him fifth behind team-mate Daniel Ricciardo, who lapped in 1m 09.164s.
The Australian's wretched luck remains unchanged – he will get a five-place grid penalty here for changing a turbocharger on his Red Bull's Renault power unit. With the top three covered by 0.073s and the top six by half a second, things remained close in the second session. But dry road performance may be rendered academic if weather forecasts prove to be accurate. Rain is predicted for both qualifying and the race.
Follow the Independent Sport on Instagram here, for all of the best images, videos and stories from around the sporting world.
Source: Read Full Article