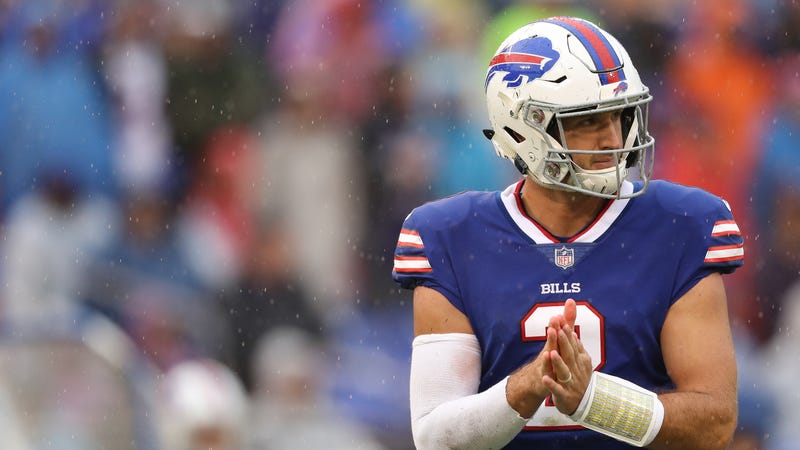 Gather round, if you dare, and enjoy this very scary story on Devil's Night.
Once upon a time there was a little-known quarterback that those brave enough to speak his name called "The Peterman." The Peterman came from the University of Pittsburgh, standing a sizable 6-foot-2 and weighing a hefty 226 pounds, and his college numbers sang a siren song intriguing enough to draw a football team up in Buffalo into a fatal mistake: drafting him in the fifth round.
The Peterman went unnoticed at first, sitting behind his first victim, Tyrod Taylor, for the opening several weeks of the NFL season, until a massacre against the Saints led a desperate coach to call his number, looking to be saved. But his hope was only answered by destruction—in his very first start, The Peterman threw five interceptions in the first half, and quickly got scuttled back into hiding.
In the 2018 offseason, however, mysterious circumstances led to the departure of Taylor, and the installment of The Peterman as Buffalo's starter once again. The monster brought nothing but devastation and despair on those who had dared to summon him, and again, he was heroically pulled away from the football field and replaced by a bright young man named Josh Allen. Allen played beautifully at first, but no good can flourish while The Peterman stalks the sidelines—a freak elbow injury sidelined the boy for the foreseeable future.
No matter. A man named Derek Anderson was brought into to replace Allen. He's far from the ideal choice to start on a 2018 NFL team, but beggars can't be choosers, and Anderson's longevity in the league made him at least a bit more trustworthy than the demon lurking below him on the depth chart. The results with Anderson were far from pretty, but his QB rating of 56 was at least preferable to the horrifying alternative.
Advertisement
But then, Anderson's brain started acting strange, strange enough that he couldn't finish out the Bills' loss to the Patriots on Monday night.
The Bills went to the team doctor's office to find out what was wrong.
They knocked three times.
"Come in," the team doctor said.
And then ……. they opened the door!
Advertisement
AHHHHHHHHHHHHHHHHHHH!!!!!
Source: Read Full Article