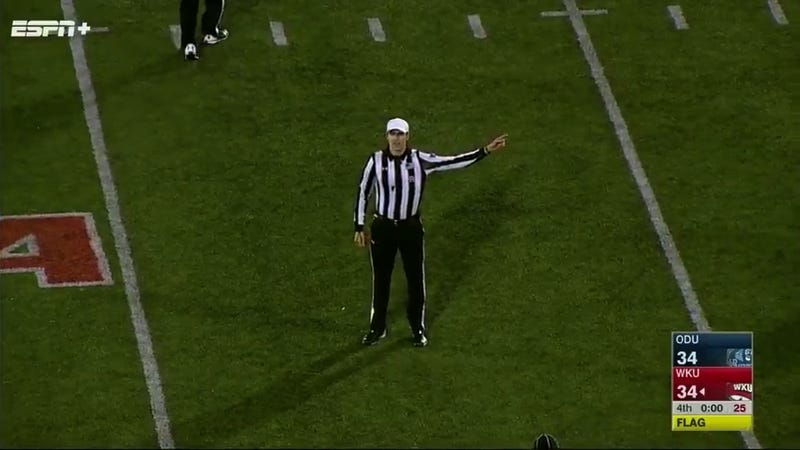 Unless you're a fan of either team, or are Tim Burke, you were most likely not watching Saturday night's college football game between one-win schools Western Kentucky and Old Dominion. You missed a nutty finish!
With 1:37 left in the fourth quarter, the Hilltoppers took a 34-27 lead on Gino Appleberry Jr.'s two-yard touchdown, but the Monarchs would not go quietly. ODU quarterback Blake LaRussa engineered an eight-play, 79-yard drive that ended with a TD pass to Travis Fulgham. WKU wanted to use the nine remaining seconds to attempt a game-winning field goal and avoid overtime, but instead it doomed them.
The Hilltoppers' first field goal attempt fell short, but the defense had 12 men on the field, so they had a chance to re-kick, five yards closer. The second attempt also missed and Old Dominion's Isaiah Harper caught the ball; he ran it back WKU's 17-yard line and also drew a grabbing-the-facemask flag. Since the game can't end on a defensive penalty, all of this set up a 26-yard field goal attempt by ODU's Nick Rice, and he nailed it.
Here's the good shit, courtesy of Burke:
Advertisement
The play on which Harper returned the ball was called "special." ODU head coach Bobby Wilder was glad his team pulled it off, but he admitted there was a little luck involved. From the Virginian-Pilot:
"We were fortunate it worked out the way it did," Wilder said. "I'm just really proud of our kids to execute."
Harper's runback wasn't lucky, though. He knew that he had a good shot at drawing a flag if he stayed upright:
"The field goal team is a bunch of linemen," he said. "You've got to try to beat them to one side, and I ended up going to the short side of the field.
"O-linemen aren't used to tackling, so I knew that if I kept fighting they were going to do everything they could to take me down. In this case, he grabbed my face mask."
Advertisement
This ending was the coolest thing in college football this weekend, excluding Urban Meyer losing.
[Virginian-Pilot]
Source: Read Full Article