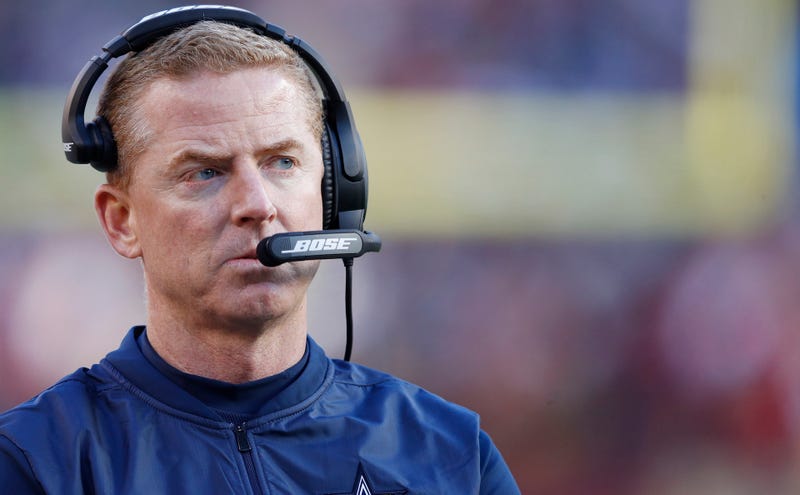 In the most NFC East–ass ending, the Cowboys lost Sunday to Washington on a missed game-ending field goal, which came after Dallas bungled its final drive and committed an inexplicable penalty.
Dallas trailed Washington by 10 late in the fourth quarter after Ryan Kerrigan's strip sack gave his team an easy touchdown. ESPN's win probability rating gave Washington a 98.7 percent chance to win, though the Cowboys mounted a spirited comeback when they scored a touchdown then forced Washington into a 28-second three-and-out.
Dak Prescott got the ball back on his own 36 with 1:09 on the clock and one timeout remaining. He led a drive that concluded at Washington's 31-yard line with one timeout and 12 seconds left. That's when Cowboys head coach Jason Garrett got "safe." Instead of trying one shot at the end zone—or even to make it a shorter field goal—and using the luxury of the timeout to go to the middle of the field, Garrett played for overtime, handing it off to set up a game-tying 47-yard field goal. CBS Sports color commentator and former Cowboys QB Tony Romo was on the call, and he questioned Garrett's decision not to go for the win. It cost the Cowboys dearly, as a pre-snap penalty moved back the attempt five yards. Kicker Brett Maher clanked it off an upright.
The Cowboys may have felt that they were robbed, as the illegal ball movement penalty was a sufficiently strange call that the NFL Officiating Twitter account had to clarify. Long snapper L.P. Ladouceur has been in the league since 2005, and he said that he's never been called for such a penalty before. "I just adjusted down so I could put my hands on the bottom of it, so I could snap it in the right direction," Ladouceur said via ESPN. "Exact same thing I've been doing for 14 years … I'm not even trying to get him offside. I know the situation. Just too bad."
Advertisement
A keen observation from the Washington special teams coach might have led to the costly penalty.
Advertisement
But the Cowboys might not have been in that position had Garrett not been overly conservative. This isn't even the first time this season that his hesitancy has cost his team. In Week 5, he elected to punt against the Texans from fourth-and-one at the Houston 42-yard line in overtime. Jerry Jones called him out after that loss; this time, the team owner who seemingly never shuts up didn't even talk to media after the game. Garrett explained himself, and he didn't really have a good reason for why he didn't try to win the game:
"The biggest thing after we got ourselves into field goal range was to try to get up there and clock the ball, preserve that last timeout and then give us the freedom," Garrett said. "I think we were trying to get the ball down to 12 seconds. So once we got down to that point, the biggest thing that we wanted to do was maximize the field goal opportunity and run the ball, make some yards, use the timeout and then kick the game-tying field goal."
Jones has continued his silence by canceling an appearance on a local Dallas radio station this morning. He and the Cowboys are in D.C. enjoying the sights, and they all went to the National Museum of African American History in what was definitely not an easy opportunity for Jones to display a sensitive side to his whiskey-soaked personality. Garrett was on the trip, and he's still scheduled to appear on the radio tonight, so Jones might hold off on determining his coach's fate. There'd be no better time to do it than before the bye week, though, unless Jones wants to see if Garrett will open things up with Amari Cooper in the offense for the rest of the year.
Source: Read Full Article