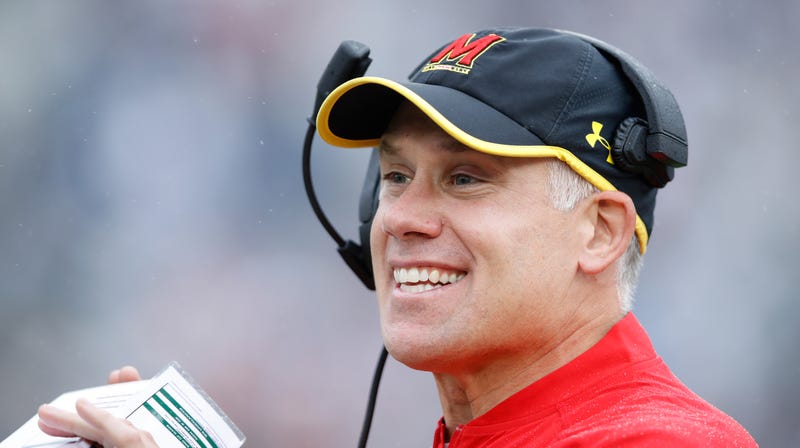 Maryland football coach and alleged tyrant DJ Durkin will return to the sidelines this weekend for the Terrapins' game against Michigan State, as first reported by 24/7 Sports. The University System of Maryland Board of Regents reportedly recommended that the school retain Durkin and athletic director Damon Evans, so both men, as well as school president Wallace Loh, will all return from their 10-week suspensions at some point this week. They were suspended as an investigation into the preventable death of Jordan McNair began. The investigation wouldn't label the football program "toxic," even though it described Durkin's program as toxic.

The Washington Post has gotten its hands on the long-awaited findings of an investigation into the…
Loh will reportedly also announce at a presser this afternoon that he will retire next summer.
The board of regents only held the power to fire Loh, not Durkin, and according to the Washington Post, Loh didn't want Durkin to get his job back. But Loh was reportedly told that he would be fired by the board if he didn't keep Durkin, as they wanted:
In his meeting with the regents last Friday, Loh explained to the board why he felt the school needed to move on from Durkin.
"It was made clear that if he wanted to remain in his position, he had no option," said one person close to the situation said. "He ultimately felt it would've been tremendously disruptive to the entire campus if he was to be terminated simple because he wouldn't put the coach back on the field. . . .
"The board has no authority to hire and fire a football coach, but they made clear that returning DJ to the field was their highest priority."
Advertisement
So, Maryland will keep Durkin, even though many of his players hate him, one player died on his watch, and an independent investigation found his program to be a ruthless mess, all because the board of regents values a mediocre football coach over a university president, and the system is set up to give a coach more job security. Good system, everyone.
Source: Read Full Article