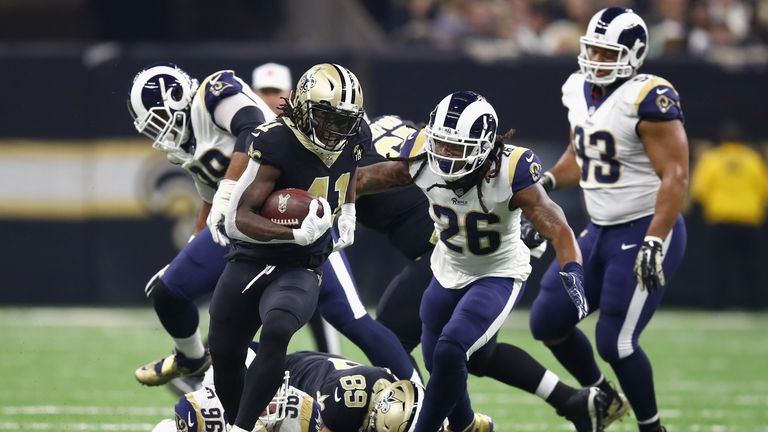 The New Orleans Saints handed the Los Angeles Rams their first defeat of the season on Sunday, thwarting the Rams' second-half comeback to win out 45-35 in a high-scoring thriller.
Saints quarterback Drew Brees threw four touchdowns, including a 72-yard strike to Michael Thomas with less than four minutes remaining to put New Orleans 45-35 up after the Rams had tied the game up earlier in the fourth quarter following 21 unanswered points.
Thomas caught 12 passes for 211 yards — a Saints' single-game record for receiving yards — and Brees completed 25 of 36 passes for 346 yards. He also threw scoring passes of 16 yards to Alvin Kamara, four yards to Tre'Quan Smith and 13 to Benjamin Watson in a 35-point first half.
Rams quarterback Jared Goff went 28 of 40, throwing for 391 yards and three touchdowns. But, a second-quarter interception helped set up one of the Saints' touchdowns.
The game was tied up at 14-14 after both teams scored TDs on each of their first two possessions. But, the Saints broke free with three consecutive second-quarter scores, including off Goff's turnover.
Having trailed 35-17 at the half, the Rams came roaring back after the break. Malcolm Brown narrowed the deficit to 35-24 on an 18-yard scoring pass from Goff. A 41-yard catch and run for a TD by Cooper Kupp – and a successful two-point conversion – tied the game up with 10 minutes left in the fourth quarter.
But, the Saints offense – stymied for much of the second half – finally put some points on the board, with a Will Lutz field goal to reclaim the lead and then Thomas' home-run touchdown iced the game.
The Saints move to 7-1 for the season, only a game back from the Rams (8-1) and the lead in the NFC conference.
FIRST QUARTER
Rams 0-7 Saints: Alvin Kamara 11-yard touchdown run (Will Lutz extra point good)
Rams 7-7 Saints: Todd Gurley eight-yard touchdown run (Greg Zuerlein extra point good)
Rams 7-14 Saints: Drew Brees 16-yard touchdown pass to Kamara (Lutz extra point good)
SECOND QUARTER
Rams 14-14 Saints: Jared Goff four-yard touchdown pass to Brandin Cooks (Zuerlein extra point good)
Rams 14-21 Saints: Brees four-yard touchdown pass to Tre'Quan Smith (Lutz extra point good)
Rams 14-28 Saints: Brees 13-yard touchdown pass to Benjamin Watson (Lutz extra point good)
Rams 14-35 Saints: Kamara one-yard touchdown run (Lutz extra point good)
Rams 17-35 Saints: Zuerlein 56-yard field goal
THIRD QUARTER
Rams 24-35 Saints: Goff 18-yard touchdown pass to Malcolm Brown (Zuerlein extra point good)
Rams 27-35 Saints: Zuerlein 34-yard field goal
FOURTH QUARTER
Rams 35-35 Saints: Goff 41-yard touchdown pass to Cooper Kupp (Goff-Gerald Everett two-point conversion)
Rams 35-38 Saints: Lutz 54-yard field goal
Rams 35-45 Saints: Brees 72-yard touchdown pass to Michael Thomas (Lutz extra point good)
Game's key stats
Source: Read Full Article