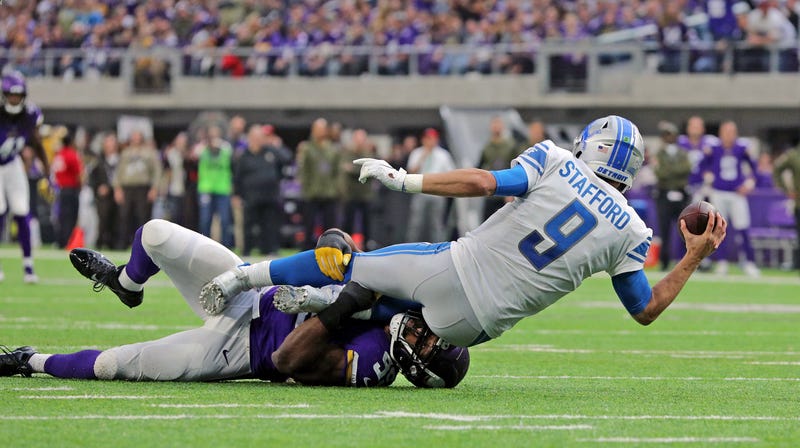 The Detroit Lions are not the worst team in the NFL. Their 3-5 record has them out of the playoff picture but also out of the league's subbasement. Their point differential, while not very good at -30, is a mere fifth-worst in the NFC, and it's far more respectable than Buffalo's -145 or Oakland's -111. Most crucially, the Lions have yet to be named the Ass Team of the Week. But the somewhat more melodramatic struggles of teams like the Bills, Raiders, Cardinals, and Giants really lets Detroit off the hook for what is slowly deteriorating into a disaster of a season.
After a horrid start to the campaign on a Monday night against the Jets, and a dumb game they should have won in San Francisco, the Lions spent a few weeks giving their fans reason for optimism. In Week 3, they beat the Patriots in primetime for a truly shocking first win, and despite a close loss in Dallas the following week, the Lions rode a Mason Crosby chokefest to a win against the Packers, and then beat the Dolphins on the road to go 3-3. Not terrible.
In the past two weeks, however, it's all fallen apart again. The Lions got steamrolled by Seattle last weekend to drop below .500, and Sunday against the Vikings was just a never-ending humiliation for Matthew Stafford, who got sacked 10 times en route to a 24-9 loss. Halfway through the season, the Lions appear to be miles behind the 5-3-1 Vikings, who currently hold the final NFC wild card spot. Everybody around the organization is pretty pissed, from players like Graham Glasgow, to spouses like Kelly Stafford, a reliably passionate supporter of Matthew who took this low moment to fire off an attack on his critics.
There's nothing especially wrong about a wife aggressively defending her husband from people whom I mostly assume to be trolls, but let's talk about Matthew for a moment, because even if he isn't the Lions' biggest problem, his play is definitely one of their problems.
Advertisement
Stafford's utterly useless offensive line obviously deserves a lot of the blame for the loss on Sunday, but Detroit's highest-paid player also needs to carry more of the load. While he was dropping back under heavy pressure on the regular, Stafford's play on Sunday was somehow both risk-adverse and error-prone, particularly on a crucial mid-fourth-quarter drive with his team down 11. On one third down, Stafford badly underthrew Kenny Golladay for what could have been a big completion, and when the special teams unit bailed him out with a fake punt, he proceeded to throw the game away on a bonehead pitch that the Vikings took back to the house. Between the O-Line struggles, the mediocre statistics, and an over-reliance on short passes, Stafford's playing like someone prematurely aged him into present-day Eli Manning.
However, even after trading away Golden Tate—perhaps the team's most fun player—this Lions roster isn't a complete wasteland on par with the Cardinals or Niners. As head coach Matt Patricia pointed out today, their problems don't run quite as deep into the foundation as some of the NFL's worst.
Advertisement
But then, who's to blame for those shortcomings? It's only been eight games, but it doesn't feel like too much of a stretch to say that Matt Patricia maybe sucks as a head coach, and it's really just a testament to the incompetence of Jon Gruden's shitshow out in California that he hasn't received more scrutiny. Multiple teams have apparently been able to steal the Lions' offensive signals this season, Patricia is snapping at reporters about the pettiest of grievances, and his team is well on its way to finishing worse than the 9-7 that got Jim Caldwell fired at the end of last year. Aside from the platitudes about execution, Patricia's opening statement today also featured a verbatim quote from the overmatched coach's handbook:
I thought we had a pretty good week of practice. I thought we were prepared, ready to go. We just didn't show up on Sunday enough.
Advertisement
It's possible that the Lions will never, ever stop being the Lions.
Source: Read Full Article