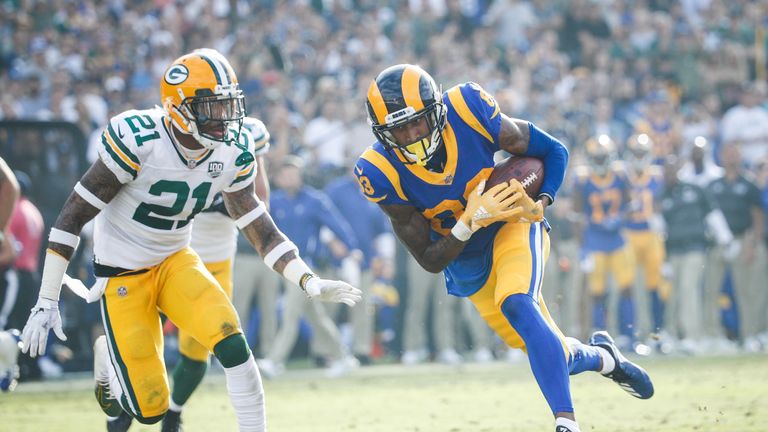 The Los Angeles Rams edged a heavyweight showdown against the Green Bay Packers 29-27 on Sunday to stay unbeaten for the season.
Greg Zuerlein hit a 34-yard field goal with just over two minutes left to see the Rams retake the lead, and then Ramik Wilson forced and recovered Ty Montgomery's fumble on the ensuing kick-off return, allowing L.A. to run down the clock.
Jared Goff passed for 295 yards and three touchdowns, but the Rams (8-0) were sternly tested by the Packers (3-3-1) and Aaron Rodgers, who threw for 286 yards.
Both teams rallied from 10-point deficits to take a lead in the game, but Rodgers was denied the chance to mount one of his trademark game-winning drives following Montgomery's late fumble.
Marquez Valdes-Scantling caught a 40-yard touchdown pass from Rodgers with roughly nine minutes remaining in the fourth quarter to put the Packers ahead 27-26, but Goff and Todd Gurley drove the Rams into range for Zuerlein's second field goal.
Montgomery then coughed up his return, Wilson pounced on the ball and Gurley ran 17 yards for a key first down to see the Rams clinch victory.
The Rams faced their largest deficit of the season when they trailed 10-0 early in the second quarter, but they calmly turned it into a 23-13 lead late in the third.
Josh Reynolds caught two touchdown passes for Los Angeles, while Gurley rushed for 114 yards and scored a touchdown in his franchise record-tying 11th consecutive game on a 30-yard pass in the third quarter.
FIRST QUARTER
Packers 7-0 Rams: Jamaal Williams one-yard touchdown run (Mason Crosby extra point good)
SECOND QUARTER
Packers 10-0 Rams: Crosby 41-yard field goal
Packers 10-2 Rams: Safety
Packers 10-8 Rams: Jared Goff one-yard touchdown pass to Josh Reynolds (Failed two-point attempt)
THIRD QUARTER
Packers 13-8 Rams: Crosby 53-yard field goal
Packers 13-16 Rams: Goff 30-yard touchdown pass to Todd Gurley (Goff-Gurley two-point conversion)
Packers 13-23 Rams: Goff 19-yard touchdown pass to Reynolds (Greg Zuerlein extra point good)
Packers 20-23 Rams: Aaron Jones 33-yard touchdown run (Crosby extra point good)
FOURTH QUARTER
Packers 20-26 Rams: Zuerlein 43-yard field goal
Packers 27-26 Rams: Aaron Rodgers 40-yard touchdown pass to Marquez Valdes-Scantling (Crosby extra point good)
Packers 27-29 Rams: Zuerlein 34-yard field goal
Game's key stats
NFL Week Eight late-game round-up
Colts 42-28 Raiders
Andrew Luck threw three touchdowns as the Colts (3-5) won in consecutive weeks for the first time in three years, beating the Raiders (1-6). Marlon Mack also ran for a career-high 132 yards and two touchdowns.
Oakland QB Derek Carr threw three TD passes and ran for a fourth, but it wasn't enough to prevent another loss in what is quickly becoming a lost season to begin coach Jon Gruden's second stint with the team.
Also, Adam Vinatieri set the record as the NFL's top all-time scorer in the first half as he kicked a 26-yard field goal in the first quarter to tie Morten Andersen with 2,544 points, and then added a 25-yarder late in the second to set the record. Viantieri scored three more points, giving him 2,550 for his career.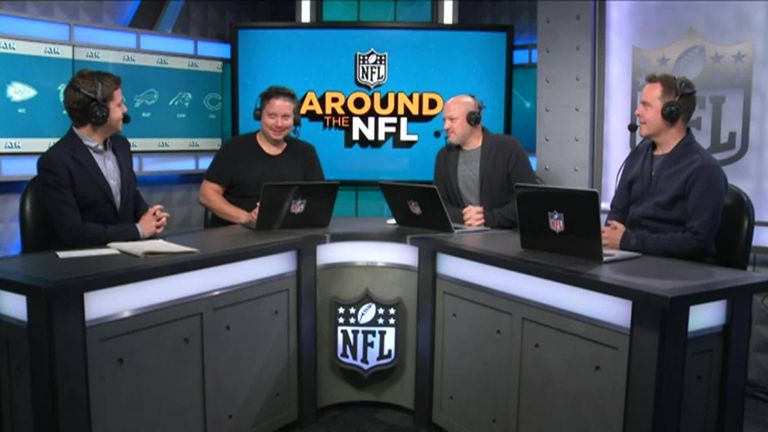 49ers 15-18 Cardinals
Josh Rosen threw a nine-yard touchdown pass to fellow rookie Christian Kirk with 34 seconds to play to rally the Cardinals (2-6) to victory over the 49ers (1-7).
Arizona beat San Francisco for the eighth-straight time and second time in three weeks. Larry Fitzgerald, in his 15th NFL season, caught eight passes for 102 yards – his best game of the season.
Source: Read Full Article