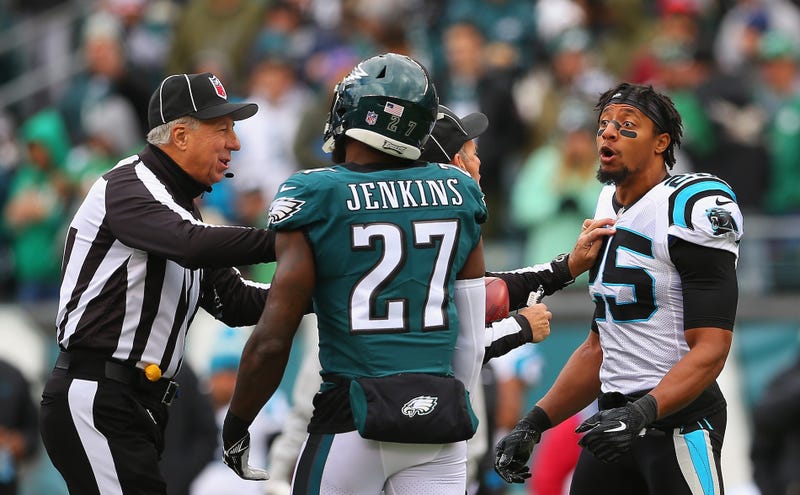 Eric Reid might have really shaken Malcolm Jenkins, or at least reminded him that NFLers were engaged in activism before the Players Coalition existed. Although Jenkins was terse after Reid confronted him before Sunday's game and called him a "sellout" in a postgame interview, the Eagles safety today used his team's upcoming game against the Jaguars to remind the public that Colin Kaepernick deserves a job in the NFL.
It's a little funny that Jenkins's vocal support of Kaepernick comes at the expense of Blake Bortles, who very much sucks:
Here are quotes from Jenkins, via PennLive:
"While our main focus is always on the community and those systemic oppressions and how we can leverage our relationships, our access and resources to help people in everyday communities, there's still a responsibility to speak out on behalf of Colin Kaepernick, who started this movement, who still doesn't have a job and [who] I wholeheartedly believe is being blackballed, to speak out in support of people like Eric Reid who put his job on the line to fight for those who didn't have a voice, and that's what we try to do throughout this whole thing," Jenkins said. "We've always maintained and I've always maintained at every chance I get to say Colin Kaepernick has started this. Eric Reid deserves a job. Colin Kaepernick deserves a job."
[…]
"At the end of the day, when I started this, my personal journey to help my own communities, it was never about the NFL or anybody having a job in the NFL, it was about people," Jenkins said. "Everyday citizens where I come from, where I live in Philly and all across this country, so at the end of the day, my decisions will always be about people."
Advertisement
Jenkins again avoided questioning Reid's intent, but it's obvious how the Panthers safety feels. He believes the Players Coalition has strayed from its original path and made a mistake by cutting a deal with the NFL, and he's brought up legitimate questions about how money from the league would be used to serve the group's goals. Jenkins has maintained that his efforts within the coalition have been focused towards helping "people," but he should also make sure it's functioning as intended, and the players involved should continue to agitate for a team to sign Kaepernick. The group is pursuing a range of noble goals, but Reid isn't wrong when he calls for the voices to be a little louder and more forceful.
Source: Read Full Article