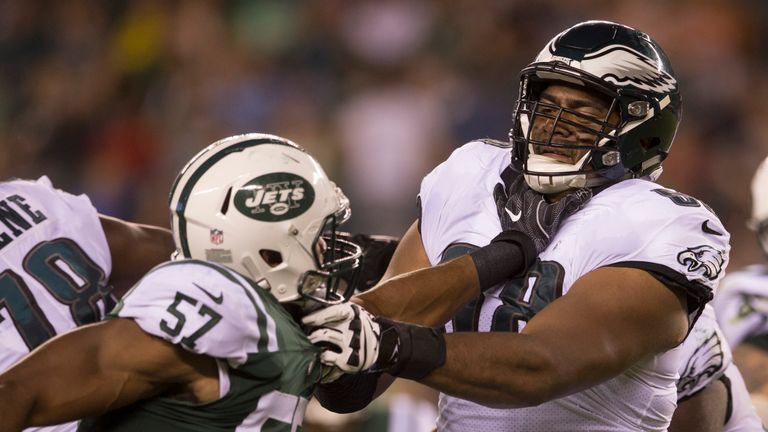 Philadelphia Eagles rookie tackle Jordan Mailata says Christian Wade must be "all in" to make the transition from rugby to the NFL.
The 21-year-old Mailata played for the South Sydney Rabbitohs in the National Rugby League before deciding to make the switch just months before April's NFL Draft.
He was drafted in the seventh round by the Super Bowl champions and made their 53-man roster after showing tremendous growth and impressing over the summer in training camp and the preseason.
Wade, a former England and Wasps winger, recently made the decision to quit rugby and join the NFL's Player Pathway program and he will look to follow in Mailata's footsteps by finding a role on a roster.
Mailata, after his team's 24-18 win over the Jacksonville Jaguars at Wembley on Sunday, spoke to Sky Sports about the 27-year-old's transition to the sport: "Advice? It depends on what position.
"One thing I'll say is that if he really wants to do this, then he has to give it 100 percent. He has to be all in. All in."
Mailata is a giant at 6ft8in and 346 pounds, meanwhile Wade is just 5ft8in and 189 pounds and is expected to attempt to be a return man, using his quick feet and speed.
However, regardless of his physical capabilities, Mailata emphasised the mental aspect and his commitment level will be key to Wade's success.
"If he is really serious about doing it, if he has an ounce of doubt, don't do it," he said. "It's got to be all in because that is what you have to do.
"One piece of advice for Christian Wade is don't dip your toe in the water. Drown in the water and learn how to swim."
Follow the 2018-19 NFL season with us on Sky Sports and through our website skysports.com/NFL also our app for mobile devices and iPad, or follow our Twitter account @SkySportsNFL.
Source: Read Full Article