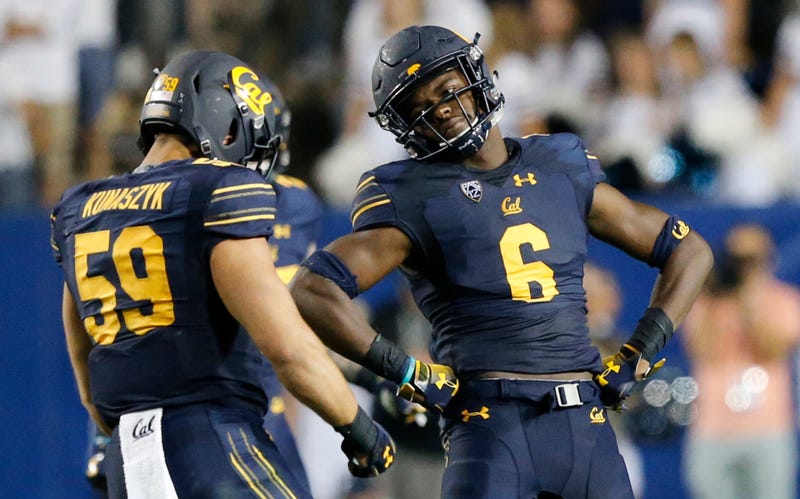 Two seasons ago, the California Golden Bears had one of the most abominable defenses in the country. Cal allowed opponents to score an astonishing 42.6 points per game (the second-worst in the nation among FBS schools), rack up 518.3 yards per game (fourth-worst), and rush for 272.9 yards per game (second-worst). They also conceded a nation-worst 76.8 penalty yards per game. That was nothing new for the Bears under Sonny Dykes, as they ranked among the bottom five FBS schools in most major defensive categories for the duration of Dykes's four-year tenure.
Cal won a bowl game in 2015 thanks exclusively to Jared Goff, and they even beat then No. 11 Texas at home in 2016, although they were undone at every turn by their shambolic defense. Defensive coordinator Art Kaufman never recruited any decent linemen, yet he still lined up in a 4-3 base scheme that was hailed chiefly for its simplicity, which is never a good sign. Players openly discussed how the defense was an "afterthought" for Dykes, and noted that the only thing the coaching staff prioritized was putting up a shitload of points.
Advertisement
All of that changed with Justin Wilcox. The former Wisconsin, USC, and Boise State defensive coordinator has engineered a rapid turnaround. Thanks to the realities of recruiting and scheme swaps, it typically takes years to reorient a wayward group like the Cal defense, which has made it all the more impressive that Wilcox has done so with many of the same players on Dykes and Kaufman's bad units. Cal allowed two fewer touchdowns per game last season than they did in 2016, and though they held eighth-ranked Washington State to just three points, that team still finished with a losing record and what was still a decidedly mediocre defense.
This season, the defense can be classified as Actually Good. The secondary is the obvious highlight, with 14 interceptions and three touchdowns. Cal allows 4.7 yards per play (15th in FBS), and after a rocky 0-3 start to the Pac-12 season, they've clamped down and held their own against the conference's best teams. They held No. 10 Washington to 10 points two weeks ago and shut down superstar QB Jake Browning to the point that his coach benched him. The Bears then went to Pullman last weekend for a date with Washington State, which has the nation's best passing offense. They probably would have earned the upset win if second-string quarterback Brandon McIlwain hadn't thrown an inexplicable pick into the end zone late in the game, but they still limited WSU to a season-low 19 points.
Advertisement
The Bears defense produced their masterpiece in a 15-14 win over USC this weekend. Cal had dropped 14 straight games against USC, with their last win an Aaron Rodgers-led triple overtime thriller in 2003. Every ambitious Cal team since the Jeff Tedford era has had their season's hopes dashed by the Trojans, usually in a win that involves humiliating the Bears with gaudy offensive numbers. In 2016, the Trojans gained 459 yards in a single half.
In the second half of Saturday's game, though, they only gained 40. Cal made the game a big ugly mess, which really suits them. USC took a 14-point lead into halftime, and it would have been 21-0 had Cal not forced a fumble at their own 10-yard line late in the first half. In a seven minute stretch in the third quarter, Cal came alive and scored 15 points, a run which began with an embarrassing safety off a horrendous failed shotgun snap from Toa Lobendahn that sailed 22 yards backwards into USC's end zone. Cal scored, then Traveon Beck jumped a route and set Chase Garbers up to lead another drive. The defense made it all happen.
Advertisement
They had to, because Cal doesn't score so well this year. Last year's starting quarterback, Ross Bowers, has been relegated to third-string duty this season, and Wilcox has experimented for most of the year with swapping McIlwain and Garbers mid-series, often with poor results. It's no coincidence that Cal's three-game losing streak coincided with the bulk of McIlwain's playing time this season. Cal's skill players are rather unremarkable, though Wilcox's usage of big ol' offensive lineman Malik McMorris in the red zone has been inspired.
Taken altogether, Cal is an above average team with a chance to topple any team in the Pac-12 on any given weekend thanks solely to its hawkish defense. Cal has made this dramatic thanks in part to the much more aggressive 3-4 scheme implemented by new coordinator Tim DeRuyter. Under Kaufman, Cal's setup was far too simple, and they played very conservatively, only notching a sack and a half per game. From what players who've played under both coaching staffs have said, nobody previously bothered to really coach any of the nuances of defense—things like how to tackle or take angles. Wilcox overhauled the system, and assigned one coach to focus purely on tackling.
Advertisement
DeRuyter is the mastermind who pantsed Mike Leach's WSU in 2017 with nine sacks and seven turnovers. He came up as a linebackers coach, and Cal's starting duo of Evan Weaver and Jordan Kunaszyk have accounted for 222 of Cal's 661 tackles on the season. Solid tackling in the middle and a pair of lockdown sophomore cornerbacks have allowed DeRuyter to get creative, and he's thus far been able to fool teams and engineer pressure from everywhere; Weaver had two sacks in the second half against USC and both came on unblocked blitzes.
Cal is, obviously, not a national player. They're not even one of the elite teams in the Pac-12. But finally beating USC, at the Coliseum no less, is a fantastic season highlight for a team that played no defense whatsoever just two years ago. They're bowl eligible for the first time since Goff's last year, and they will host the dreaded Stanford Cardinal this weekend. All Cal fans have to motivate them is spite, but I'd argue that a 7-5 season with wins over USC and Stanford would be better than an 8-4 year with losses in those rivalry games, since getting to play a slightly more competitive ACC team in a bowl game is an order of magnitude less satisfying than finally stuffing those private school dorks in the trash can where they belong. Cal has lost eight games on the trot against Stanford, and that's the longest uninterrupted streak in the series' long history. Wilcox's team is competitive enough to end it this weekend, and it's all because of this remarkable defensive turnaround.
Source: Read Full Article