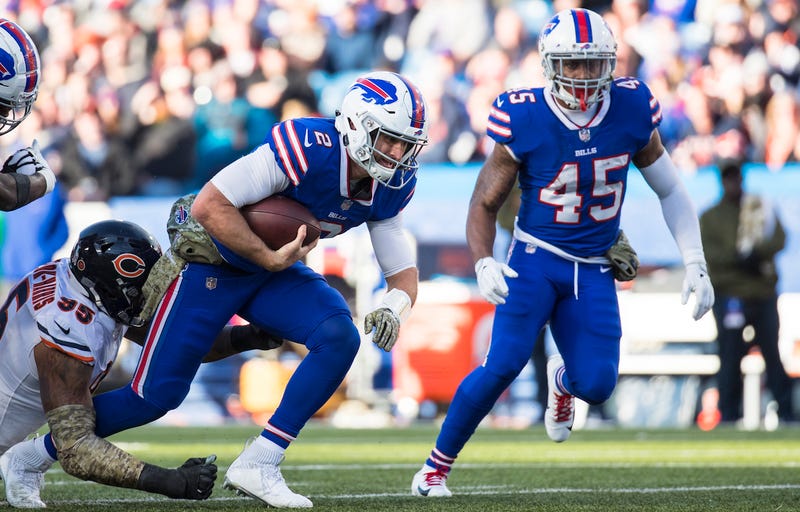 Nathan Peterman had the best game of his career last Sunday against the Bears. Yes, he threw for three interceptions and no touchdowns as he averaged a horrendous 3.84 yards per attempt on 41 passes, and yes, the Bills lost 41-9, but … it appears there is no positive point on which to end this sentence.
The Bills' quarterback situation remains dire. Derek Anderson is concussed. Josh Allen's elbow injury has improved, but he's questionable for Sunday. The team signed Matt Barkley on Halloween, and he's still trying to learn the offense. All of these factors mean there is an actual chance that Peterman, who has thrown a pick in 9.2 percent of his career attempts, could get another start Sunday against the Jets. Head coach Sean McDermott did not rule it out today.
Of course, McDermott's answer could be the typical tactic of forcing an opponent to study more than one QB in preparation. It remains to be seen how much time the Jets would need to prepare for Allen, Barkley, and Peterman. That film session should be, what, 10 minutes tops?
Advertisement
Whoever ends up starting for the Bills, their opponents won't take him lightly. That's how you get a Jets player talking like Nathan Peterman is a threat, although there is a real fear here: No one wants to be embarrassed by the worst quarterback, and maybe player, in the NFL. From the New York Post:
"He's a player in the NFL, same as me, same as all the guys in this locker room, and at one time or another to be honest, most of us, myself personally, I've been counted out as well," third-year linebacker Brandon Copeland told The Post. "I know that there were some people who would never expect that I would line up and be starting on an NFL roster. I don't take any person for granted, right? Because I know that right now he's working to kick our tails.
"I've been fired, and cut for a whole season, and I've sat home and I wasn't even the worst person in the NFL 'cause I wasn't even in the NFL. I know that that person is working his tail off to make us look stupid, because I've been that guy and I'm working my tail off to make them look stupid as well. I just don't take him lightly at all. And if he can come out there and embarrass us, I know that he will in a heartbeat, right?
"Quite frankly, we don't have the right to take anybody lightly."
Honestly, if Allen can't start, McDermott should consider converted WR Terrelle Pryor. He sucks as a receiver but might be better than at least two of the actual quarterbacks.
Source: Read Full Article