We profile NBA superstar Stephen Curry and explain how the emergence of the sharp-shooting guard kicked off a game-changing new era.
How do you begin to describe someone like Stephen Curry?
Spectacularly skilled on the court and eminently charismatic off it, Curry's dominance seems as unlikely as it is impressive.
The three-time NBA champion and two-time MVP does not possess the dominant strength or the substantial height of many of his contemporaries. At 6ft 3in and 190lbs, he is not even particularly big for a point guard, the smallest position on the court.
What he does possess is a level of offensive skill – particularly when shooting – that is unrivalled in NBA history.
Basketball is in Stephen Curry's blood. Born in Akron, Ohio (also the hometown of a certain LeBron James), Curry was introduced to the league earlier than most. His father, Dell, was a fast-scoring shooting guard, most famous for his stint with the Charlotte Hornets, and a handy shooter himself.
There are even pictures of a young Steph sitting with his father courtside, already rubbing shoulders with the greats years before he would become one himself.
Despite this athletic background, the diminutive Curry was an underdog as he rose through the ranks of the high school and college systems that boast such influence over a player's future. Held back by his slender frame, he was considered a three-star recruit and enrolled at Davidson, a college that barely numbers 2,000 students.
While he had an excellent three-year career there (and, with shades of things to come, broke the single-season three-point record in 2008), doubts still lingered over Curry when he entered the 2009 Draft. His scouting reports are fascinating to read.
"Steph's explosiveness and athleticism are below standard," said one.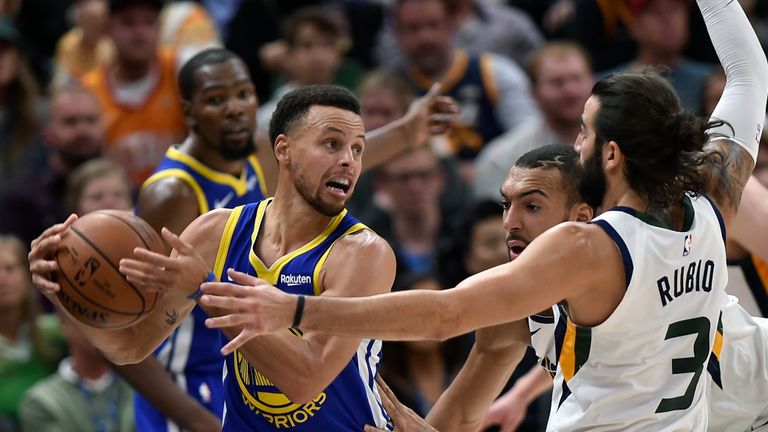 "He needs to considerably improve as a ball handler and often struggles against physical defenders," proclaimed another.
And the most damming: "He will have limited success at the next level. Do not rely on him to run your team."
Curry himself read out those comments for a coaching advert after his first MVP season (we will come to that shortly). It's safe to say he has proved the doubters wrong.
The signs were promising straight away. He averaged 17 points per game in his rookie year, which was rounded off with 42 points in the season finale against the Portland Trail Blazers. He also broke the rookie three-point mark for a season at 166. Do you see a trend developing here?
His play remained steady for the next few seasons, but injury struggles and his team's poor form counted against him, as Golden State repeatedly failed to make the post-season.
It wasn't until the 2012 campaign that Curry broke out.
Re-signed to a four-year contract and paired with fellow sharpshooter and 'Splash Brother' Klay Thompson, Steph was simply electric. He finished seventh in the league for scoring at 22.9 points per game, headlined by 54 points against the New York Knicks and 47 against the Los Angeles Lakers.
And he hit a lot of threes. An NBA record of 272 to be precise.
It wasn't just his accuracy from deep that caught the eye, it was how he was making them. Off the dribble, from practically anywhere on the court, often with the defender right in his face. No matter how tightly he was guarded, his supreme ball handling, quick-trigger release and laser accuracy meant he still found a way for them to fall.
This type of shooting had never been seen before. The league was full of catch and shoot players built in the Ray Allen mould, but this was something new. How could you guard someone who could dribble circles around you from 30ft, and shoot the ball before you could blink?
Curry's freestyle basketball was captivating to watch, but his first play-off run ended in the second round as the Warriors fell in six games to the San Antonio Spurs. It was clear that the future was bright for the Warriors – but would that translate into a championship?
We now know the answer to that. Steve Kerr joined as coach at the start of the 2014-2015 season, and it proved to be the final piece of the Golden State title puzzle.
Kerr encouraged fast-paced, full court basketball, giving Curry freedom to shoot at will. The result was Curry's first MVP campaign, 67 wins, and most importantly, a Championship. The Warriors beat the Cavaliers 4-2 in their first of four successive finals.
Curry was no longer just an exciting talent. He was a winner too.
2015-2016 looked even better. Curry's skills were now dialled up to 11 – the dribbling ever more elaborate, the shooting ever more spectacular. The records tumbled: three-pointers in a season (again); three-pointers in a game; most consecutive games with a three-pointer. He was so dominant that the developers of the NBA 2K video game series expressed concern that his abilities could not be replicated on screen!
Averaging 30 points a game at a staggering level of efficiency (field goals made – 50.4 per cent, three-pointers made – 45.4 per cent, free throws made – percentage – 45.4, free throws made – 90.0 per cent), Curry became the first-ever unanimous MVP.
The Warriors even broke the record of Michael Jordan's Bulls, as they finished the year 73-9. Many observers wondered if this was the best team ever. A second championship seemed inevitable, but it was not to be.
A remarkable Finals series ended in heartbreak as LeBron James and the Cleveland Cavaliers fought back from 3-1 down in the Finals to win 4-3. Curry's poor play attracted considerable blame, but worse was his Game 6 ejection, followed by him furiously throwing his mouthpiece into the crowd. It was a startling low moment for a man known for his cool and collected style.
That all seems like a distant memory now. The addition of Kevin Durant in the subsequent off-season was a massive injection of star power, and between them, Thompson and maverick forward Draymond Green, the Warriors now possess an unprecedented amount of talent.
They have cruised to the title in the last two seasons, and with DeMarcus Cousins now in the mix, they are again the favourites this year.
Curry has started brilliantly – recently putting up 51 points in just three quarters against the Wizards.
But despite all of his titles and accolades, Curry's defining legacy could be his impact on how the game is played. In part due to his success, the NBA has moved away from physical play around the basket and towards the concepts of 'pace and space' and three-point shooting.
It's not just the little guys either – even seven-footers are now firing away from deep.
This influence is a testament to Curry's talent, and is a huge part of his popularity among NBA fans.
After all, not everyone is blessed with supreme height and athleticism, but everyone can learn to pass, dribble and shoot.
Curry is proof that if you work hard enough, you can still find ways to dominate, no matter your size. He is the superstar everyone can relate to.
Golden State Warriors play Brooklyn Nets at 9pm on Sunday, live on Sky Sports.
Source: Read Full Article