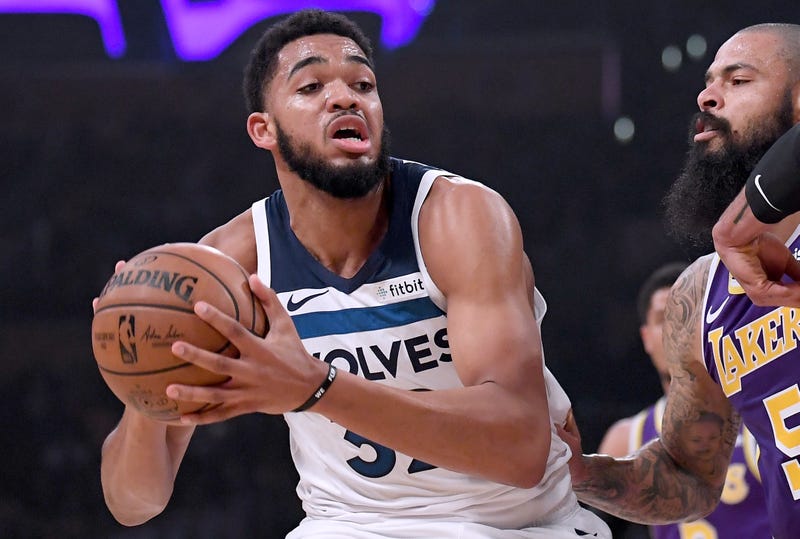 Something isn't quite right in Minnesota, and it cannot be purely explained by Jimmy Butler's abject buttitude. Right before the season started, Karl-Anthony Towns said, "This momentum we're riding right now, this wave we're riding, it's not good. It's not good at all." When asked why the Wolves had been struggling to play coherent 48-minute games, Towns channeled some Stephen A. Smith syntax and said, "I really don't damn know. But if you find out, let me know." While he might be posting some respectable counting stats, the kid seen by GMs as the best player to build around at the outset of last season has been a bummer so far in this 4-8 Wolves campaign.
When you sign a seven-footer to an ultra-max deal, you are probably hoping he can drag your squad out of its perennial spot among the league's worst defensive-rebounding teams. At the very least, you'd hope that he'd make it harder for Tyson Chandler to play volleyball for a whole minute. You might also be hoping that seven-footer will pull down contested defensive rebounds at a rate better than just a hair above De'Aaron Fox. So far none of that has held true; the malicious Enes Kanter comparisons have taken on the depressing ring of truth.
And when that seven-footer is shooting an excellent 42 percent from three, you're expecting him to have an effective field goal percentage higher than 52 percent. But Towns has been ghastly in the post, shooting just 61 percent within three feet of the rim, after passing the 70 percent mark in each of his first three seasons. He's also just taking fewer of those nutritious, high-value shots, replacing them with more shots from deep—which is well and good, especially given Minnesota's spacing issues—but also more shots from 3-10 feet than ever before, hitting them at just a 48 percent clip. The range is obviously there for Towns, but the all-court offensive versatility that's supposed to be his calling card is harder to discern. He seems to prefer to stay outside of the fray. Bombing from deep might just be some kind of escapist fantasy.
Last night's 110-114 loss to the Lakers brought his struggles into the nationally televised spotlight. Initially Towns set out on a tear, draining his first four shots. He went on to make only one of his last 12 attempts, and that one went down with 2:05 to go in the second quarter. The second half was all tumbleweeds and bricks, no matter the defender. A solid height advantage over Kyle Kuzma didn't help. Perhaps hoping to wake up down the stretch, Towns demanded some post touches, only to fail to budge a whole wall of Tyson Chandler:
Nor did he have much better luck trying to fake out Chandler from the wing on his very next trip down the floor:
KAT is also turning the ball over at a higher rate than ever before (he had six last night), and posting a -5.5 net rating on the season, which speaks to his continuing defensive struggles. As with most things going wrong in the greater Twin Cities area, some of the blame can be assigned to Thibs, who doesn't always deploy his chess pieces in the wisest ways. Towns is currently getting fewer field goals up than Derrick Rose, which makes sense in no universe except the one where Rose somehow shoots 7-of-9 from three, which is to say, a very fucking weird universe and not one you should ever expect to find yourself in consistently.
Advertisement
Butler does need to get out of town so this poor kid can troubleshoot without some maniac whispering cruel nothings into his ear, but until then, this might remain pretty ugly. You don't have to be some kind of body language mystic to see that Towns is out of it. Just take a look at this moment against the Raptors Oct. 24, when he hit nothing but (the bottom of the) net, pursed his lips, and yanked himself out of the game.
If nothing else, it's annoying to see all of Butler's obnoxious harumphing about KAT be proven even the slightest bit valid.
Source: Read Full Article