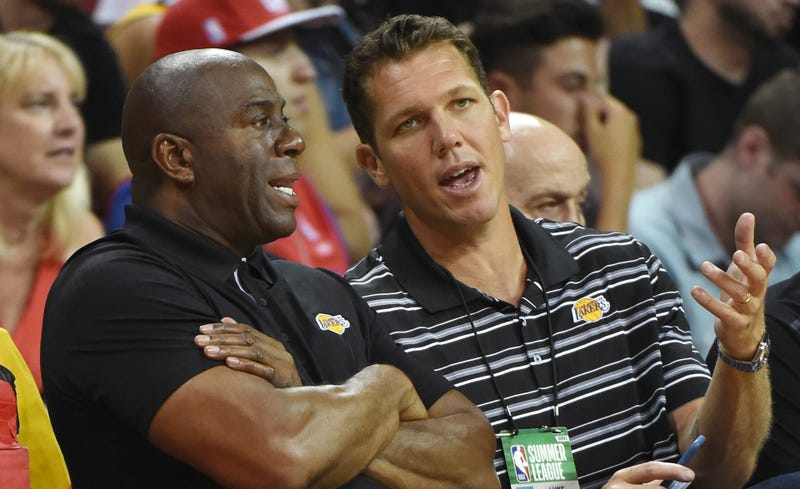 On Sep. 20, Lakers czar Magic Johnson told ESPN that he assured coach Luke Walton that he'd be fine if the 2018-19 campaign were to get off to a slow start, since integrating a hodgepodge of new players into the team, including LeBron James, takes time.
"As I was talking to Luke [with GM Rob Pelinka], we said don't worry about if we get out to a bad start," Johnson, the Lakers' president of basketball operations, said Thursday as the team's brass met with the media. "We have seen that with LeBron [James] going to Miami, and we have seen that when he came back to Cleveland. He is going to struggle because there are so many new moving parts. But eventually we are going to get it, and we are going to be really a good team."
Johnson's patience appears to have run out quickly. Per ESPN, Johnson "admonished" Walton over the team's 3-5 start earlier this week, offering his "cutting appraisal" in an "aggressive tone." Adrian Wojnarowski and Dave McMenamin report that Johnson has "earned an internal reputation for an oftentimes volatile management style," which I suppose is a diplomatic way of saying that he's an asshole who lacks the patience necessary to see through a long-term project like building a championship NBA team. The Lakers are scarcely 10 percent of the way through their season, and Johnson has already made it clear that there are "intense and immediate pressures" on Walton to win right now.
This is dumb as shit! For one, the Lakers are, on their own terms, designed to win a title at some point in LeBron James's tenure, not necessarily this year. They are stocked with young, unformed players, the best of whom have either been suspended or injured already this season. The Lakers have played a ridiculous schedule, and they've held up fine given how deep the Western Conference is and how flawed their roster is. L.A. has a harrowing back-to-back this weekend (at Portland, home against Toronto), and ratcheting up the expectations right before a hard weekend of games is a really dumb way of motivating what seems like an unnecessarily strained coaching staff.
Source: Read Full Article