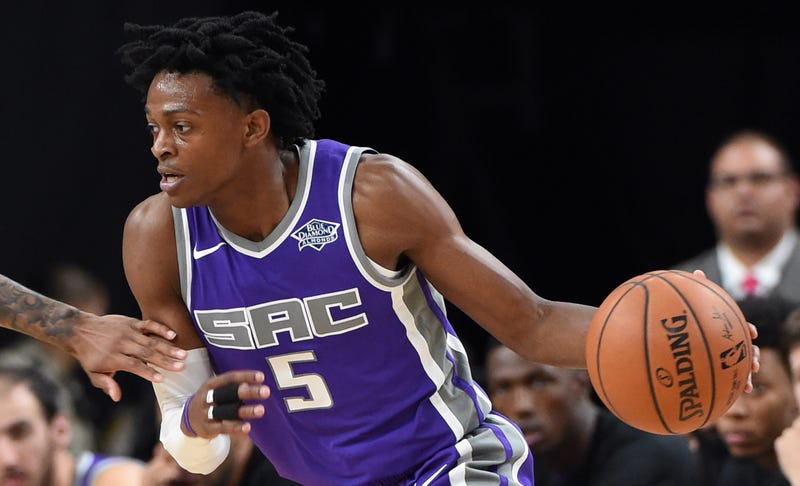 De'Aaron Fox spent his Thursday night leading the plucky Kings to a dominant road win in Atlanta. I do not expect you to take that very seriously! There are data points you mark in the The Kings Might Be Good column—a 6–3 record; road wins over the Thunder and Heat; a five-game winning streak; offensive and defensive ratings that both rank in the top half of the league; that you recently suffered a massive, gory head wound; and so forth. And then there are data points you mark in the Let Us Say No More Than That The Kings Are Mighty Fun column. This is the latter. But it was mighty fun!
Fox finished with a 31-point triple-double on just 13 shots, and with just three turnovers. He is fast as shit, he is creative as shit, and he appears to have fewer of the infuriating bad habits of other extremely fast point guards [smashes head into table while John Wall finishes another breakneck drive with another panicked, live-ball, pass-to-no-one turnover]. He's even shooting the ball reasonably aggressively, if not very accurately, from beyond the arc. You'll have to ignore Atlanta's ghastly court and empty arena, but if you are successful you'll see an insanely quick ball-handler who also eagerly throws hit-ahead passes in semi-transition, and probes his way into the paint, and eurosteps in traffic, and goes glass in the midrange, and pulls up off the bounce. He rules. Whatever else happens with these Kings, De'Aaron Fox is good television.
Trae Young is also good television, but he weighs less than my laptop, and he's a rookie, and the Hawks are pretty bad. Part of what Fox and Sacramento's other guards did that was so impressive Thursday night is they hounded Young and chased him off the line and held him to a downright unacceptable one (1) three-point attempt in 27 minutes of burn. Young is going to be a terror in the NBA once he gains some strength and/or settles into the right role for a man the size of labradoodle, but Fox is one of the few young point guards with the quickness and length and tenacity and chops to fuck his shit up, and he's got a year of NBA development on Young. This is a matchup that will get cooler and cooler as the years progress, is what I'm saying.
I am very sorry to have put a second Kings blog on this website in one day. Blame De'Aaron Fox! He's a bundle of fun.
Source: Read Full Article