The Utah Jazz withstood a fourth-quarter rally to defeat the Boston Celtics 123-115 to improve their record to 6-6.
Friday night's results
Boston Celtics 115-123 Utah Jazz
Joe Ingles tied a career high with 27 points and Rudy Gobert added 17 points and 15 rebounds as the Jazz spoiled the return of Gordon Hayward to Utah with an energetic 123-115 victory over the visiting Boston Celtics in Salt Lake City on Friday night.
Jazz fans booed every move of Hayward, who left Utah for Boston via free agency before the start of last season. Hayward then suffered a fractured ankle injury in the Celtics' season opener last year and did not play the remainder of the season.
In limited minutes, as he continues to work his way back from his injury, Hayward scored 13 points on 3-for-9 shooting from the field. He had just four points in the first half, earning a cheer from Jazz fans when he airballed a shot from five feet with 9:12 remaining in the second quarter.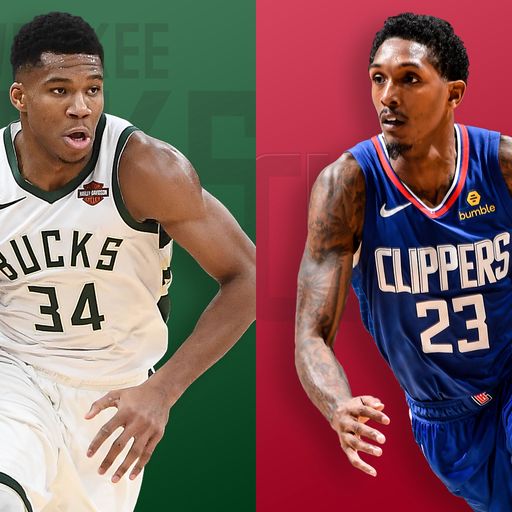 Bucks @ Clippers free live stream
Watch the Bucks take on the Clippers via our free live stream on Saturday at 8:30pm
Donovan Mitchell had 21 points while former Celtic Jae Crowder scored 20 points and Ricky Rubio added 17 as the Jazz won consecutive games after losing four in a row. Ingles added five rebounds and seven assists while going 10 of 14 from the field, including 5-for-9 from three-point range.
Terry Rozier scored 22 points and Jayson Tatum added 21 for the Celtics, who have now lost three of the four games they have played on their current five-game road trip.
The Celtics looked poised to pull off a huge rally. They cut a 20-point deficit in the third quarter to just four points on four different occasions in the fourth quarter. But the Jazz had enough energy to finish off the victory.
Washington Wizards 108-118 Orlando Magic
The Orlando Magic prevailed at home over the Washington Wizards 117-108 in a matchup of the worst offense in the league against the worst defense.
Orlando came into the game averaging only 101.3 points per game, but the Magic tied their season-high in points and shot a season-high 51.2 per cent from the floor – only the second time they had made over 50 per cent of their field goals this season.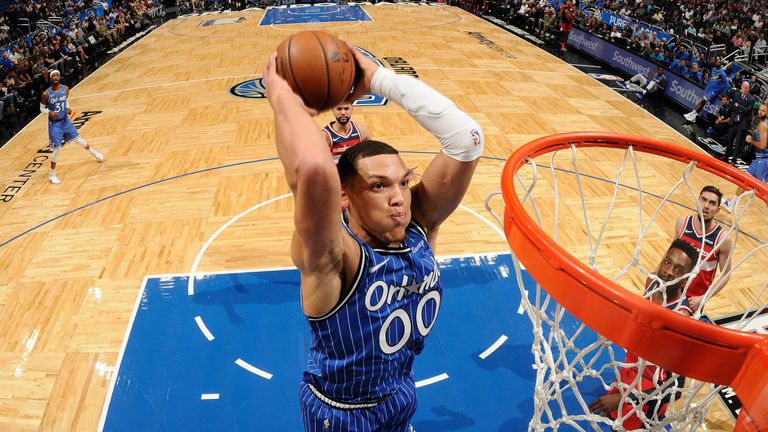 Nikola Vucevic led the way for Orlando with 21 points and 14 rebounds, and Aaron Gordon scored 20. Magic rookie Mo Bamba made 7-of-8 field goals including a three-pointer and three long-range jump shots. The 7ft center had 15 points in only 17 minutes.
Orlando has now won three of its last four games after a 2-6 start.
Bradley Beal had 27 points and John Wall added 19 points and 12 assists for the Wizards, who are tied for the second-worst record in the league at 2-9.
Detroit Pistons 124-109 Atlanta Hawks
Andre Drummond had 23 points and 11 rebounds to lead the way as the Detroit Pistons jumped to a 24-point lead late in the first quarter and coasted to a 124-109 victory over the Atlanta Hawks.
The Pistons made a season-high 20 of 47 attempts from behind the three-point arc and rolled to their second straight win after a five-game losing streak, despite just six points from Blake Griffin, their leading scorer at 27.3 points per game coming in.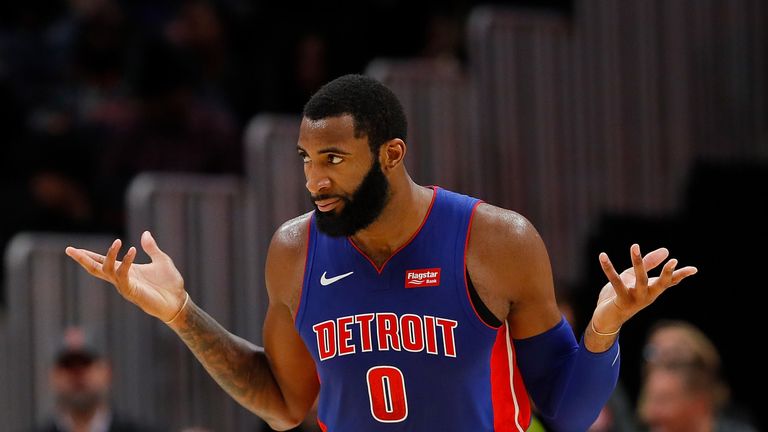 Griffin missed eight of his 10 shots, but had nine rebounds and nine assists as Detroit placed seven players in double figures.
Stanley Johnson had 22 points for the Pistons and Langston Galloway scored 16 while combining to hit nine three-pointers off the bench.
Rookie Trae Young scored 16 points and had five assists for the Hawks, who lost for the eighth time in their past nine games.
Charlotte Hornets 132-133 Philadelphia 76ers (OT)
Joel Embiid had a season-high 42 points to go along with 18 rebounds and four blocked shots to lift the Philadelphia 76ers past the visiting Charlotte Hornets 133-132 in overtime on Friday night.
It was the eighth game for Embiid this season with at least 30 points and 10 rebounds.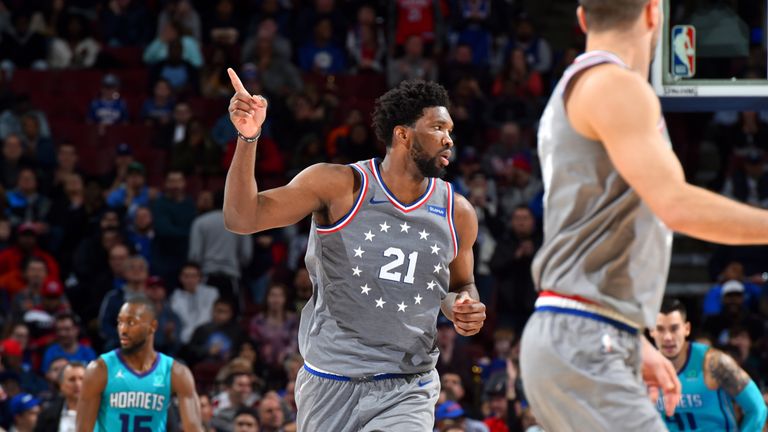 Ben Simmons racked up 22 points, eight rebounds and 13 assists while Dario Saric added 18 points and nine rebounds and JJ Redick added 17 off the bench as the Sixers improved to 7-0 at home for the first time since 2002-03.
Kemba Walker scored 22 of his 30 points in the fourth quarter and overtime as Jeremy Lamb added 17. Dwayne Bacon also had 15 for the Hornets, who had their two-game winning streak snapped.
Indiana Pacers 110-102 Miami Heat
Bojan Bogdanovic hit a go-ahead three-pointer with 56.5 seconds remaining to send the Indiana Pacers to a 110-102 road victory over the Miami Heat.
Myles Turner and Victor Oladipo also buried key shots, as the Pacers rallied from a 102-98 deficit by scoring the game's final 12 points over a stretch of 1:26, snapping Indiana's two-game losing streak in the process.
Hassan Whiteside had 11 points and a game-high 20 rebounds for the Heat, who saw a two-game winning streak come to an end.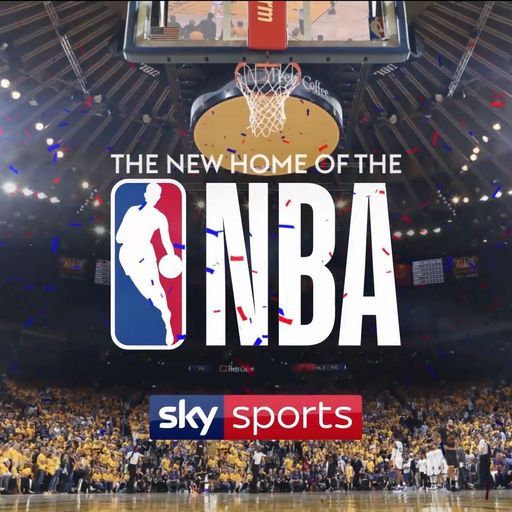 Get NBA news on your phone
Want the latest NBA news, features and highlights on your phone? Find out more
Justise Winslow converted a three-point play and a short jumper to help the Heat go up by as many as six points in the final four minutes. But after Josh Richardson dropped in a layup with 1:36 to go to put Miami up four, Turner countered with a close-range hoop that jump-started Indiana's game-winning run.
After Bogdanovic put Indiana ahead, Oladipo made it a three-point game with a 17-footer with 32.1 seconds left and iced the win with a three-point play on a dunk with 9.4 seconds remaining.
Oladipo (22 points, 10 assists) and Domantas Sabonis (17 points, 11 rebounds) recorded double-doubles for the Pacers. Kelly Olynyk led seven Heat players in double figures with 20 points.
Brooklyn Nets 112-110 Denver Nuggets
Caris LeVert hit a jumper in the lane with less than a second left as the Brooklyn Nets rallied to beat the host Denver Nuggets 112-110.
Left with 0.3 seconds, the Nuggets got a three-point attempt at the buzzer from Malik Beasley, but it missed.
LeVert finished with 17 points, D'Angelo Russell had 23 and Jarrett Allen scored 18 for the Nets, who have won three in a row and four of five.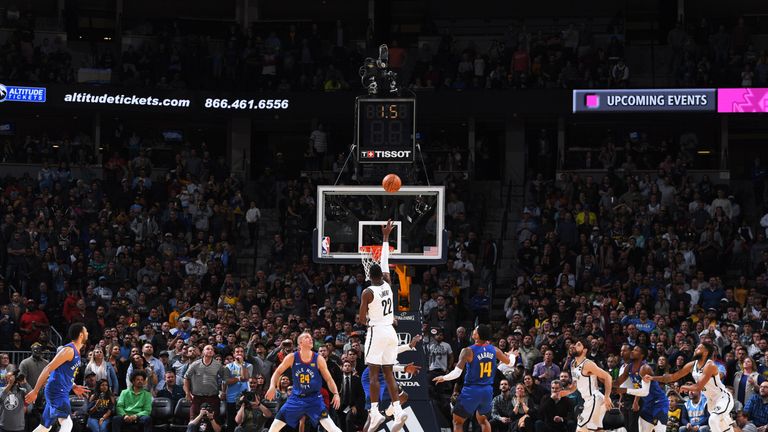 Nikola Jokic broke out of a funk to score a season-high 37 and tied a career-high with 21 rebounds, but Denver lost their first home game of the season after winning the first six.
LeVert got the chance to win it when Jokic travelled with 22.1 seconds left. He fought off tight defense by Gary Harris, got into the lane and hit a floater to win the game.
Brooklyn scored the last six points of the game and got back to .500 at 6-6.
Minnesota Timberwolves 110-121 Sacramento Kings
Willie Cauley-Stein scored 25 points to help the Sacramento Kings deliver a 121-110 victory over the visiting Minnesota Timberwolves.
Iman Shumpert scored 17 points, De'Aaron Fox had 16 points and 10 assists and Buddy Hield added 15 points and 10 rebounds for the Kings. Nemanja Bjelica tallied 14 points against his former team.
Karl-Anthony Towns established season highs of 39 points and 19 rebounds for the Timberwolves, who completed an 0-5 road trip. Derrick Rose added 21 points and Jimmy Butler had 13 for Minnesota, who have lost all eight of their road games.
The Timberwolves were just 7-of-25 from three-point range and shot 41.5 per cent overall.
Sacramento connected on 45.3 per cent of their field-goal attempts, including 12 of 32 from behind the arc.
Watch the Milwaukee Bucks take on the Los Angeles Clippers on Saturday at 8:30pm on a free live stream available on skysports.com and the Sky Sports app
Sky Sports is the new home of the NBA in the UK with live coverage throughout the week, including selected live games free to all Sky subscribers via Sky Sports Mix.
And www.skysports.com/nba will be your home for news, reports, video and features throughout the season while you can follow us @SkySportsNBA
Source: Read Full Article