Marcus Morris' late three-pointer lifted the Boston Celtics to a 101-95 win over the Oklahoma City Thunder while the Detroit Pistons won their fourth straight game, beating the Cleveland Cavaliers 110-103.
Thursday night's scores
Boston Celtics 101-95 Oklahoma City Thunder
Marcus Morris' tiebreaking three-pointer with 28.7 seconds left lifted the Boston Celtics to a 101-95 road win over the Oklahoma City Thunder on Thursday night.
Morris' shot punctuated a 16-1 run by the Celtics over the final 4:14.
The game was similar to last season's meeting between the teams in Oklahoma City, when the Celtics trailed by 18 at half-time before coming back to win 101-94.
Jayson Tatum led the Celtics with 24 points while Morris added 21 points and 10 rebounds off the bench. Al Horford had 19 points and nine boards, and Kyrie Irving scored 15 points.
Paul George led the Thunder with 22 points but was just seven of 22 from the field and two of 10 from behind the three-point arc. Russell Westbrook contributed 13 points, 15 rebounds and eight assists, but he hit just five of 20 field-goal attempts, including 0 of 5 from three-point range.
The Thunder were just 25 per cent (seven of 28) on three-point attempts and missed 11 of 25 free throws.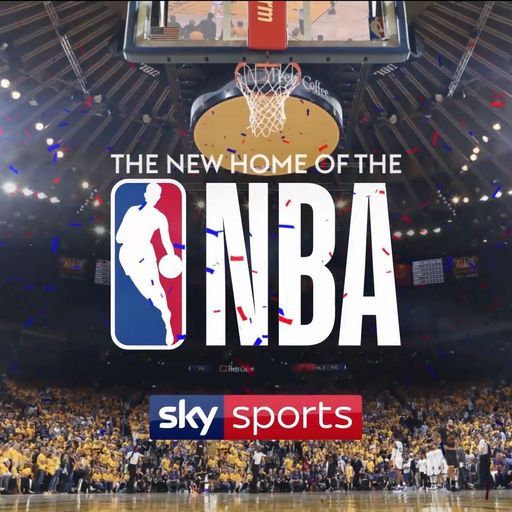 Follow Sky Sports NBA on Twitter
See the NBA's best plays and stay up to date with the latest news
The win continued Boston's pattern of alternating wins and losses and improved the Celtics to 3-2. Oklahoma City fell to 0-4 for the first time since the franchise relocated from Seattle in 2008-09.
The Thunder dominated the first half, steadily building a lead that bloomed to 16 by half-time.
In the third quarter, though, Boston came on strong. After missing all 12 of their first-half three-point attempts, the Celtics found their range from beyond the arc, going 9-of-13 on three-point tries to lead 74-73 lead going into the fourth.
Oklahoma City looked on the brink of putting the game away when Alex Abrines drilled a three-pointer with just less than five minutes remaining to put the Thunder up 92-85. That came in the midst of a span of 5:40 without a field goal for Boston.
However, free throws kept the Celtics in striking distance, and Irving broke the field-goal drought with 3:12 left to pull Boston within three.
The Celtics tied it with just under a minute remaining on an Irving layup, and then Tatum's defensive rebound of a Westbrook missed three-point try set up Morris' shot.
Portland Trail Blazers 128-114 Orlando Magic
Damian Lillard scored a season-high 41 points, including 19 in the third quarter, as the Portland Trail Blazers kicked off their first road trip of the season with a 128-114 win over the Orlando Magic.
CJ McCollum added 22 points for Portland, and Jusuf Nurkic had 18 points and 10 rebounds. Zach Collins came off the bench for 17 points.
Nikola Vucevic paced Orlando with 24 points and 11 rebounds. Terrence Ross scored 21 points, Evan Fournier had 17, and Aaron Gordon produced just two points in the first half but finished with 17.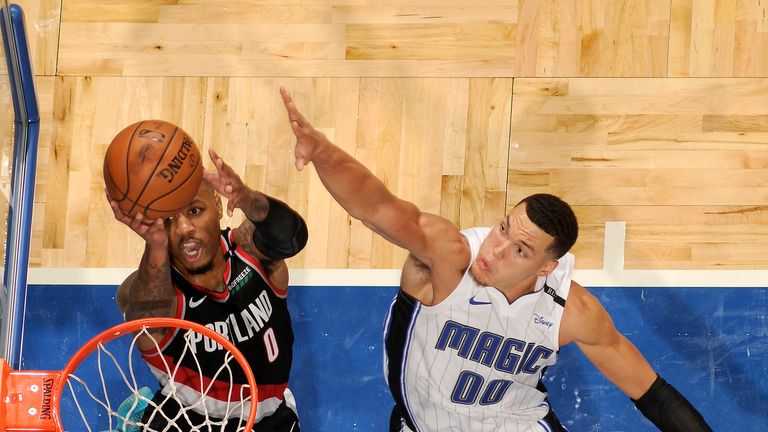 It looked as if the Blazers were on the verge of running away with the game several times before they finally put an end to any hopes of an Orlando comeback midway through the fourth quarter.
Portland led by as much as 16 points in the third quarter after Lillard hit back-to-back three-pointers. But Orlando continued to fight back, cutting a few double-digit leads into manageable deficits.
Gordon drilled a pull-up three-ball in transition to cut Portland's lead to 102-99 with 7:54 left to play. The Trail Blazers responded with a McCollum trey before Lillard rattled off five straight points to give the visitors an 11-point advantage.
That was as close as the Magic, who never led in the game, would come.
Cleveland Cavaliers 103-110 Detroit Pistons
Andre Drummond powered his way to 26 points and 22 rebounds as the Detroit Pistons extended their unbeaten start to the season to four games with a 110-103 home victory over the winless Cleveland Cavaliers.
Drummond notched his 22nd career 20-20 game and second this season.
Blake Griffin, who scored a career-high 50 points in an overtime win over the Philadelphia 76ers on Tuesday, supplied 26 points and 10 rebounds. Reggie Jackson contributed 16 points and Ish Smith chipped in 10 for Detroit.
The Pistons overwhelmed Cleveland on the boards, 48-30, to overcome 20 turnovers. They shot 52.6 per cent from the field, compared with the Cavs' 46.1 per cent, and made 11 of 28 their three-point attempts.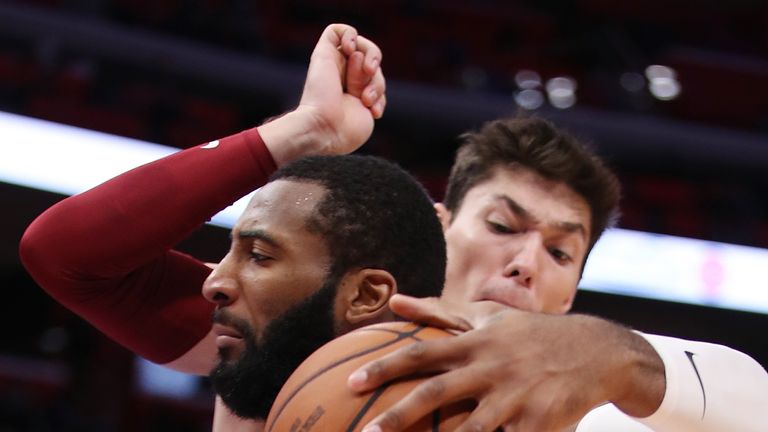 The Cavaliers' best player, power forward Kevin Love, missed the game with a sore left foot.
Four of Cleveland's reserves reached double figures. Kyle Korver led the way with 21 points, Jordan Clarkson tossed in 18, rookie Collin Sexton chipped in 14 points and five assists, and Larry Nance added 11 points, six rebounds, five assists and three steals.
The Pistons finished the first half on a 12-2 run to take a 58-50 half-time lead. Detroit never quite pulled away but maintained their lead throughout the second half.
Denver Nuggets L-L Los Angeles Lakers
Game in progress – report to follow
Sky Sports is the new home of the NBA in the UK with live coverage throughout the week, including selected live games free to all Sky subscribers via Sky Sports Mix.
And www.skysports.com/nba will be your home for news, reports, video and features throughout the season while you can follow us @SkySportsNBA
Source: Read Full Article