Chances of a perfect season over, the Milwaukee Bucks will look to bounce back from their first defeat when they host the surprising Sacramento Kings on Sunday evening.
The Bucks (7-1), despite getting Giannis Antetokounmpo back from a concussion, lost one of the biggest games in the Eastern Conference so far when they fell 117-113 against the Celtics in Boston on Thursday.
Antetokounmpo showed few signs of rust on his return, scoring a game-high 33 points, but Khris Middleton and Eric Bledsoe both struggled with their shot (combined 9-for-27 from the field) as they failed in a bid to rally from 15 points down in the fourth quarter.
The three-point shot that has powered Milwaukee killed them at TD Garden, with the Celtics hitting 24 of them on the night, and that sloppy defense from long-range is something they will have to cut out.
Sacramento Kings @ Milwaukee Bucks
Watch live on Sky Sports Arena on Sunday, 8:30pm
Taking on the Kings (6-3) could prove tricky on that score as their shooting so far this season has been stellar – they rank third in the NBA in field goal percentage and three-point percentage.
Just three defeats in their first nine games means the Kings head to Wisconsin second in the Pacific – behind only reigning champions Golden State – and coming off a 146-point scoring burst against the defenceless Atlanta Hawks in their most recent outing.
Key Battle – Everyone vs Giannis Antetokounmpo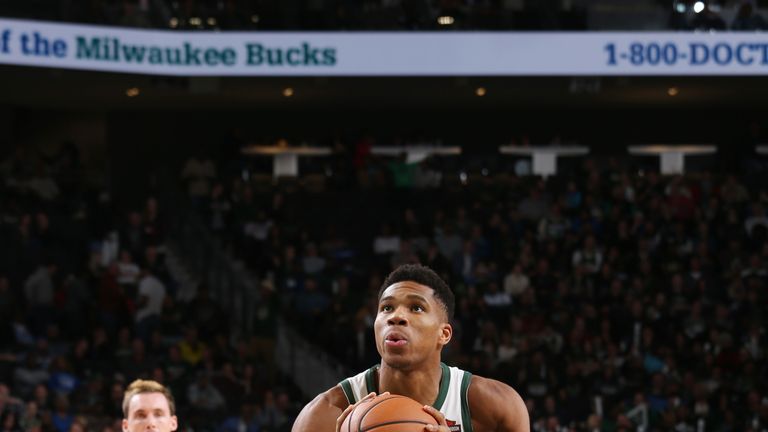 The Bucks are definitely not a one-man team, but it will definitely help an opponent if they are able to find someone to defend the 'Greek Freak', who can simply do everything and has a body and skill set able to play any of the five starting spots.
The Kings have had issues defending Giannis before – conceding 33 and 32 points to him in their two meetings last season alone – but things have changed a little for Sacramento since.
Sacramento have added a player known for his defensive skills, in Iman Shumpert, and he appears to be healthy at last, but the key piece could be Willie Cauley-Stein, whose improvement this season could be just as important as the more flashy De'Aaron Fox. Both will need to be on their game if the Kings are to claim a fifth road win this season.
Last time out
Numbers game
119 – This game is not going to be a bore-fest! We have two of the most potent offenses in the NBA on show, both averaging more than 119 points per game to sit fourth (Sacramento, 119.8 PPG) and fifth (Milwaukee, 119.1 PPG) in scoring.
Sacramento are more efficient but Milwaukee are most potent, especially with Giannis back from his thankfully-brief absence. The Bucks lead the NBA in three-pointers made per game at 14.8, and if they can get back to that level after a disappointing night in Boston, then Sacramento are going to need to be even better than they have been this season to claim another landmark win. If they do, well the West might need to open their eyes to a new threat.
One to watch (Bucks) – Khris Middleton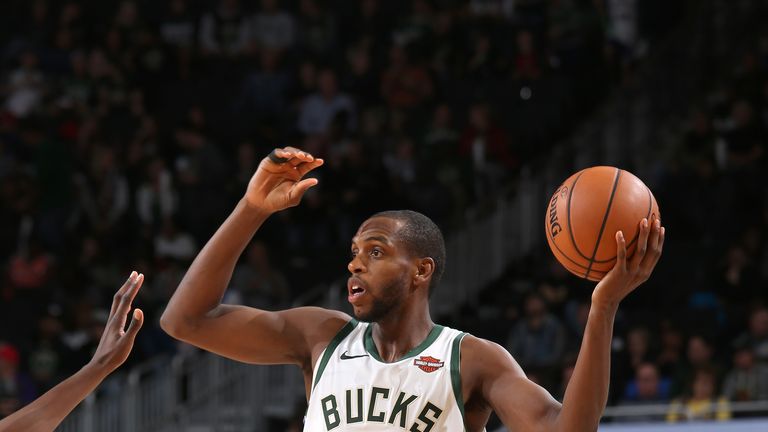 Much has been said and written about Giannis Antetokounmpo (including right here) but for the Bucks to succeed they need a complementary scorer, which is just what Middleton can be.
The swingman has always been a solid shooter but might just be on the verge of taking his game to the next level, something that can only be good for the Bucks.
His big improvement this year has come from three-point range, apart from the Celtics reverse, with his percentages from deep almost sky-high. If he can keep providing around 20 points per game, or even improve that a little, with solid efficiency the rest of the East needs to watch out.
One to watch (Kings) – De'Aaron Fox
There is barely a statistical category recorded that Fox has not improved in over the first nine games of the 2018-19 season, and that bodes well for the long-term future of the Kings.
Fox was the No 5 pick in the 2017 draft but he suffered as much as most of the Kings roster last season, scoring in spurts but generally uninspiring, just as a 27-55 record would suggest.
However, this season has been different and it reached a new level in Atlanta with a stunning 31-point, 15-assist, 10-rebound triple-double that offers even more hope that Fox might just be the player the Kings have been looking to anchor a rebuild that has been going on since 2006.
Sunday night's games
On Saturday November 10, you will be able to follow the Milwaukee Bucks @ Los Angeles Clippers, on a free live stream, from 8:30pm on skysports.com and the Sky Sports app.
Sky Sports is the new home of the NBA in the UK with live coverage throughout the week, including selected live games free to all Sky subscribers via Sky Sports Mix.
And www.skysports.com/nba will be your home for news, reports, video and features throughout the season while you can follow us @SkySportsNBA
Source: Read Full Article