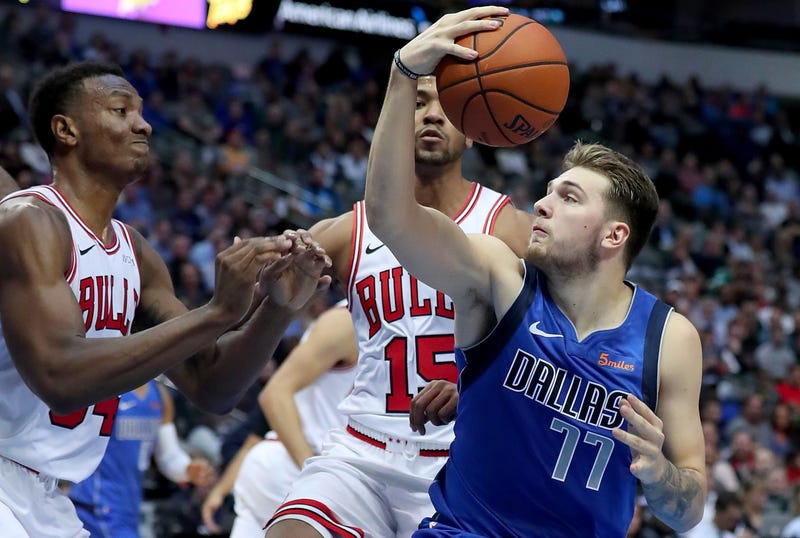 Lest Trae Young have all the fun beating up on an atrocious winless defense, his rookie foil Luka Dončić also got his last night in a 115-109 Mavericks win over the Bulls. Setting aside the joy of pitting a 19-and 20-year-old in mortal competition for purely narrative and/or Hawks-shaming purposes, what if they're just both … good? At passing especially.
Before getting to the rest of Dončić's 19-point, six-assist outing, just let this slapstick sequence of ball fakes soak in. This kind of guile play—whole lot of mileage out of zero dribbles and one hop against two defenders—may come to define his role in the NBA. Lock it in: regardless of his overall success, Luka Dončić will emerge as a truly elite ball-waggler in this league. No one will waggle quite like him.
Dončić doesn't move faster or higher than anyone else on an NBA court, but he always seems to grok how all the chess pieces are shifting around him, and has a dastardly knack for getting the basketball wherever it needs to go:
Advertisement
And so long as there is a DeAndre Jordan near Luka Dončić, that's where the ball will be going. Five of his six dimes came from feeding the big man in the post, and their partnership will likely be the engine of the Mavericks' offense as the season wears on. Which is not to say that Dončić is at all reluctant to get his own shots up: He's currently tied with Young with usage just shy of 25 percent, leading all rookies who've logged at least 50 minutes. He got a lot of good clean looks off in his second-straight 50 percent shooting night. Granted, there is some distractingly bad defense below (and by distracting I mean, on several of Dončić's shot attempts, including his leisurely step-back three, defenders can be seen actively sliding away from him), but it's good fun anyway:
It'll be even more fun to watch him cook a competent squad someday soon. Perhaps the best part of all this is his scruffy, goofy, unabashed enthusiasm for the new gig. Here's an artist's rendition of teen Luka Dončić after executing a skillful basketball play:
🙂
And this is from someone who has already dominated the world's second-best league. Stay gold, Luka!
Source: Read Full Article