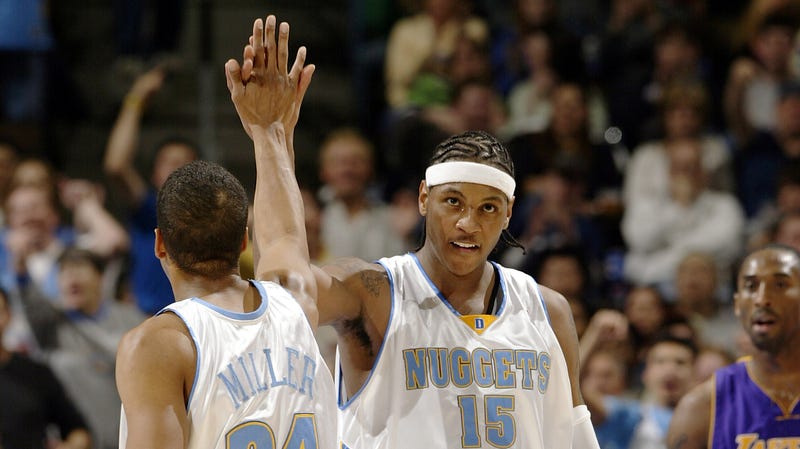 Carmelo Anthony's time with the Houston Rockets seems to be coming to a quick and humiliating end. This comes after an agonizing season with the Thunder and a productive but mostly disappointing tenure with the Knicks. It's been true for long enough now that it can be said without qualification: Carmelo Anthony…………. is bad.
But, also, Carmelo Anthony was good. Good enough that his earlier deeds deserve to be remembered on a day like today, a time when the towering beige fart cloud hanging over his career threatens to blot out all happy memories of young straight-back Melo taking the league by storm.
As a 30-year-old Nuggets fan who only seriously got into the NBA because of Melo's arrival in Denver, I have a lot of those memories. He got there as a 19-year-old scorer expected to turn around a 17-win team, and he did exactly that. Melo never averaged less than 20 points per game in his seven full seasons with the Nuggets, and the team never won less than 43 games while he was around. Maybe you've forgotten some of the cool things he did in those years—all those jumpers that snapped the net, all those rumbling drives from the high post to the rim, all those jab steps that once teased greatness rather than disappointment—but now we can remember them here.
Remember when Melo hit this game-winner right in the face of LeBron James, an erstwhile rival who he always played extremely well against?
Remember when Melo hit this game-winner against the Mavericks in the playoffs?
Remember when he hit all these other damn game-winners?
Remember when he dunked Paul Millsap to hell?
Remember when he did this shit?
Remember when he scored 33 points in one damn quarter???
Remember when he took the Nuggets all the way to the Western Conference Finals, and spent Game 1 mauling Kobe Bryant while scoring 39 points on 20 shots, only to lose the game because Anthony Carter couldn't inbound the ball?
Remember all that? I'm probably forgetting some stuff.
I guess he did some cool things with the Knicks, too, which you are of course free to remember on your own time.
Source: Read Full Article