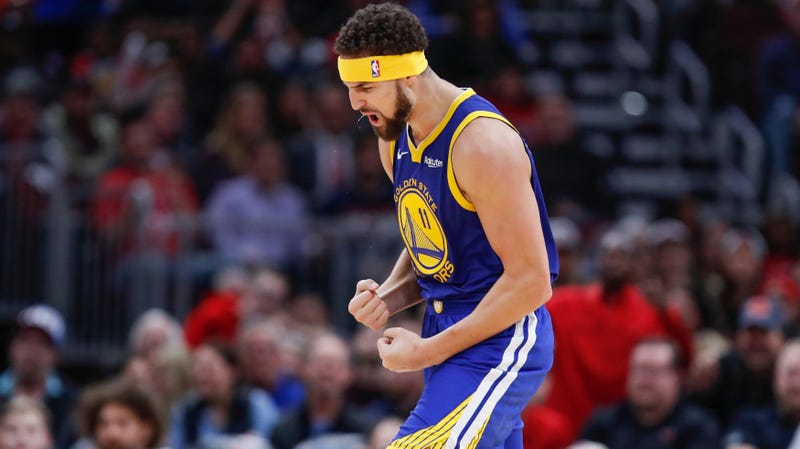 Before last night, Klay Thompson was 5-of-36 from deep on the season. Five three-pointers in 232 minutes, over six games, averages out to about one three every 46 minutes. In Monday night's beatdown of the Chicago Bulls, Thompson shot 14-24 from beyond the arc in 27 minutes, making than one three-pointer every two minutes, and broke Steph Curry's record for most three-pointers made in a single game.
In the first half alone, Thompson drained 10. He broke Curry's record of 13 with 4:53 left in the third quarter, and he looked like he could've kept going, too, but Steve Kerr benched the starters as the game got out of hand. Even a bleeding head wound, thanks to a collision with Bulls center Damian Jones in the third quarter, couldn't break the rhythm.
"Records are obviously meant to be broken," Curry said after the game. "I'm just happy it's my teammate and nobody else. And I got to witness it in person."
For his part, Thompson said, "I just knew I was due for a big night. I just knew it." From ESPN:
"It's the best feeling," Thompson said of being in the zone. "Something I haven't felt in the first six, seven games. To snap out of a slump with the record, I couldn't ask for a better way to do it. And I'm just going to continue this momentum on Wednesday, and it's one of the best feelings in basketball when you touch the ball and feel like it's going in every time."
Advertisement
Nights like these are brutal reminders of just how unstoppable the Warriors are. Thompson is a historically great shooter with a handful of the greatest individual scoring performances in NBA history to his name, and he's, what, the third best player on this team? The fourth?
At this point Curry, Kevin Durant, and Thompson should just take turns going for Wilt Chamberlain's single-game scoring record every night. They need some sort of challenge.
Source: Read Full Article