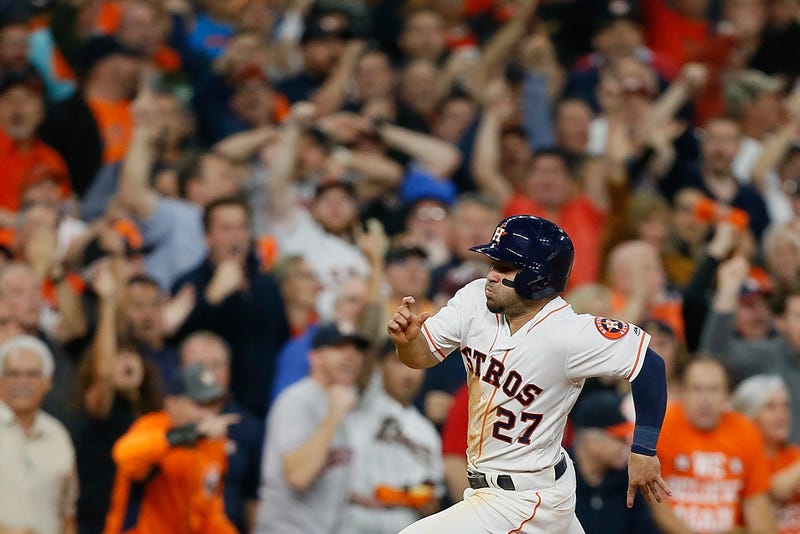 Back in 2017, the American League's top Most Valuable Player candidates were New York's Aaron Judge and Houston's José Altuve. Judge, at 6-foot-7 and 280-some pounds and with his ungodly exit velocities and tape-measure home runs, was widely hailed as THE FUTURE OF BASEBALL. In the future, all power hitters would look like Aaron Judge. Or maybe all the outfielders, anyway. 
Nobody suggested that THE FUTURE OF BASEBALL might look more like Altuve. And yet it was Altuve, who stands all of 5-foot-6, that took home MVP honors last year. This year, all three of Boston's World Series outfielders stand shy of 6 feet; Mookie Betts, who is quite possibly this year's MVP, is listed at 5-foot-9. 
These days, smart teams—which is most of them now, actually—worry less about what a player looks like than what he can actually do. That willingness to look deeper helps explain the Red Sox, this year's champions, as well as the Astros, last year's champs. The following is adapted from POWER BALL: ANATOMY OF A MODERN BASEBALL GAME, which uses a single Astros-A's game from September 2017 as a lens to explore the state of today's Major League Baseball. We pick up the action in the top of the first inning, with Houston's George Springer already on first base …
Next up: Astros second baseman José Altuve. All five feet, six inches of him. On this Friday evening, with all thirty major league teams in action and roughly three hundred players actually batting, Altuve presents the smallest strike zone of them all.
The history of short players in the major leagues is … well, the history is actually quite long, but the list is relatively short. In the 1970s, Royals shortstop Freddie Patek was listed at 5'4" (or 5'5") and made a few All-Star teams. Toward the very end of his career in a game at Fenway Park, Patek hit three fly balls over the Green Monster, which probably ranks as the unlikeliest three-homer game ever.
Advertisement
From World War II through the 1980s, Patek was one of only two or three major leaguers who were somewhat famous because they were small. One of the others was 5'7" second baseman Joe Morgan, who started his career with Houston in 1963, and later won consecutive MVP Awards with Cincinnati. Morgan's nickname was "Little Joe," but what made him so impressive was not his height; there were plenty of shortstops and second basemen of similar stature. What made Morgan unique was his power, which was simply unknown in observers' living memories, in a player his size.
Before Morgan, in fact, the list of "short" power hitters consisted of exactly one man: Lewis "Hack" Wilson, a fireplug-shaped outfielder listed at 5'6" (and 190 pounds!) who led the National League in home runs four times. In 1930 he drove in 191 runs, which still stands as the all-time record for one season.
Morgan didn't have that sort of power. But during his five-year peak from 1973 through '77, he averaged twenty-three homers per season during an era when thirty got you on the leaderboard.
Advertisement
Oh, and here's something people forget. Or more likely, never knew: Yogi Berra was short. I don't mean toward the end of his life, when he resembled a wizened old gnome. In his prime, I mean, when he was perhaps the greatest catcher who ever lived.
Yogi stood only 5'7", and he's one of only four 20th century players that height or shorter who hit more than 100 career home runs in the majors. The list: Berra with 358, Morgan 268, Wilson 244, Jimmy Rollins 231 … and then there's a massive gap before the fifth man on the list: 1930s infielder Tony Cuccinello, with 94.
Which brings us to Altuve, an Astros second baseman (like Morgan) who's almost certainly shorter than every player on that list.
Advertisement
We can't say there's never been a player remotely like José Altuve before, because Altuve is remotely like Joe Morgan. Both are second basemen far smaller than most of their peers, who batted leadoff for a while and stole plenty of bases, while also hitting so powerfully that you might not believe it, without seeing it.
In fact, for some years there were any number of otherwise observant baseball people who did see Altuve play, but essentially did not believe it.
Altuve signed with the Astros in the spring of 2007, and batted .343 with a touch of power and a bunch of walks in the Venezuelan Summer League. The next summer, he came north and played for Greeneville in the Appalachian League, and more than held his own despite being among the circuit's younger players. The next spring, he returned to Greeneville and did even better in forty-five games, earning a promotion to the tougher New York-Penn League. He did struggle there, statistically speaking, but was the youngest player on his team and it was only twenty-one games.[*]
Advertisement
What did the world think of Jose Altuve at that point? Baseball America has been covering the minor leagues and generating prospect reports and rankings since 1981, and publishing an annual prospects book since 2001. Today there are voluminous reputable outfits publishing their own prospect lists, but Baseball America remains the most reputable outfit.
After the 2009 season, Baseball America did not rank José Altuve among the Astros' ten best prospects. Or twenty best. Or thirty best. In the Astros section of that winter's Prospect Handbook, Altuve shows up just once, in the organizational depth chart at second base. Fourth on the depth chart. Behind three guys who also didn't rank among the organization's top thirty prospects. Which means Baseball America ranked Altuve, at best, as Houston's thirty-fourth best prospect.
Advertisement
In reality, it's unlikely that he would have been considered in the top forty, and perhaps not the top fifty.
That was before the 2010 season, when Altuve moved up a couple of levels on the minor-league ladder, and (again) acquitted himself well despite being (again) among the young players in his leagues. And hallelujah, this time he made Baseball America's list, 28th out of 30.
Ultimately, the list would include three outstanding major-league players: Altuve at twenty-eighth, Dallas Keuchel twenty-third, and J. D. Martinez sixth.
Advertisement
No. 1 on that list? Jiovanni Mier, who makes for an interesting comparison with Altuve, as they were born only a few months apart and were double-play partners for most of a minor-league season in 2010. Same team, same age, facing the same pitchers in the same ballparks. The results? Mier batted .235 with modest power and struck out 107 times in 131 games; Altuve batted .308 with real power and struck out 49 times in 94 games.
And coming off those performances, Mier was considered a potential Shortstop of the Future while Altuve was … well, basically an afterthought. Why? Non-professional, non-performance pedigrees. Mier had been a first-round draft pick, and signed with the Astros for nearly $1.4 million; Altuve had signed, as a sixteen-year-old amateur, for $15,000. Mier stood 6'2"; Altuve was eight or nine inches shorter. As Baseball America wrote, "Altuve fits no standard profile. He doesn't lack tools, but he's difficult to compare to other players… He may put up big numbers at Lancaster this season but will have to keep proving himself at higher levels to scouts who remain skeptical of a player with such a small body."[†]
The next season, Altuve batted .361 (with power, again) in the Double-A Texas League in thirty-five games, at which point the Astros summoned him to the majors (bypassing Triple-A). Same season, Mier got hurt and didn't escape Class A.
Advertisement
So had Altuve finally made believers out of Baseball America? Not really. In their 2012 Prospect Handbook, the editors offered a projected 2015 Astros lineup with … Delino DeShields Jr. at second base. And Jose Altuve? Nowhere to be found. At that point, DeShields had done very little in the minor leagues … but (wait for it) had been a first-round draft pick not long before. Pedigree over performance.
None of which is meant as a commentary on the good work done by Baseball America. Their m.o. has always included checking in with as many scouts as possible, and then synthesizing all those opinions into one estimation of a player's likely future. Still, that's a pretty incredible series of inaccurate estimations; finally, in the space roughly one year, Altuve went from fringe prospect to All-Star.
Young players are highly unpredictable. As we've seen. And pretending otherwise will lead to some serious misjudgments. As Sig Mejdal, an Astros executive who for some years was uniquely titled Director of Decision Sciences, says, "Sometimes it's just about reminding yourself that you're not so smart."
Advertisement
Since World War II, Jose Altuve is the only 5'6" major leaguer with more than eight home runs in one season. Which he's now done three times: fifteen in 2015, twenty-four in '16, and twenty-two so far this year.
What's more, Altuve essentially willed himself to become a power hitter. Just as he'd willed himself to become a batting champion, two years earlier. His first few seasons, in the majors, Altuve was exactly what management might reasonably have hoped for: a nice little player (as the saying goes). But in the 2013-2014 off-season, Altuve retooled his swing. He'd been tapping the front of his foot on the ground, as the pitch was being delivered. But on the advice of various coaches and teammates, he thought he should try a real leg kick. It's not something that comes overnight, though.
"It's a pretty interesting process," he said. "Because in batting practice and in the cage, you can try so many different things, and you are going to feel comfortable with 90 percent of those things, because the speed of the pitches is way lower; you hit off the tee, and the ball is just standing there. But then you get in the game and everything is fast and quick, and oh my God, the pitchers aren't the same, mechanics are different. That's when you really have to trust in what you are doing."
Advertisement
He used his new swing in spring training, "and it was good, good, good."
Then the real games started, "and it was like, 'Oh my God.' Those first twenty games weren't really good for me. But I trusted my coaches, trusted the people who really wanted to help me, and I trusted the process. 'Let's stay with it. Let's try it.' The next 140 games were good. Then I stayed like that. If I would have quit my leg-kick, different story. You know, you never know what will happen."
The next 140 games were better than good. Well, just being ridiculously precise about this … in Altuve's first twenty-two games in 2014, he batted .250 with little power at all. But the rest of the season? In 136 games, Altuve batted .355 with 52 extra-base hits. Despite that slow start, he finished with a league-best .341 batting average.
Advertisement
"Adjustments are part of baseball," he said. "The pitchers are going to adjust to you; you've gotta adjust back to them." But Altuve has done more than just adjust to survive, as so many players do. First he adjusted and became a batting titlist, then he adjusted again—swinging at fewer bad pitches, but more aggressively at good ones—and became a miniature power dynamo.
Obviously, nobody saw any of this coming. The scouts didn't, Baseball America didn't, the Astros' analytically minded front office didn't. How could you see a player like Altuve coming, when there's been only one player remotely like Altuve before? Half a century ago?
Advertisement
Before Altuve, the last little guy to make a big impression was probably David Eckstein. In the space of about ten years, Eckstein went from college walk-on to All-American to late-round draft pick to released from his Triple-A team to World Series shortstop to non-tendered to winter's worst free-agent signing (per Jayson Stark) to World Series Most Valuable Player. Why so many fits and starts for such a fine player? Maybe because he was only 5'7" and so many people just couldn't quite believe how fine he actually was.
Along the way, Eckstein did become everybody's favorite poster boy for grit. For doing all the little things that sabermetrics just couldn't measure. The little things that don't show up in the box score. A living testament to the fallibility of the numbers.
Well, raw numbers are certainly fallible. Especially in the paws of amateurs. But the numbers always said that David Eckstein was a pretty damned good player who reached base reasonably often and somehow became a fine defensive shortstop.
Advertisement
Felipe Alou was a star outfielder in the 1960s, and much later managed the Montreal Expos for ten seasons, then the San Francisco Giants for four. In Alou's 2018 memoir, he'll write, "I do fear that sabermetrics is encroaching too much into the game… I especially think it can get ridiculous with Minor League players, where I believe data is accumulated and implemented too quickly. Players need time to develop, to learn the game, to adjust. A player at eighteen might be completely different than he is at twenty. Young players should develop under a manager's care instead of by an edict from a spreadsheet. You should also give every Minor League player a fair opportunity to perform. Your prospects will get that opportunity. But the second-tier guy deserves that opportunity, too."
First, there are hundreds of "second-tier" guys in the minors every season. Many hundreds, probably. That's just a function of needing to fill the rosters of five or six farm teams per major league franchise. And second, it's the numbers that actually help players who might not be considered real prospects otherwise. Today, Eckstein's numbers might get him on the prospect lists, or they might not. Either way, his numbers would get him the chance to play.
Which isn't to suggest that baseball people don't still look at the proverbial "tools." They do. They have to! When looking at young players in high school or in the Dominican Republic or Venezuela or any of the other baseball hotbeds, there essentially aren't any numbers.
Advertisement
For a long time, though, scouts seemed to consider size as one of the tools, while not considering strike-zone judgment; granted, it's difficult to evaluate the strike-zone judgment of a sixteen-year-old Dominican or an 18-year-old American high-schooler, as the best teenagers are simply too talented to swing at terrible pitches and talented enough to hit pitches that aren't actually in the strike zone.
But while scouts might be impressed by a "little" player's fielding, they probably wouldn't trust his hitting. "They'll knock the bat out of his hands," the scouts might say.
Nobody's knocking the bat out of José Altuve's hands. Not any more. And the Astros have a bench player, switch-hitting outfielder Tony Kemp, who's also listed at 5'6"; both Altuve and Kemp are the products of an organization that places performance over the traditional scouting "tools." And the Astros are hardly alone. In 2017, three of the first-place Boston Red Sox's best players—Mookie Betts, Dustin Pedroia, and Andrew Benintendi—were listed at 5'9" or 5'10" … and these listings are probably generous by an inch or so.[‡]
Advertisement
In tonight's game, Oakland's center fielder is a rookie named Herschel "Boog" Powell; at 5'10", Powell is the smallest player in the A's lineup (and half a foot shorter than his namesake, old-time slugger John "Boog" Powell). Five years ago, the A's chose Powell in the later stages of the amateur draft. That late, a player usually can't be regarded as anything but a sort of prayer, as most of the best players are selected far earlier in the proceedings. But the A's saw something more than just Powell's relatively small stature.
Which is hardly surprising, considering the A's history. Fifteen years ago, in what would become immortalized as the Moneyball draft, the A's owned eight of the first sixty-seven picks. With one of those picks, they drafted a 5"10" catcher listed at 226 pounds. Which was probably, uh, generous. With another, they drafted a 5'8", 160-pound outfielder.
Of course, neither player fit anyone's preconceived notions about what a catcher or an outfielder should look like. But as A's general manager Billy Beane would tell author Michael Lewis, "We're not selling jeans here."
Advertisement
That's probably the most famous line in Lewis's famous book … even though neither the 226-pound catcher nor the 160-pound outfielder really panned out. It's simply a useful shorthand for the idea that it doesn't much matter how you look, if you can play. And while there's a connection between the two—yes, most of the best players actually do look the part—it's not a perfect relationship, and you're foolish if you ignore performance just because … well, because a guy happens to fall well shy of six feet, or looks a little odd in baseball pants, or because you wouldn't look twice, if you just saw him walking down the street.
[*] Altuve's signing with the Astros has become legend. Among the elements: Altuve, then just 5'4", showed up for a try-out with the Astros. Al Pedrique, working as a special assistant for then-GM Tim Purpura, told his boss Altuve "could be Freddie Patek with a little power." Pedrique was worried about getting approval from Purpura to spend even the $15,000 it would take to sign Altuve. But Pedrique, Purpura says, "convinced me very easily. It was a low-risk investment, and wound up being a pretty good signing for the money."
Advertisement
[†] Over at Baseball Prospectus, Kevin Goldstein did quite a lot better, ranking Mier 10th … and Altuve 11th. A year-and-a-half later, Goldstein was hired to work in the scouting department of … the Houston Astros. Today he serves as the Astros' Director of Pro Scouting.
[‡] In the spring of '18, a power-packed Braves rookie named Ozzie Albies will launch a batch of impressive home runs. Albies's listed height is 5'8".
Rob Neyer has written for most of the websites, along with a newspaper or three. When he's not working on his next book—POWER BALL is his seventh—Rob serves as Commissioner of the West Coast League. 
Source: Read Full Article