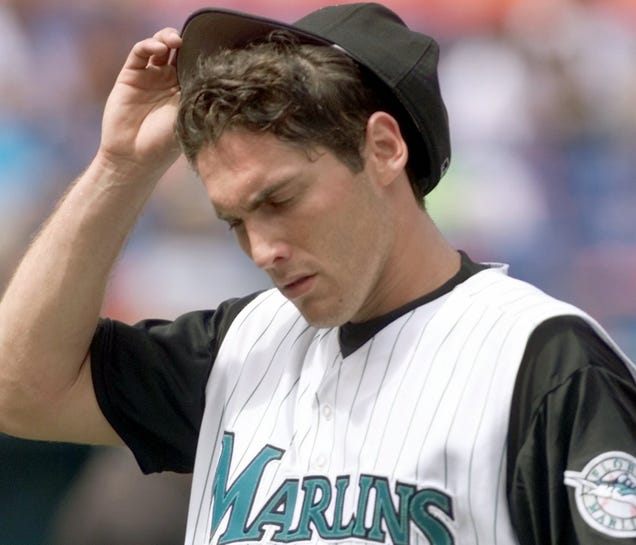 Justin Wayne was a bust. The fifth overall pick in the 2000 MLB draft, Wayne appeared in just 26 games over three seasons with the Florida Marlins, putting up an ERA over 6 (but earning a World Series ring along the way). Wayne's post-baseball career was more successful, and more lucrative, at least right until he got busted for a bizarre insurance fraud which involved purchasing the urine of drug addicts.
Thursday in federal court West Palm Beach, Fla., Wayne was sentenced to 46 months in prison, ordered to repay $3.8 million defrauded from insurers, and fined $20,000, after pleading guilty to health care fraud. His brother, Hawkeye Wayne, who never made it past the minor leagues, was apparently the brains behind the operation, and his sentence was more severe.
Both Waynes are cooperating with the government and expected to testify in an upcoming trial of doctors working at Reflections Treatment Center, one of a number of drug treatment facilities and sober homes operated by the notorious Kenny Chatman. Chatman is currently serving a 27-year sentence on charges of money laundering, sex trafficking and health care fraud; when women would come to his facilities for treatment, Chatman would keep them "in a state of impairment in order to 'pimp' them out."
One side hustle for Chatman was the sale of his patients' urine, and that's where the Waynes come in. The Waynes owned a drug testing lab, and as the Palm Beach Post so eloquently puts it, "the urine of drug addicts who have insurance is liquid gold to unscrupulous operator of labs." The Waynes paid Chatman for urine, ran unnecessary tests, and billed insurance companies at inflated rates, as much as $5,000 for a single drug screen.
Another Wayne brother, Ethan, has also pleaded guilty in the scheme and will be sentenced next month.
"I sincerely apologize to your honor, the government and the insurance carriers and anyone else I have harmed and for the shame I brought to my family," Justin Wayne said. "I'll spend the rest of my days making it up to them."
Source: Read Full Article