Southside Flyers guard Rebecca Cole says the WNBL newcomers are aiming to be bigger and better this season.
The Flyers, owned by Jayco founder Gerry Ryan, have taken over the licence previously held by Dandenong Rangers and plan to make the team one of the powers of the league.
The team has a new coach in Cheryl Chambers and have re-branded the court at Dandenong in their light and dark blue colours ahead of their home-opener against Townsville Fire on Saturday night.
WNBL great Lauren Jackson listed the Flyers as one of her favourites to win the title this season despite being a newly formed club. The team expects to have their full roster including Opals stars Jenna O'Hea and Leilani Mitchell on court.
Cole is one of the returning Dandenong players from last season and said while the heritage of the Rangers remained a part of the club, it had otherwise been transformed.
"We still have some familiar faces but it's a whole new team and landscape," Cole said.
"We are looking to go bigger and better. We want to takeover from Dandenong out to Frankston and the Bayside suburbs and give everyone a team they can go for."
The Fire are a changed side as well with Shannon Seebohm taking over as coach, league legend Suzy Batkovic retiring and several players led by Abby Bishop signing on.
O'Hea and Mitchell only joined the Flyers last week after the FIBA Asia Cup, as did WNBA import centre Mercedes Russell. However, Cole said the team would only become stronger.
"We will get better and better," Cole said.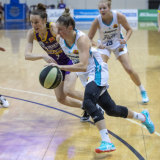 Southside's Rebecca Cole (right) flies past Toni Farnworth in WNBL pre-season clash.Credit:Mick Connolly
"Every one team is the same. With the up and down pre-season, no one will be amazing from the get-go."
Melbourne Boomers coach Guy Molloy is confident imports Lindsay Allen and Sophie Cunningham will be ready to fire in their club's season-opener against Bendigo Spirit in Bendigo on Saturday.
Allen was an WNBL all-star five selection last season but spent the off-season rehabilitating after knee surgery, while Cunningham is in her first overseas job following her rookie WNBA season with Phoenix Mercury.
Both players did well in the team's last pre-season game and Molloy believes both can play key roles against a much-improved Spirit side.
The Boomers expect Allen's best form will still be a few weeks away while Cunningham has shown some promising aggression since arriving from the US.
"Lindsay is going from strength to strength," Molloy said.
"We got her through restricted minutes in that last game and she's had a good week at training. This weekend will be helpful in that it's just a single game weekend so that should hold her in good stead.
"Sophie has another week under her belt, which will only help her."
The Flyers play Townsville Fire at Dandenong Stadium on Saturday at 7pm. The Boomers and Spirit play at Bendigo Stadium at 7pm.
Source: Read Full Article