Melbourne United will start their NBL season at Melbourne Arena on Thursday night but they are in the middle of an exhaustive travel schedule.
Since September 20, Melbourne have visited Tasmania, Geelong and Adelaide and still have a one-game trip to Perth next Sunday, and a two-game visit to California for NBA pre-season games against the LA Clippers and Sacramento Kings before arriving home to host the Wildcats at Melbourne Arena on October 20.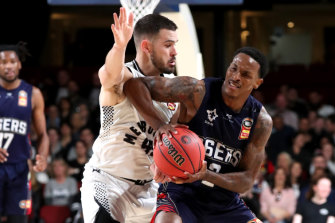 Melbourne's Chris Goulding (left) takes on the Sixers' Deshon Taylor in a recent pre-season match.Credit:AAP
Nine games, five road-trips and two countries in 30 days, plus there will be no rest once it finishes as their NBL season continues.
The NBA pre-season games always make for a difficult start and Melbourne are in their third season playing such games, but have had things harder this year having been without five players and two coaches for much of pre-season due to the FIBA World Cup.
With Chris Goulding, David Barlow (both Australia), Tohi Smith-Milner, Alex Pledger and Shea Ili plus assistant coaches Paul Henare and Ross McMains (all New Zealand) at the World Cup in China for the best part of the last six weeks, Melbourne coach Dean Vickerman booked two late pre-season games to bring the team together ahead of the season-opener with South East Melbourne Phoenix on Thursday night.
"More hotels, more planes – it's a good way to spend time with your teammates," Goulding said.
"We are not complaining about it. We will use it as a great opportunity to get better as a group and hopefully it will hold us in good stead once we get to the main part of the season."
Melbourne have done well in recent seasons to keep a core of players together year on year but they still have several newcomers this season with Ili and import Shawn Long joining from New Zealand Breakers, Melo Trimble moving from Cairns, import Casey Prather returning after missing last season due to injury and young centre Jo Lual-Acuil jnr moving back to Australia after playing in Israel last year.
Ili has barely had time to settle into his new home.
"I've been on a flight basically every weekend so far," Ili said.
"I'm not looking forward to it but I'm told we are flying business class to the United States so that should be fun.
"But we just have to stay together and think of it as a positive."
Melbourne went down to Perth in Geelong on Wednesday as a pull-up shot from Perth star Bryce Cotton with a second left gave the reigning champions a 92-90 win.
But Melbourne bounced back against the Adelaide 36ers at the Adelaide Entertainment Centre on Friday night winning 100-91 with Ili scoring a team-high 16 points.
Melbourne's players have six days at home but know when Thursday night's season-opener is completed, the airport awaits once again.
"It's part of the job, we are very lucky and it's amazing to do the things we do," Goulding said.
"At some stages we might wish we were home but once we are all retired we will wish we could still travel and play in front of big crowds."
Source: Read Full Article