That's a wrap
Thanks for joining today.
As it stands, I think Australia have enough runs to play with, provided one of Smith, Head or Green chips in with a half century tomorrow. The weather is supposed to be sunny in Hobart tomorrow, so there should be no excuses on a pitch that doesn't seem to be playing too many tricks in the daylight with the pink ball.
Meanwhile, 11 overs weren't bowled today. It'll be interesting to see if the teams get in strife for being a bit slow.
Make sure you log onto our mastheads for all the latest news and analysis from Hobart on another day that you'd have to say, despite the late flurry of wickets, belonged to Australia, who took a 115-run first innings lead thanks to four wickets from Pat Cummins and three to Mitchell Starc.
I'll be back again tomorrow to take you through all the action. See you then. Cheers!
Wood took Khawaja's wicket late in the day. Credit:Getty
CONN: Cummins highlights why it has been a blessed summer for bowlers
Pat Cummins removing Zak Crawley during the fifth and final Ashes Test was another celebration of this marvellously rebalanced summer.
Another immaculate delivery from Perfect Pat jagged back into the tall right hander and took an inside edge to Travis Head at short leg.
On the highlights reel it looks no different to so many other England dismissals as the ball darted off the seam and caught an edge on the way to a close catcher, giving Australia another early breakthrough on the second afternoon of the day-night Test in Hobart.
But in a game usually dominated by batsmen from the boardroom to the selection table and playing field, it was another win for the bowler on a lush, green pitch.
All five pitches this summer appear to have been made in the image of La Nina, which continues to cool and dampen much of Australia's east coast.
The last La Nina which coincided with the Ashes in Australia, during 2010-11, saw England claim a rare series victory in conditions most suited to their bowlers.
And so things have been during moments in this series, most notably on the opening day of this Test when England captain Joe Root won the toss, bowled like he should have in Brisbane, and reduced Australia to 3-12.
But England also made two scores of 500 and two of 600 during their 3-1 triumph in 2010-11. After being bowled out for 188 in Saturday's first innings at Bellerive Oval, they have not made 300 at any stage on tour.
READ MALCOLM CONN'S FULL ANALYSIS HERE
How England's bowlers fared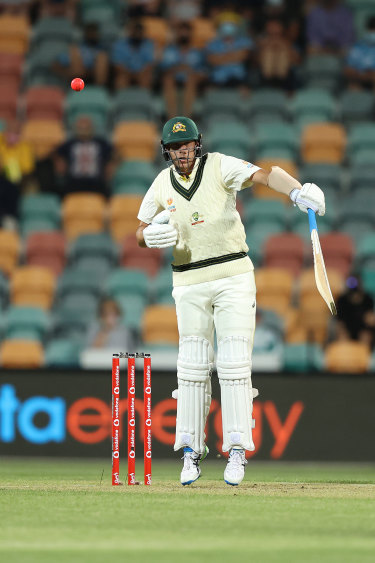 Boland is hit on the hand. Credit:Getty
STUMPS: Australia 3-37, lead by 152 runs
Boland has done a mighty job to survive a late onslaught from England, who will be delighted to have taken three late wickets.
He cops a nasty blow on his left hand – that might be one to keep an eye on – but walks off next to Steve Smith, who finishes the day on 17.
Warner, Labuschagne and Khawaja will be bitterly disappointed to not have survived until the close of play but with a lead of 152 runs, provided Australia don't fall in a heap tomorrow, this Test is still very much theirs for the taking.
Boland is hanging in … 10 minutes to survive
Despite England's best efforts, they're yet to knock over nightwatchman Scott Boland.
He's two from 14 balls.
But the big scalp will be Steve Smith. Can they get him? They will be, to use the expression, cock-a-hoop.
Australia 3-36, lead by 151 runs
Wood gets Khawaja!
Mark Wood sends down a nasty short ball that Khawaja tries to evade. However, the Australian opener gets a bit of glove on the ball, which goes through to wicketkeeper Sam Billings.
Australia are 3-33 and here we go… Scott Boland is coming to the wicket as a nightwatchman.
The home side lead by 148 runs. 20 minutes of play tonight remain.
Wood comes into the attack
After an expensive first innings, Wood is introduced in the 13th over. Khawaja clips one off his pads first ball for two runs.
Ball three: Khawaja rides his luck and gets four runs from an edge through the slips.
Australia have about 25 minutes to bat here before stumps.
I'll back these two to see the day out.
Australia 2-33
Khawaja off the mark after 44 minutes
Finally, after 24 balls on zero, Khawaja works one down to fine leg for a single. The crowd love it.
Earlier, Smith hits a crisp cover drive for four, shortly after being sent back for a quick single that he wanted into the off side. That could have been a disaster.
Australia 2-18, lead by 133 runs
This is a pretty cool statistic. Australia making history for the wrong reasons.
Chris Woakes removes Marnus Labuschagne for five. Credit:AP
Khawaja survives a review
There's a massive appeal for a caught behind off the bowling of Chris Woakes but Paul Wilson gives it not out.
Root decides to review it, with one second remaining.
Khawaja gets stuck on the crease but has missed the ball by a fair margin. He survives.
Woakes has 1-4 from his three overs. Well there you go, so does Broad at the other end.
Australia 2-8
Steve Smith in action on day two. Credit:Getty
Smith gets off a pair
Smith pinches a single into the off side before picking up along two into the mid-wicket region.
The Australian No.4 in eighth on the runs list in this series, with 218 runs at 31.14.
Australia 2-8
Most Viewed in Sport
Source: Read Full Article