For two years now Finnish driver Valtteri Bottas has had to play second fiddle at Mercedes to world champion Lewis Hamilton.
No one, least of all the man himself, doubts he has the pace and skills to offer up a meaningful challenge to the Briton who has dominated the sport in recent seasons.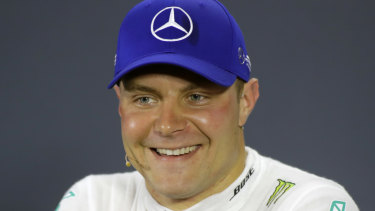 Valtteri Bottas.Credit:AP
There is an old motorsport adage that the first person you have to beat is not your rival down the pit lane but the man on the opposite side of the garage.
Bottas himself won't single out any rival: when asked what his aim for this season was, the 29-year-old would merely say: "my personal target for the year is to have my best season."
Scratch harder, however, and the ambition is clear.
"It's winning a lot of races and the title."
Ferrari was quickest in the final testing session of the pre-season, giving Mercedes – who often arrive in Australia as hot favourites for the first race of the season – a target to aim at.
Bottas is just fine with being a slight underdog, even if the position is relative to the rest of the grid.
And, he points out, the conditions, surface and elements in Melbourne in March are very different to those in Catalunya in February.
"It's a very different place, Barcelona is very smooth, here it's bumpy. It's a more technical track (in Melbourne), the set up is different … we do have an idea from previous years how to set up a car (for Albert Park)," he said.
"But we do need to improve if we want to beat them."
Last year Bottas endured a slow start to the championship race (in which he eventually finished fifth) by only picking up a handful of points for an eighth-placed finish in Melbourne. He was always chasing from that point onwards.
This time around he is hopeful that things will be better.
"Everyone starts again, it's always a good feeling starting a new season with zero knowing that everything is possible. Last year it was a far from ideal start to the year," he said.
While Ferrari was quickest, Mercedes picked up a lot of useful information and data from the Barcelona test which they have been able to use to good effect in the lead up to the opening event, he says.
"Nowadays with an F1 car, two weeks of testing, you get a lot of data to analyse and improve (the car). We have learned a lot from the package we had in testing and we can optimise the car. I feel we have made improvements and we can be in better shape," he said.
Pressure is something that F1 drivers deal with in different ways, but Bottas sounds almost matter of fact when asked about needing to deliver this season.
"It's always important to have a good season. There are always people who will take your seat if you don't perform," he said.
"In this sport or in any other you either get a result or you go home!"
Source: Read Full Article